Bringing the noise
Butler surges back for victory in quiet environment
Steve Sybert
Eagle Correspondent
February 15, 2022 Last Updated: February 14, 2022 10:11 PM High School
<![if !vml]>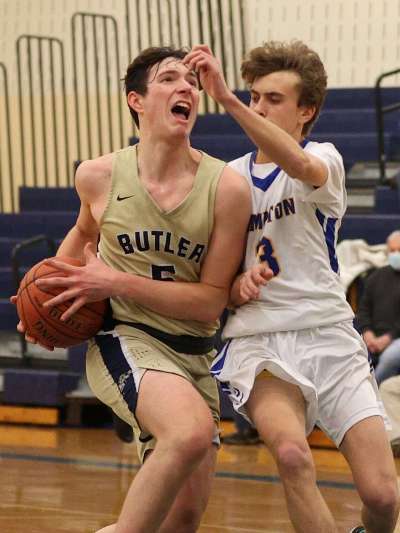 <![endif]>
Butler's Madden Clement drives to the hoop for a layup against Hampton's Zander Plizga Monday night at Hampton. Seb Foltz/Butler Eagle
HAMPTON TWP — With the absence of any cheerleaders, there wasn't a lot of noise at the start of the Butler boys' basketball game Monday night at Hampton.
The Talbots raised the volume with volume by making three 3-pointers to start the game and open up a nine-point lead.
Undaunted, the Golden Tornado adjusted and answered right back with a flurry of its own, eventually surging to a 72-65 non-section victory.
Butler, now 12-9 overall, will return to its home court for Class 6A tournament action next Tuesday against Norwin.
"It was a good tuneup and most importantly everyone is healthy coming out of it," Butler coach Matt Clement said.
Junior Madden Clement led the first-quarter rally with three treys as Butler stormed back to take a 19-12 lead. He made two more before halftime as the Golden Tornado built a seven-point margin, 41-34. Butler was accurate from beyond the arc in the first half, draining eight 3-pointers.
Clement finished with 20 points for the evening, including a total of six 3-pointers.
"He was pretty efficient with the threes, not a ton of shots," coach Clement said.
The coach also noted that senior standout Devin Carney was closely guarded by Hampton (12-10). He posted 13 points, but was averages around 25 per game.
"If they're guarding Devin a certain way, other people can make them pay," the Matt Clement said. "Madden was in that role tonight."
Senior Raine Gratzmiller also stepped up, making five shots from the field and posting 13 points.
Clement praised the work of 6-foot-4 senior Charlie Kreinbucher, who was tasked with the job of guarding Hampton's Liam Mignogna. The Talbots' 6-8 center was a force underneath, tallying 28 points, including a dunk following a rebound.
"He (Mignogna) did a really nice job and Charlie is not an easy big man to go against. That was a big challenge for him," Clement said.
Mignogna scored 15 of points in the second quarter.
Butler went on a 9-0 run at the end of the third quarter and start of the fourth to take its biggest lead, 62-46..
BUTLER 72
Braylon Littlejohn 1 1-2 3, Devin Carney 5 3-3 15, Madden Clement 7 0-1 20, Raine Gratzmiller 5 3-4 13, Colin Patterson 2 0-0 6, Charlie Kreinbucher 3 2-2 8, Colin Casteel 1 0-0 3, Ryan McLister 1 0-0 2, Mac Schnur 1 0-0 2. Totals: 26 9-12 72.
HAMPTON 65
Keegan Thompson 1 0-0 2, Matt DeMatteo 4 0-0 10, Zander Plizga 1 0-0 3, Brennan Murray 3 0-0 7, Liam Mignogna 11 5-8 28, Eric Weeks 2 0-0 6, Braxton Eastly 1 4-4 6, Jaden McMeekin 1 0-0 3. Totals: 24 9-12 65.
Butler 19 22 19 12 — 72
Hampton 12 22 12 19 — 65
3-point goals: Butler 10 (Carney 2, Clement 6, Patterson 2); Hampton 8 (DeMatteo 2, Plizga, Mignogn, Weeks 2, McMeekin Murray)