Butler battles SV, wins 62-55
December 18, 2021 High School Basketball
Advertisement | Advertise Here
<![if !supportLineBreakNewLine]>
<![endif]>
<![if !vml]>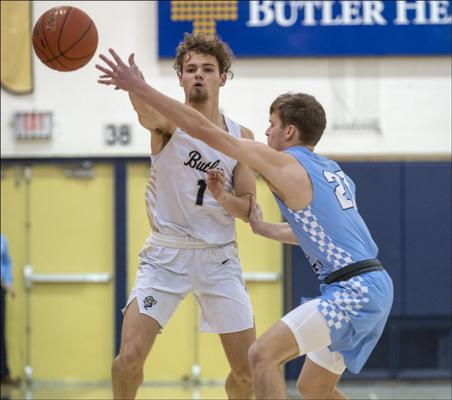 <![endif]>
Butler's Raine Gratzmiller makes a pass while Seneca Valley's Caiden Oros (21) defends at Butler High School Friday night.
STEVEN DALTON/SPECIAL TO THE EAGLE
BUTLER TWP — Through three quarters Friday night, Seneca Valley held Butler's Devin Carney to a single bucket.
What the Raiders (0-2, 1-3) didn't account for in their matchup with the Golden Tornado (1-1, 3-1) at the Butler Senior High School gymnasium, though, were the contributions from junior Madden Clement and sophomore Braylon Littlejohn.
Clement poured in 21 points — including five treys — and Littlejohn added another 13 off the bench in a 62-55 Butler win. Clement also helped with five rebounds and four assists.
"That's a monster game when your partner is getting chased all over the court," Golden Tornado coach Matt Clement said. "That's stepping up. Obviously, Braylon off the bench stepped up big. We kind of played small to match their size and (we had) great contributions from the guys on the court."
Seneca Valley's Jameson Grieco got things going in the first quarter by connecting three times from beyond the arc. In both of the half's quarters, Littlejohn stole the lead late. At the end of the second, he took the ball coast-to-coast and layed it in before the buzzer went off.
"I got into my comfort zone, came out, and just put on for the team," said Littlejohn, who also dished out a pair of assists and grabbed two steals in the win. "We all played well, played great defense."
"That's a high difficulty layup for a sophomore to make," Matt said. "The way you make them pay for guarding that way is you don't miss shots. It ended up falling in Madden and Braylon's hands a lot of the time tonight to finish, but a lot of the dirty work was made by (Colin) Patterson and Raine (Gratzmiller) and Charlie (Kreinbucher) and (Ryan) Porch and the other guys on the court.
"We're really comfortable with our guys off of the bench and in certain situations we're going to go to different people."
Both teams were coming off of decisive section-opening losses on Tuesday. In their home matchup with North Allegheny, the Raiders kept up with the Tigers throughout the first 16 minutes, but sputtered after the break. That wasn't the case against Butler as they kept their momentum going.
"I thought we definitely played better than we did against North Allegheny," Seneca Valley coach Kevin Trost said. "I thought we did a lot of really good things, they just made a few more plays than us down the stretch."
The visitors entered the fourth frame down by four, a deficit that got wider with Carney's three in the quarter's first minute. The make was the Butler star's first points since the first quarter. He helped in other ways, with an assist, three boards, and a steal.
"(Devin) had a belief in them," Matt said. "That's the only way that works when you have that. ... I thought he was extra unselfish. Sometimes he should've shot when he got the ball. He had lanes, but you know what? That's part of the learning curve for him. He's an elite scorer who believes in his teammates and it was more about us winning this game tonight."
Caiden Oros' fourth-quarter hot streak pulled his Raiders back even at 44-44, but Butler was too powerful down the stretch. The Golden Tornado would convert on 11 of 12 free throws in the frame and would go 17-of-18 for the game.
Seneca Valley's Grieco finished with seven threes.
"He's worked really hard on his game and he's gotten a lot better from last year," Trost said. "He's shot the ball well for us this season. He's a senior and he's a guy we count on. It's good to see him making shots."
Both teams continue section play on Tuesday, with Butler heading to Pine-Richland (0-1, 1-3) and Seneca Valley playing host to North Hills (1-0, 3-0).
SENECA VALLEY 55
Jameson Grieco 7 2-4 23, Caiden Oros 7 0-0 16, Luke Lawson 5 0-0 11, Aiden Lyczek 1 0-0 2, Brian Olan 1 0-0 2, Andrew Roy 0 1-2 1. Totals: 21 3-6 55.
BUTLER 62
Madden Clement 6 4-4 21, Braylon Littlejohn 5 2-2 13, Devin Carney 3 4-4 11, Colin Patterson 3 1-2 9, Raine Gratzmiller 1 4-4 6, Charlie Kreinbucher 0 2-2 2. Totals: 18 17-18 62.
Seneca Valley 15 10 12 18 — 55
Butler 18 9 14 21 — 62
3-point goals: Seneca Valley 10 (Grieco 7, Caiden Oros 2, Lawson); Butler 9 (Clement 5, Patterson 2, Littlejohn, Carney)