Butler doesn't let up
Tornado take control in 2nd quarter of 70-53 win
December 31, 2021 High School Basketball
Advertisement | Advertise Here
<![if !supportLineBreakNewLine]>
<![endif]>
<![if !vml]>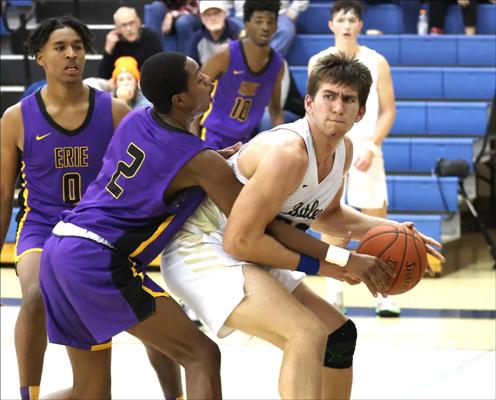 <![endif]>
Butler's Charlie Kreinbucher fights through a foul from Erie's Shaquawn Horton in Thursday's 70-53 home win. Kreinbucher finished with six points and eight rebounds.
SEB FOLTZ/BUTLER EAGLE
BUTLER TWP — Ten minutes into the game, Erie grabbed its first lead of the game.
It turned out to be its only lead.
Denzol Driver sank a trey to give the visitors a 26-24 edge with 5:37 left in the first half Thursday night at Butler. Devin Carney's short jumper and a Madden Clement trey quickly erased it, the Golden Tornado went on a 17-4 run to begin the second half and cruised to a 70-53 boys basketball victory.
Butler (6-2), which has won three straight, did not have a double-digit lead in the first half.
"I was disappointed with the way we played defense in the first half," Tornado coach Matt Clement said. "We were allowing too much penetration against our zone.
"They weren't passing their way in there. They were driving to the bucket with their quickness. We executed much better on defense in the second half."
<![if !vml]>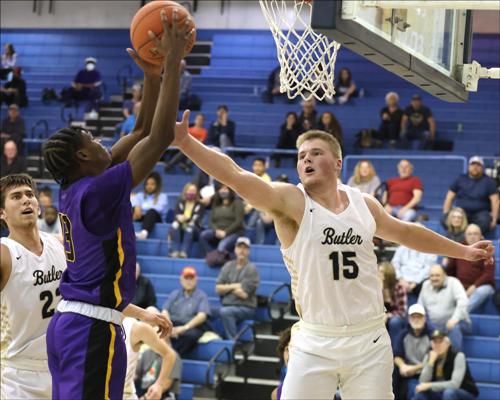 <![endif]>
Butler's Colin Patterson reaches for a rebound against Erie's Jay Smith in Thursday's 70-53 home win.
SEB FOLTZ/BUTLER EAGLE
Madden Clement sank two treys during the 17-4 run. Carney scored seven points during the run, including a trey of his own.
The duo combined for 48 points — Carney 30, Clement 18 — and 10 treys in the contest.
"We'd like to have a third scorer in there, but we can get away with two because the other guys on the floor are doing so many other things," Coach Clement said.
Madden had four steals to go with his outside shooting touch.
"Just get the ball and release," Madden said. "I learned that from my older brother (Mattix). He would take his shot quickly."
Coach Clement said Madden "does a good job of squaring his body and getting in position to take his shot."
"Defensively, he's long and he can get his hands on the ball. He's getting better and better at that," he added
After the 17-4 run, Erie never got its deficit out of double digits. Butler's lead peaked at 19 (70-51) on a Colin Casteel trey with a minute to play.
Four Butler players had at least five rebounds Thursday. Charlie Kreinbucher snared eight boards, Kaleb Proudfoot and Raine Gratzmiller six each, Colin Patterson five.
"Everybody they (Erie) put on the floor was so quick," Proudfoot said. "I'm pretty slow out there, so I have to get back, put a butt on somebody and box out.
"No. 10 (Zayveon Gore) attacked the boards for them and if he got behind me, I wasn't gonna stop him. I was looking for him all night."
Coach Clement praised the play of his big men.
"Colin controlled the boards in the fourth quarter," he said. "Charlie has been playing well these past couple of games. He's contributing six to 10 pointys, too, and those are big for us."
Gratzmiller contributed four assists for Butler Thursday.
Jayvion Smith had 13 points and five rebounds for Erie (3-4). Driver scored 11 points, hitting three treys, and Gore had 10 points and four boards
Erie coach Tom Koval could not be reached for comment after the game.
Butler returns to section play Tuesday night, hosting North Allegheny.
"We just played three (non-section) games and it was important for us to get some wins," Proudfoot said. "We're definitely improving."
Madden Clement agreed.
"Since that Hempfield game, we've been playing a lot better," he said.
ERIE 53
Denzol Driver 3-7 2-2 11, Andreas Mccullum 3-10 0-0 6, Shaquawn Horton 2-7 0-0 4, Juelz Carruthers 0-1 0-0 0, Tayjamier Carr 2-6 0-0 4, Kre Thompson 2-5 0-0 5, Zayveon Gore 5-8 0-0 10, Christopher Basham 0-0 0-0 0, Jayvion Smith 5-9 3-3 13. Totals: 22-53 5-5 53.
BUTLER 70
Braylon Littlejohn 2-4 1-2 5, Raine Gratzmiller 0-6 3-4 3, Devin Carney 11-19 4-4 30, Madden Clement 6-14 0-0 18, Mac Schnur 0-0 1-2 1, Colin Patterson 1-2 0-0 2, CJ Singleton 0-2 0-0 0, Charlie Kreinbucher 2-2 2-3 6, Kaleb Proudfoot 1-2 0-0 2, Colin Casteel 1-2 0-0 3. Totals: 24-53 11-14 70.
Erie 19 15 8 11 — 53
Butler 22 14 19 15 — 70
3-point goals: Erie 4 (Driver 3, Thompson); Butler 11 (Carney 4, Clement 6, Casteel).