Butler holds off Tigers
January 22, 2022 Last Updated: January 21, 2022 10:40 PM High School
<![if !vml]>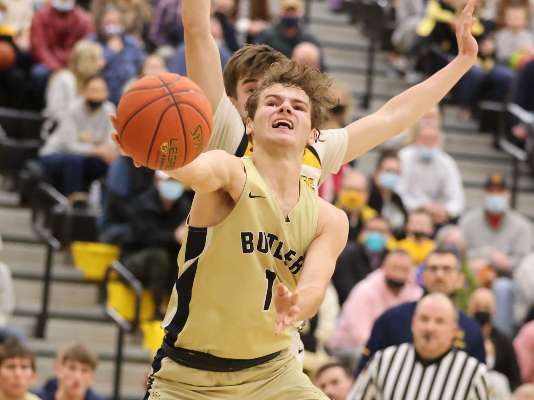 <![endif]>
Butler's Raine Gratzmiller attempts a layup against North Allegheny during the Golden Tornado's 86-79 boys basketball win Friday night in Wexford. Seb Foltz/Butler Eagle
Golden Tornado snaps skid with 86-79 road victory
WEXFORD — The rate at which Butler was making attempts from the field in the first quarter could not be sustained.
Hitting clutch shots was a different story.
The Golden Tornado opened its Section 1-6A boys basketball game at North Allegheny Friday night by draining nine of its first 10 attempts, leading to a 25-19 lead after eight minutes of play.
Butler led for most of the contest and held an 11-point advantage with just under three minutes to play.
That's when the Tigers reeled off a 13-2 run, sparked by eight points from reserve forward Joey Dopriak, to tie the game at 79 with 50 seconds left.
Butler's Madden Clement hit a 3-pointer, his sixth of the night, with 33 seconds remaining to put Butler up for good in an 86-79 victory.
"I probably shouldn't have taken that shot," said Clement. "We should have held the ball for the last shot, but I knew it was good when I let it go."
Matt McDonough, who paced NA with 25 points, missed a 3-pointer with 16 seconds left before Clement, Devin Carney and Charlie Kreinbucher iced the win from the free throw line.
"I'm just so proud of these guys," said Butler coach Matt Clement, who saw his team snap a three-game losing streak in section play. "It's very easy to go backward in this section because it's so tough, but we kept battling, kept fighting.
"The start of the game was big for us tonight because in our (last) three losses to North Hills, Seneca Valley and Pine-Richland, we started slow and fell behind."
Butler's shooters cooled off in the second quarter and NA took a brief 30-27 lead, but the Tornado led 41-38 at halftime.
The edge was 62-51 at the start of the fourth quarter, thanks in large part to NA's seven turnovers in the third period.
"We had active hands on defense and refused to give up easy baskets," Matt Clement said. "Charlie and Colin Patterson did a great job defending inside tonight." McDonough hit back-to-back treys for the Tigers at the start of the final period, but Butler answered both times with 3-pointers from Lance Slater and Raine Gratzmiller.
Carney led all scorers with 32 points. Madden Clement had 21 and Gratzmiller 16.
The victory allows Butler (9-5, 3-5) to jump ahead of the Tigers (9-5, 2-5) in the section standings. The field also includes North Hills, Seneca Valley and Pine-Richland. All five teams are good, but only four will make the WPIAL playoffs next month.
The very competitive section has led to a number of back-and-forth meetings so far.
"Sometimes the nerves get to you, but you just have to stay confident," said Madden Clement, who played Friday with a badly-bruised right hand after an injury suffered in Tuesday's loss to Pine-Richland. "We had to turn the page from those losses and I believed coming in here that we would win."
NA coach Dave DeGregorio was unavailable for comment.
BUTLER 86
Braylon Littlejohn 3 1-2 7, Raine Gratzmiller 5 2-2 16, Devin Carney 11 7-8 32, Madden Clement 6 3-4 21, Ryan Porch 1 0-0 2, Charlie Kreinbucher 1 3-7 5, Lance Slater 1 0-0 3, Colin Patterson 0 0-0 0. Totals: 28 16-23 86.
NORTH ALLEGHENY 79
Kolin Dinkins 5 0-0 12, Kyrell Hutcherson 7 2-2 17, Anthony Howard 1 2-2 5, Matt McDonough 9 0-1 25, Connor Casten 1 0-4 2, Robby Jones 1 0-0 2, Erik Sundgren 2 0-0 4, Joey Dopriak 5 2-4 12, Ty Iwanonkiw 0 0-0 0. Totals: 31 6-13 79.
Butler 25 16 21 24 - 86
NA 19 19 13 28 - 79
3-point goals: Butler 14 (Clement 6, Gratzmiller 4, Carney 3, Slater); North Allegheny 11 (McDonough 7, Dinkins 2, Hutcherson, Howard).