LEARNING HOW TO CLOSE
Butler boys hold off late rally, beat defending Class A champ
December 28, 2021 High School Basketball
Advertisement | Advertise Here
<![if !supportLineBreakNewLine]>
<![endif]>
<![if !vml]>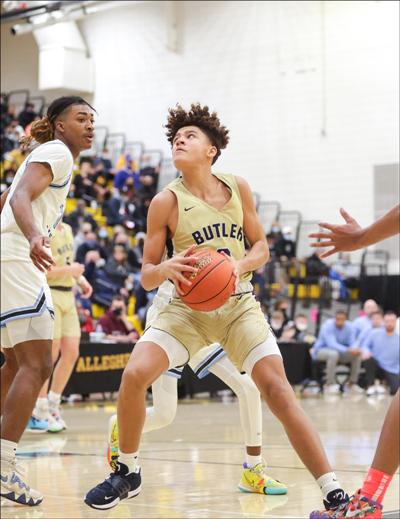 <![endif]>
Butler guard Braylon Littlejohn, who finished with 14 points, powers towards the hoop against Bishop Canevin defenders during the North Allegheny Holiday Bash Basketball Tournament Monday night. Butler prevailed over Bishop Canevin 80-73.
NATE BLACK/SPECIAL TO THE EAGLE
WEXFORD — A Devin Carney layup gave Butler a 22-point lead with just over six minutes to play.
Game over?
Bishop Canevin had other ideas.
The defending WPIAL Class 1A champion Crusaders applied full-court pressure and pulled within seven,75-68, with a minute to go before the Golden Tornado held on for an 80-73 boys basketball victory Monday at North Allegheny.
The game was part of NA's Holiday Bash tournament.
"That's the first time we've been in position where we wanted to hold the ball (in the fourth quarter)," Butler coach Matt Clement said. "They sped us up and we made some mistakes."
But when the Tornado (5-2) needed to make a big play down the stretch, they did.
A Braylon Littlejohn steal and layup with 3:34 to play gave Butler a double-digit lead again at 68-57.
A Madden Clement trey did likewise with 2:26 left, giving the Tornado a 71-59 edge.
Senior guards Raine Gratzmiller and Carney took care of business from there, combining to sink 13 of 14 free throws in the final quarter.
"The big thing is to stay calm and keep playing the game the way we know how," Gratzmiller said of withstanding Bishop Canevin's late pressure. "And we had to step up and make our free throws."
Crusader coach Gino Palmosini was pleased with the way his team fought back late.
"We probably should have gone to the full-court pressure earlier," Palmosini said. "It gave them trouble and seemed to energize us.
"When we're playing 6A teams like this, we have to play a full 32 minutes of disciplined basketball. We haven't done that yet. Playing well in spurts against teams like this isn't going to get it done."
The Crusaders (2-3) have yet to play a section game.
Their first five opponents have all been bigger schools in Penn Hills, Central Catholic, Chartiers Valley, Woodland Hills and Butler. Carney led Butler with 23 points and three assists, but had only two field goals after the first quarter. He scored 11 points in the first quarter, including three treys.
"He made a couple of those from ridiculous distance," Palmosini said. "But that kid is going to hit some of those. I thought we did a nice job on him."
And Butler did a nice job of getting points from other places.
Clement sank four treys and had 16 points to go with a pair of assists. Littlejohn came off the bench to score 14 points, grab five rebounds, add two assists and a pair of steals.
"Braylon is like my sixth starter," Coach Clement said. "He's an aggressive, high-energy player for a sophomore. He makes some mistakes, but he gets after it."
Gratzmiller had 10 points, five rebounds and three assists, Charlie Kreinbucher 10 points and four rebounds.
Kreinbucher drove down the middle of the floor for a thunderous dunk during a 12-0 Butler run late in the third quarter that opened up an 18-point lead.
"I love having five guys in double-figures," Coach Clement said. "This team can do a lot of things."
Carney agreed.
"We came out hot in the first half (hitting 15 of 22 shots)," Carney said. "We were able to get some turnovers in the second half and put together a couple of runs."
Butler had 19 turnovers. Bishop Canevin had nine of its 12 turnovers in the second half.
Kevaughn Price led Bishop Canevin with 30 points and seven boards.
He sank 14 of 17 shots and dominated inside offensively. Kai Spears scored 11 points for the Crusaders — all in the fourth quarter — and Jaden Gales had 10 points, seven rebounds and five assists.
"That is a great basketball team," Coach Clement said of Bishop Canevin. "We played them in the summer and they clobbered us. This is a nice win."
Palmosini hopes it turns into a learning experience for his team.
"Butler has a lot of talent and those kids play together," he said. "We're just not doing that yet."
BUTLER 80
Braylon Littlejohn 5-7 3-7 14, Raine Gratzmiller 2-7 6-6 10, Devin Carney 6-16 7-8 23, Madden Clement 6-9 0-0 16, Colin Patterson 1-2 0-0 3, CJ Singleton 1-1 0-0 2, Charlie Kreinbucher 5-5 0-0 10, Kaleb Proudfoot 1-1 0-2 2. Totals: 27-48 16-24 80.
BISHOP CANEVIN 73
Amari Evans 4-14 0-2 9, Jhamil Fife 2-9 0-2 4, Kai Spears 5-8 0-0 11, R.J. Sledge 2-11 4-4 9, Makhi Beard 0-1 0-0 0, Jaden Gales 5-10 0-0 10, Kevaughn Price 14-17 2-2 30. Totals: 32-71 6-10 73.
Butler 20 19 19 22 — 80
B.Canevin 14 15 13 31 — 73
3-point goals: Butler 10 (Littlejohn, Carney 3, Clement 4, Patterson), Bishop Canevin 3 (Evans, Spears, Sledge)