RUNAWAY TRAIN
Butler dominates defending 5A state champ
December 13, 2021 High School Basketball
<![if !vml]>
<![endif]>
<![if !vml]>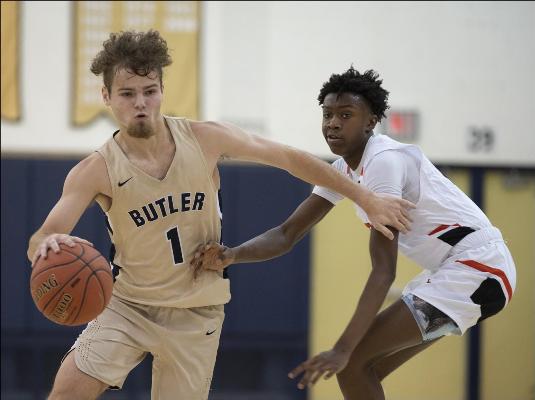 <![endif]>
Butler's Raine Gratzmiller, left, pushes past Cathedral Prep's Amaree Pickens Saturday at Butler High School. Gratzmiller scored 16 points to help the Golden Tornado beat Prep 70-35.
STEVEN DALTON/EAGLE FILE PHOTO
BUTLER TWP — When the defending Class 5A state champions come knocking, it's not often they get turned away hanging their heads and wondering what just hit them.
After both Butler and Cathedral Prep handily won their openers Friday at the Butler Senior High School gymnasium, the teams returned for a clash on Saturday night.
"Every time we've played them, (the games) have been battles, physical battles with lots of fouls and physicality," Butler coach Matt Clement said. "The person still standing at the end ends up winning."
A dominating 32-4 third quarter run helped to push the Golden Tornado to a 70-35 victory over the Ramblers.
"A win against Erie Prep where you hold them under 50 is the bottom line," Clement said. "We got as hot as we probably will be all season long for an extent. It kind of avalanched."
Butler's senior trio of Devin Carney, Raine Gratzmiller and Madden Clement got going out of the gate, notching 14 of the contest's first 17 points. The Golden Tornado made almost as many field goals (six) in the first quarter as the visitors did in the first 16 minutes (seven).
Cathedral Prep had trouble shooting the ball throughout the half, but down 33-19 at the intermission, was still somewhat within reach.
That changed rather quickly.
Gratzmiller, Carney and Madden Clement all enjoyed hot streaks in the third frame, combining for 27 points in eight minutes. Both Carney and Clement sunk a pair of treys in the quarter, while the Ramblers could only muster one made shot from the floor.
"You roll the dice and we lost on that one," Cathedral Prep coach Steve Piotrowicz said. "We knew we needed to speed the game, but I know that's not our strength. You take a chance and (Butler) played really good basketball. They shared the ball at a high level and they made their shots and we didn't.
"In a quick span, that's kind of how the game can unfold."
Senior center Kaleb Proudfoot's conventional 3-point play to ring in the fourth quarter pushed Butler's lead to a game-high 45 points.
"Butler is experienced, number one," Piotrowicz said. "They probably have the best player in Pennsylvania, number two. We lost a lot of players this year … It is what it is. These kids need to learn how to play basketball and become a better team and I've got to do a better job of making sure they do that."
Butler looks ahead to another test, this time on the road Tuesday at North Hills.
"I think North Hills is the best team in the WPIAL, so we're walking into their place and it's a tough place to win," Clement said. "No time to breathe, no time to celebrate, but it's nice to have two wins going into it."
Cathedral Prep 35 Jake Sambuchino 5 0-0 10, Nick Lydic 0 0-1 0, Tavion Spencer 1 2-4 4, Reece Colvin 1 2-2 5, Amaree Pickens 3 0-0 8, Zion Barksdale 1 0-0 2, Semontae Lofton 2 2-4 6. Totals: 13 6-11 35. Butler 70 Raine Gratzmiller 6 2-2 16, Devin Carney 10 4-4 27, Madden Clement 4 0-0 12, Charlie Kreinbucher 2 3-5 7, Ryan Porch 1 0-0 3, Kaleb Proudfoot 1 1-1 3, Mac Schnur 1 0-0 2. Totals: 25 10-12 70. Cathedral Prep 9 10 4 12 — 35 Butler 17 16 32 5 — 70 3-point goals: Cathedral Prep 3 (Colvin, Pickens 2); Butler 10 (Gratzmiller 2, Carney 3, Clement 4, Porch) Tuesday: Butler at North Hills
Friday's Game Latrobe 58 Luke Hamaty 1 1-4 3, Landon Butler 9 3-4 25, Chase Sickenberger 2 0-0 4, Drew Kozuch 3 2-2 8, Ben Hamaty, 1 1-4 3, Max Butler 3 3-4 10, John Wetzel 1 0-0 3, Koen Fulton 1 0-0 2. Totals: 21 10-18 58. Butler 84 Raine Gratzmiller 6 1-1 14, Devin Carney 14 3-4 36, Madden Clement 5 0-0 13, Colin Patterson 1 0-0 2, Charlie Kreinbucher 2 3-6 7, Braylon Littlejohn 3 0-0 6, Mac Schnur 1 0-0 2, Lance Slater 1 0-0 2, Colin Casteel 1 0-0 2. Totals: 34 7-11 84. Latrobe 4 25 16 13 — 58 Butler 25 24 24 11 — 84 3-point goals: Latrobe 6 (Landon Butler 4, Max Butler, Wetzel); Butler 9 (Carney 5, Clement 3, Gratzmiller)