STARTING STRONG
Butler opens season with win
December 11, 2021 High School Basketball
Advertisement | Advertise Here
<![if !supportLineBreakNewLine]>
<![endif]>
<![if !vml]>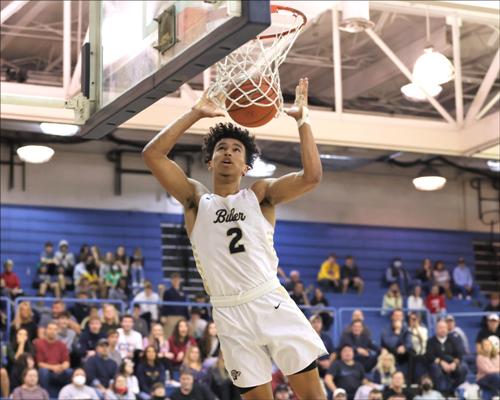 <![endif]>
Butler's Devin Carney comes down from a dunk at home against Latrobe Friday.
SEB FOLTZ/BUTLER EAGLE
BUTLER TWP — When senior guard Devin Carney is scoring and the Butler defense stiffens, it doesn't bode well for the opposition.
In a season opener at the Butler Senior High School gymnasium Friday night, Latrobe saw that for themselves. In an unselfish effort, the Golden Tornado tamed the visiting Wildcats, 84-58.
"As a team, I think we were all jittery and excited," Carney said. "It's been (a while) since we had those fans and that atmosphere to get us going. We came out from the jump, ready to go."
Behind 25 first-half points from the senior Carney — 16 of them coming in the opening frame — Butler got rolling early. Carney, the Elon University commit, and senior Raine Gratzmiller were a big reason as to why the Golden Tornado started the game on a 16-1 run and went to the bench after the first quarter up 25-4.
"What that let me do was to get all of those guys in there," Butler coach Matt Clement said. "They all got that taste."
Behind ten points from 6-foot-4 guard Landon Butler, the Wildcats' offense would wake up some in the second quarter. Still, the Golden Tornado held a 20-point lead at the break.
"That was going to be an uphill battle no matter what," Latrobe coach Brad Wetzel said. "To dig that hole was the worst of possibilities there. They just came out firing and we just weren't contesting things.
"We just were no match early and, at that point, had put ourselves in such a deficit that I think our kids were a little bit shell-shocked."
Carney drained four shots from behind the arc in the opening half.
"He's a special player," Wetzel said. "Just his ability to score. Even when you're trying to put some pressure on him, it's real tough."
"He can score a ton of points and he can carry us the whole way through, but if they want to try to take him away, he's still going to score his points," Clement said. "Those other guys can score, though, and you're going to give them better looks."
"We don't deny it, we're trying to score," Clement said. "We're trying to score points and we're trying to play fast."
Seven different players — including juniors Lance Slater, Mac Schnur, and Colin Casteel — contributed with buckets in the final 16 minutes.
"We don't have much experience and it showed against a really senior-laden team," Wetzel said.
Facing a frenetic defense for most of the contest, Carney closed out with a game-high 36 points. Gratzmiller finished with 14 points and Madden Clement with another 13 and also added five assists.
"We did a good job of letting them dictate the speed and we just played within ourselves," Clement said. "We stayed calm and I think there were good decisions across the board from every person on the court.
"Teams that pressure like that, they either get all their points off that pressure or you're giving the ball to a dude that has 1,500 points in the middle of the court."
The team was happy to be back in front a raucous crowd, which was at its loudest after an alley-oop from Madden Clement to Carney not long into the third quarter.
"To be back in this gym and have that Green Party behind us and all the fans and the excitement, then you start getting some dunks and some big 3s and some big steals, it starts feeling like it used to," Clement said.
Clement made sure to point one thing out, however. Butler Eagle Sports Editor John Enrietto wasn't there for the game, dealing with his health.
"The whole team is thinking and praying for him," Clement said.