Shining in a shootout
Butler outguns Norwin for 81-73 WPIAL 6A playoff win
John Enrietto Eagle Sports Editor
February 23, 2022 Last Updated: February 22, 2022 10:54 PM High School
<![if !vml]>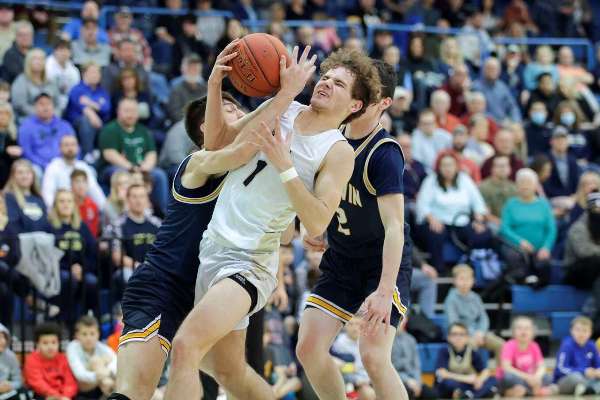 <![endif]>
Butler's Raine Gratzmiller (1) is fouled on the way to the basket during the Golden Tornado's 81-73 WPIAL Class 6A playoff win over Norwin Tuesday night. Gratzmiller had 24 points, seven rebounds and four assists in the win. Nate Black/Special to the Eagle
NATE BLACK
BUTLER TWP — Norwin struck for season-highs of 16 3-pointers and 73 points Tuesday night in the Butler gym.
And lost.
The Golden Tornado survived a back-and-forth second quarter that saw the lead change hands eight times before never losing the lead in the second half, securing an 81-73 victory in a first-round WPIAL Class 6A boys basketball playoff game.
"If a game turns into a shootout, we know how to win shootouts," Butler senior guard Raine Gratzmiller said.
The Tornado (13-9) began the game by hitting their first six shots — four from 3-point range — to build a 16-6 lead midway through teh first quarter. The spurt forced Norwin coach Lance Maha to take a timeout.
"We wanted to play a zone against them, but the way they started the game, we had to try to match up one-on-one," Maha said. "We definitely did not want to have to do that.
"We lost this game on defense."
The Knights (9-11) surrendered 80 points in a game for the first time this season. Norwin entered the game allowing an average of 53.9 points per contdest. Butler reached the 80-point mark for the eighth time this season.
"Our goal was to get them to play man-to-man against us," Butler coach Matt Clement said. "I thought we had some favorable matchups that way. Raine probably had the best matchup and that's why he had the game he did."
<![if !vml]>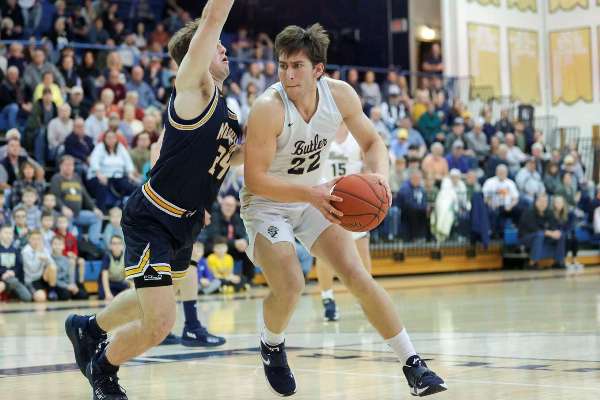 <![endif]>
Charlie Kreinbucher (22) powers towards the hoop Tuesday night. He had seven rebounds in Butler's win. Nate Black/Special to the Eagle
NATE BLACK
Gratzmiller tallied 24 points, seven rebounds and four assists. Devin Carney struck for 31 points, raising his career points total to 2,071.
Carney sank five free throws in the final 1:24 to help put the game away. He, Gratzmiller and Colin Patterson sank threr treys each. Patterson scored 11 points.
"We like to play these types of games," Carney said. "Our strength is our offense. We always feel like we can get enough points to win."
Patterson sank two treys early to help force Norwin out of its zone. But the Knights kept battling back.
A 7-0 run at the end of the third quarter gave the Tornado a 60-51 lead heading into the fourth. That lead was 64-54 with 6:12 to play before a 7-0 Norwin run cut the gap to 64-61 with 4:30 left. A trey by Justin Weaver got the Knights within 66-64 with 3:51 on the clock.
A Carney free throw and Patterson's third trey upped the margin to 70-64. Patterson's layup gave Butler a 72-66 lead with 1:50 left and Carney's free throws took over from there.
"Colin has put together a tremendous season," Clement said. "He's earned the right to be out there as one of our shooters. When we drive and kick it back out, guys like C-Pat have to make those plays count."
The Tornado sank 31 of 46 shots from the floor — a sizzling 66 percent — in outgunning the Knights, who sank 27 of 53 shots, including those 16 treys.
Butler avenged a 69-61 loss to Norwin on the Tornado's floor Jan. 25. That was Butler's Senior Night.
"Norwin found its stride that night and they've been shooting very well ever since," Clement said. "We knew this wasn't going to be an easy game. We contested some of those 3's and they hit them anyway."
Charlie Kreinbucher had seven rebounds and Madden Clemernt six rebounds and three assists for the Tornado. Butler enjoyed a 29-15 edge on the boards. Braylon Littlejohn came off the bench to amass five assists and four rebounds.
Adam Bilinsky paced Norwin with 27 points and three assists. Weaver scored 19 points while Michael Fleming had 13 points and four assists. Ryan Edwards tallied six assists for the Knights.
"I'm proud of my team," Maha said. "We beat them here earlier in the year and were in the game all the way tonight. We just couldn't stop them."
Butler travels to Central Catholic Friday night for a quarterfinal game.
"We have a lot of work to do to get ready for them," Clement said. "They've been scouting us and they were here tonight. But we'll be ready to play."
NORWIN 73
Adam Bilinsky 10-16 3-3 27, Ryan Edwards 2-4 0-0 6, Michael Fleming 5-13 0-1 13, Justin Weaver 7-11 0-0 19, Ty Stecko 3-9 0-1 8, Luke Denny 0-0 0-0 0, Jacob Ferry 0-0 0-0 0. Totals: 27-53 3-5 73.
BUTLER 81
Braylon Littlejohn 2-4 0-0 4, Raine Gratzmiller 9-16 3-4 24, Devin Carney 11-16 6-8 31, Madden Clement 2-3 1-1 5, Colin Patterson 4-4 0-0 11, Charlie Kreinbucher 3-3 0-0 6. Totals: 31-46 10-13 81.
Norwin 21 15 15 22 — 73
Butler 22 19 19 21 — 81
3-point goals: Norwin 16 (Bilinsky 4, Edwards 2, Fleming 3, Weaver 5, Stecko 2), Butler 9 (Gratzmiller 3, Carney 3, Patterson 3)