Sweep lands Butler in playoffs
Golden Tornado's 3rd win over rival NA gives team 3rd place in section
John Enrietto Eagle Sports Editor
February 09, 2022 Last Updated: February 08, 2022 11:14 PM High School
<![if !vml]>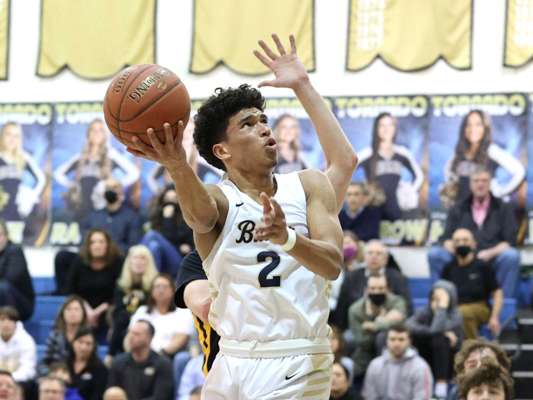 <![endif]>
Butler's Devin Carney takes a shot against North Allegheny Tuesday night. Carney scored 37 points in the Golden Tornado's 69-59 win at home, pulling within 10 of 2,000 career points. The win qualifies Butler for the WPIAL playoffs. Sebastian Foltz/Butler Eagle
BUTLER TWP — Simply put, Butler took care of business.
The Golden Tornado jumped out to an 11-0 lead, withstood losing a 15-point lead in the second half and finished strong for a 69-59 Section 1-6A boys basketball win over North Allegheny Tuesday night in the Butler gym. The victory guarantees Butler (11-8, 5-7) third place in the section, clinching a WPIAL playoff spot while eliminating Seneca Valley from postseason contention.
"This is a proud group of guys that have had a lot of success here," Butler coach Matt Clement said of his team, particularly the seniors. "We all took responsibility for the position we put ourselves in. It's a shame any team in this section has to miss the playoffs.
"I'm just happy the last chapter for this team hasn't been written yet."
Butler's playoff hopes were in peril leading into last Friday's game at Pine-Richland. The Tornado held on for a two-point win over the Rams that night before besting the Tigers.
It was two seniors — Devin Carney and Charlie Kreinbucher — who got the Tornado rolling early against NA (13-7, 4-7), which will take fourth place in the section.
Carney scored 11 points in the first quarter and Kreinbucher snared 11 of his 14 rebounds in the first half. He stuck back four of those boards for eight points in the opening quarter.
"Devin and Charlie set the tone tonight," Clement said. "Those two came out on fire, definitely playing with a purpose."
Carney wound up scoring 37 points — 30 in the first three quarters — to pull within 10 of 2,000 for his career. The Tornado play at McDowell in Erie Thursday night.
"Scoring 2,000 would be special because not a lot of high school players get a chance to do that," Carney said. "It will be a nice accomplishment, but my focus right now is helping us go on a nice playoff run.
"We came out and took this game very serious tonight. We knew what was at stake."
Had Butler lost, the Tornado would have needed a Seneca Valley loss Friday at Pine-Richland to enter postseason play.
"We knew offensive rebounds would play a big key in this game because we've been giving up a lot of points that way," Kreinbucher said. "If we controlled the boards, we stood a really good chance of winning this game."
The Tornado enjoyed a 35-22 edge in rebounding. Still, this win didn't come easily.
North Allegheny missed its first eight shots while Butler built that 11-0 lead out of the gate. An offensive rebound and stickback by Matt McDonough, followed by a fast-break lay-up by McDonough, pulled the Tigers within 21-19 with 4:03 left in the first half.
A pair of Carney treys — he had five on the night — helped the Tornado rebound for an eight-point lead by halftime. Butler's lead swelled fro 43-29 early in the third period when Raine Gratzmiller lobbed a pass to Carney for a jam. A Carney trey gave Butler a 46-31 advantage with 3:10 left in the third.
"We were fired up, doing what we had to do," Carney said.
But the Tigers weren't done. NA went on a 9-0 run to get back in it and took its first — and only — lead of the game at 54-53 on two McDonough free throws with 4:29 to play.
Carney answered with a trey seconds later. Madden Clement sank two free throws. Braylon Littlejohn scored on layups on consecutive possessions and Butler was back in control. The Tornado allowed only five points in the final four minutes-plus.
"This might have been the best we've finished a game this year," Clement said.
Carney had three steals to go with his 37 points. Littlejohn came off the bench to score 10 points. Gratzmiller tallied six points, six rebounds and three assists.
Ty Iwanonkiw led the Tigers with 14 points, five rebounds and three assists. McDonough had 13 points, Kyrell Hutcherson 10. The loss snapped a four-game NA winning streak.
Butler swept all three games with the Tigers this season. North Allegheny coach Dave DeGregorio could not be reached for comment after the game.
NORTH ALLEGHENY 59
Kolin Dinkins 1-5 0-0 2, Kyrell Hutcherson 3-6 2-2 10, Erik Sundgren 0-2 0-0 0, Anthony Howard 3-3 0-0 9, Matt McDonough 4-8 3-6 13, Connor Casten 0-0 0-0 0, Robby Jones 3-9 1-2 7, Ty Iwanonkiw 5-9 2-3 14, Joey Dopirak 1-2 2-2 4, Anthony Sciote 0-5 0-0 0. Totals: 20-48 10-15 59.
BUTLER 69
Braylon Littlejohn 5-9 0-0 10, Raine Gratzmiller 3-6 0-0 6, Devin Carney 12-29 8-8 37, Madden Clement 1-3 2-2 4, Ryan Porch 0-0 0-0 0, Colin Patterson 1-3 2-3 4, Charlie Kreinbucher 4-5 0-2 8, Lance Slater 0-0 0-0 0. Totals: 26-55 12-15 69.
N.Allegheny 10 19 14 16 — 59
Butler 19 18 11 21 — 69
3-point goals: North Allegheny 9 (Hutcherson 2, Howard 3, McDonough 2, Iwanonkiw 2), Butler 5 (Carney 5)
JV: Butler, 66-51 (B: Colin Casteel 25, Ryan McLister 11; NA: Tyre Alualu 20, J.D. Contanza 10)