CASHING IN
Strong effort on both sides propels Butler win over Slippery Rock
Brendan Howe Eagle Staff Writer
December 22, 2022 Last Updated: December 21, 2022 10:40 PM High School
<![if !vml]>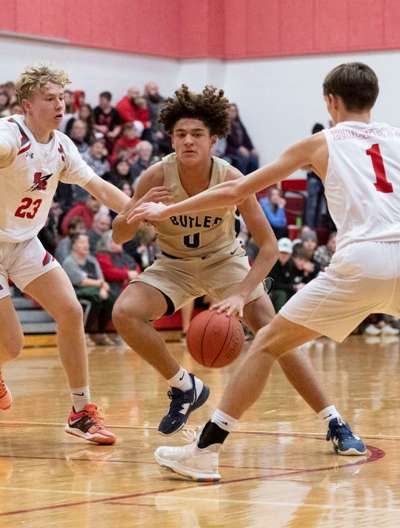 <![endif]>
Butler's Braylon Littlejohn splits the defense of Slippery Rock's Elam Pyle (23) and Levi Prementine (1) at Slippery Rock High School. The Golden Tornado won the non-section clash, 75-48. Steven Dalton/Special to Butler Eagle
SLIPPERY ROCK — A stout defensive effort helped Butler's Madden Clement score 18 of his game-high 21 points in the first half and the Golden Tornado downed host Slippery Rock, 75-48, in a non-section boys basketball matchup Wednesday night.
Clement nearly outscored the whole of the Rockets' crew in the initial 16 minutes — including a stretch where he knocked down three treys in under 40 seconds in the second frame.
"I looked back at my teammates when they got the ball every time," Clement said. "I was just sitting there, wide open, and they saw me, so big credit to them."
Butler (6-1) registered 18 takeaways in the first half, netting 24 points off turnovers before the midway point and heading into the break up 38-19.
It helped the Golden Tornado's cause that the Rockets (1-4) went without a basket for nearly five minutes to begin the second frame. Meanwhile, the combination of Ryan Porch, Mac Schnur, Donovan Carney, and Clement enjoyed a 19-point surge that spilled over from the first frame after the latter's buzzer-beating trey to close the quarter.
"We've slowly been evolving our defense to press a little bit more and tonight we did a pretty good job at getting turnovers," Butler coach Matt Clement said. "We're a different team than we were last year. We're a lot faster, (with) a lot more intense defense, man defense, and get to the rim.
"This group, it's been a lot of fun so far. I'm happy that we were able to show that we could press, turn them over, and really that changed the game."
With 3:03 to go before the halftime break, senior swingman Dylan Gordon finally got the home crew on the board with a three, then turned around and sunk another on Slippery Rock's next touch. Sophomore forward Josh Book's free throws with 2:11 remaining in the second were the Rockets' only other points prior to halftime.
"The biggest thing was we didn't come ready for pressure tonight," Slippery Rock coach A.J. Motta said. "It's something that we work on all the time, so I don't know why it caught us off guard so much. But their (Butler's) length and their athletic ability is really good ... It gave us fits tonight."
The Rockets climbed to within a dozen points with just over three minutes left before the fourth, but Golden Tornado underclassmen Braylon Littlejohn and Donovan Carney combined for 10 points over the quarter's last 2:08. Most of the former's were at the rim.
"This is a pretty big statement to make, but he's an elite finisher," Coach Clement said of the junior, Littlejohn. "He's as good a finisher at the bucket as anybody I've ever had — and I've had some great players that have rolled through. Pound for pound, he's definitely the best.
"He's just really shifty and gets his shoulders squared. He has the ability to make tough shots inside. He's a handful."
Slippery Rock picked it up during the last two quarters, as eight guys found the bottom of the basket. Gordon paced the team on the night with a dozen points.
Motta said that the hurried showing from his team was atypical.
"We play a lot of seniors, a lot of guys with experience, and it's nothing we haven't seen before," he said. "We're in a tough stretch right now and we've seen pressure from all of these teams that we've been playing. For us to turn it over so much against the press itself was uncharacteristic of us."
On the other side, Butler is getting used to solid play on both sides of the court. They'll play Central Florida Christian in the Holiday Bash at North Allegheny High School on Tuesday.
"A performance like this is definitely needed," the younger Clement said. "All of this is just momentum carrying us until past Christmas when we've got section play."
BUTLER 75
Madden Clement 21, Braylon Littlejohn 16, Ryan Porch 12, Donovan Carney 10, Tayt Lucas 6, Colin Casteel 4, Mac Schnur 2, Ryan McClister 2, Coleton Welter 2. Totals: 31 2-4 75.
SLIPPERY ROCK 48
Dylan Gordon 12, Josh Book 8, Elam Pyle 6, Quinn Parson 6, John Sabo 6, Levi Prementine 2, Garrett Stabryla 2, Jacob Wolak 2, Jayson Covert 2, Anderson Franco 2. Totals: 18 7-12 48.
Butler 17 21 20 17 — 75
Slippery Rock 11 8 16 13 — 48
3-point goals: Butler 10 (Clement 5, Porch 2, Lucas 2, Littlejohn); Slippery Rock 4 (Gordon 2, Book, Pyle)