Carney comes up big for Tornado
Freshman guard makes big plays late in Butler's 53-48 victory
John Enrietto Eagle Sports Editor
December 05, 2022 Last Updated: December 04, 2022 09:26 PM High School
<![if !vml]>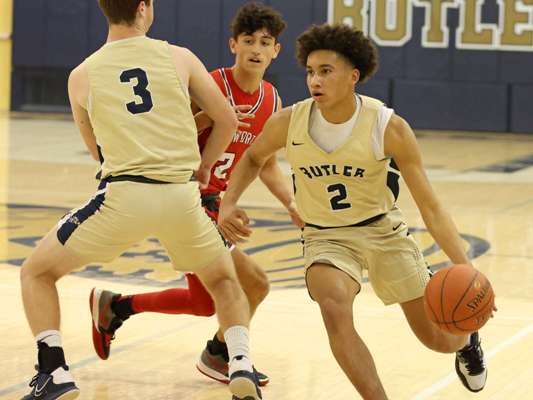 <![endif]>
Bulter's Donovan Carney dribbles down court against Avonworth in Saturday's tournament game at Butler. Butler topped Avonworth 53-48. Seb Foltz/Special to the Eagle
BUTLER TWP — The game was up for grabs ... and Donovan Carney grabbed it.
Butler's freshman guard sank a go-ahead trey with 25 seconds left, then canned three of four free throws in the final 5.8 seconds Saturday as the Golden Tornado boys basketball team defeated Avonworth, 53-48, in the final game of the Butler Tip-Off Tournament.
"Donovan's basketball IQ is off the charts," Butler coach Matt Clement said. "He plays a very intelligent game. He doesn't panic on the floor and he does things you wouldn't expect a freshman to do. His teammates notice that."
Neither team ever led by more than six points. The score was tied on four occasions, the last time at 37 after Colin Casteel sank a layup with 1:12 left in the third quarter.
The lead changed hands four times, the last lead-change coming when Carney sank his trey off an assist from Braylon Littlejohn for a 50-48 Tornado edge with 25 seconds left. Butler then stole the ball and Carney found himself at the line with 5.8 seconds to play,.
He sank the first shot of the one-and-one, then missed the second. The rebound deflected back into his hands and he darted away from the basket before being caught and fouled with 2.6 ticks on the clock. Carney sank both of those free throws to ice the game.
"We got some timely contributions from a number of players in this game," Clement said. "Donovan's play on the defensive side was key as well. We had a tough day shooting the ball, but made up for that in other areas."
The Tornado (2-0) sank only three of 15 shots in the second quarter and three of 12 in the fourth. They did sink 10 of 12 free throws on the day.
James Desmond came off the bench to hit two critical 3-point shots in the third quarter. Tayt Lucas drained a trey — his first varsity points — to give Butler a 47-43 edge with 2:13 left in the game before Avonworth (1-1) took a brief lead.
"I trust my shooters," Clement said. "When we need them, I'm sending them out there. I've got 12 guys I can play at any time and it's impossible to get them all in. Some won't play at all in some games. But they all have to be ready.
"Avonworth is an excellent team. Their big guys can play and the point guard is very good. We defended well. If we hold teams to 48 points, we're going to win a lot of games because we're gonna score."
Littlejohn had 14 points, 10 rebounds and four assists for the Tornado. Carney had 14 points and four boards. Madden Clement sank just one of 10 shots, but tallied five assists and five steals in the contest.
Avonworth has two starters back from a team that reached the WPIAL 3A championship game and PIAA semifinals last season.
"Four of my five starters are football guys, so we've only had three total practices with everybody," Antelopes coach Mark Mancuso said. "Butler is a great program with great coaching, but I'd like to play them again in January.
"Take nothing away from them, though. They made the plays to win the game."
Austin Johncour led the Antelopes with 13 points and 10 rebounds. Rowan Carmichael had 13 points, six rebounds and four steals. Cole Hansen had eight points and three rebounds.
Despite giving up a lot of size, Butler held a 36-30 advantage on the boards.
One Avonworth starter played in this tournament despite losing his father to cancer Friday morning. He scored 13 points and had six rebounds Friday night against Knoch and tallied four points, three assists and three rebounds Saturday.
"That is one tough kid," Masncuso said. "His father wanted him to play. His situation affected all of us and we'll be attending the funeral Monday as a team."
Butler hosts Eden Christian Wednesday night.
"We still have a lot of work to do. But this is a nice start for us," Clement said.
AVONWORTH 48
Austin Johncour 6-13 0-0 13, Rowan Carmichael 5-15 2-2 13, Peyton Faulkner 2-6 0-2 4, Gabe Bonnet 0-0 0-0 0, Joel Sommers 2-3 0-0 4, Brandon Biagiarelli 1-1 0-0 2, Cole Hansen 4-8 0-0 8, Dylan Gardner 2-3 0-3 4. Totals: 22-48 2-7 48.
BUTLER 53
Braylon Littlejohn 4-6 5-6 14, Donovan Carney 4-14 3-4 14, Ayden Davis 1-2 0-0 2, Ryan McLister 0-0 0-0 0, Madden Clement 1-10 0-0 2, Ryan Porch 3-5 0-0 6, Tayt Lucas 1-6 0-0 3, Colin Casteel 2-4 2-2 6, James Desmond 2-3 0-0 6. Totals: 18-51 10-12 53.
Avonworth 12 13 12 11 — 48
Butler 13 8 21 11 — 53
3-point goals: Avonworth 2 (Johncour, Carmichael), Butler 7 (Littlejohn, Carney 3, Desmond 2, Davis)