Closing with a bang
Butler protects lead well in defeating previously unbeaten Franklin Regional, 67-49
John Enrietto Eagle Sports Editor
December 17, 2022 Last Updated: December 17, 2022 07:53 AM High School
<![if !vml]>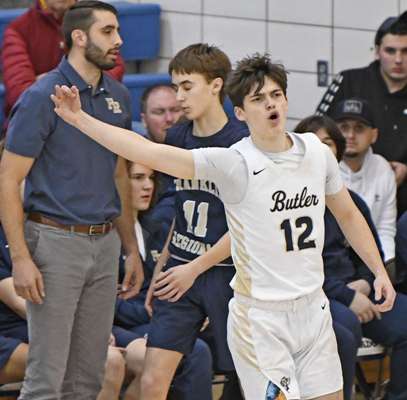 <![endif]>
Butler's Tayt Lucas (12) celebrates after hitting a three-pointer against Franklin Regional. The Golden Tornado sank 11 treys as a team in their 67-48 victory. Justin Guido/ Butler Eagle 12/16/22
JUSTIN GUIDO
BUTLER TWP — Franklin Regional was hanging around — until Braylon Littlejohn hung a big play on the Panthers.
The visitors had possession to begin the fourth quarter Friday night in the Butler gym, looking to cut an 11-point deficit down to single digits. But Littlejohn stole the ball near mid-court, drove to the hoop, laid the ball in, was fouled and completed the three-point play seconds into that final period.
Butler's lead never left double digits from there and the Golden Tornado (4-1) rolled to a 67-48 boys basketball victory over the previously unbeaten Panthers (5-1).
<![if !vml]>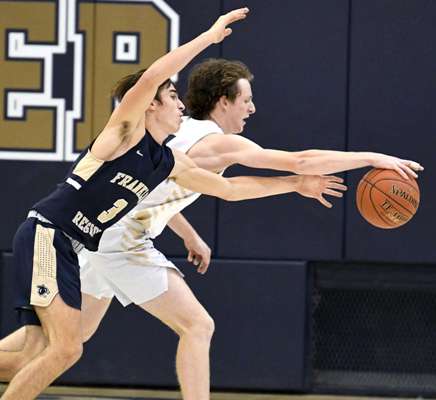 <![endif]>
Ryan Porch fights for a loose ball with Franklin Regional's Cooper Rankin (3) during Butler's win. Justin Guido/ Butler Eagle 12/16/22
JUSTIN GUIDO
"That play gave us a spark," Littlejohn said. "But a lot of guys contributed to it and to this win."
Moments later, Littlejohn assisted on an Ayden Davis trey as Butler widened its lead to 55-40 with 6:26 to play.
"We got a lot of three's tonight from different players," Butler coach Matt Clement said. "We forced them out of their zone early and we worked hard to generate offense inside as well.
"We want to be able top score points in different ways. The three-ball got us going early."
Butler's first six field goals of the night were treys. The Tornado did not register a 2-point goal until Littlejohn scored on a layup with six minutes remaining in the first half.
Butler sank 11 treys on the night, using seven players to do so.
"We didn't compete tonight," Franklin Regional coach Jesse Reed said. "We were standing around too much and that left Butler with too many stand-still 3-point shots. Give them open looks like that and that team's not going to miss many of them."
The Panthers won their first five games this season by an average margin of 22 points. Franklin Regional allowed an average of 36 points per game in those five victories.
Butler closed the first half with a 19-9 spurt to take a 38-25 advantage into the locker room. Tayt Lucas came off the bench to drain a pair of treys during that second period. The Tornado sank 13 of 23 shots from the floor, including seven treys, in the first half.
Franklin Regional's lone trey of the night — coming from Finian Hutchison — pulled the Panthers within 42-33 with five minutes left in the third quarter. Donovan Carney answered with a trey of his own to get the lead back to double digits.
A jumper y Lucas late in the third gave the Tornado that 11-point edge with eight minutes to play.
"Our bench was outstanding tonight," Clement said. "Guys were coming in and hitting shots. Ryan Porch facilitates our inside-out game because he feeds the post so well.
"Definitely a team win ... a lot of contributors."
Littlejohn agreed,.
"We were passing up good shots to get even better shots," he said.
Madden Clement scored 16 points and had a pair of steals for Butler. Littlejohn tallied 14 points, four steals, four rebounds and three assists. Carney had 12 points, five assists and four rebounds.
Franklin Regional committed 12 of its 17 turnovers in the first half. Butler's starters turned the ball over only once in the second half.
"That was a point of emphasis at halftime," Reed said. "You can't afford to give a good team extra scoring opportunities like that."
Cooper Rankin scored 15 points for the Panthers while Cameron Rowell had 12 points, five rebounds and three steals.
FRANKLIN REGIONAL 49
Cameron Rowell 6-10 0-0 12, Cooper Rankin 6-9 3-3 15, Finian Hutchison 1-6 0-0 3, Jake Kimmich 0-2 0-0 0, Max Levern 4-9 1-2 9, Colin Masten 1-2 0-0 2, Jalen Russell 0-0 0-1 0, Connor Crossey 2-2 1-2 5, Zach Bluemling 0-1 0-0 0, Josh Hudak 1-2 0-0 2. Totals: 21-37 5-8 48.
BUTLER 67
Braylon Littlejohn 5-7 4-5 14, Donovan Carney 4-11 2-2 12, Ryan McLister 0-0 0-0 0, Ayden Davis 2-2 0-0 6, Madden Clement 5-12 4-5 16, Mac Schnur 0-0 0-0 0, Ryan Porch 1-2 0-0 3, Tayt Lucas 3-3 0-0 8, Lance Slater 0-0 0-0 0, Colin Casteel 2-3 0-0 5, James Desmond 0-0 0-0 0, Coleton Welter 0-1 0-0 0, Ian Shay 1-1 0-0 3. Totals: 23-42 10-12 67.
Franklin Reg. 12 13 13 10 — 48
Butler 16 22 11 18 — 67
3-point goals: Franklin Regional 1 (Hutchison), Butler 11 (Carney 2, Davis 2, Clement 2, Porch, Lucas 2, Casteel, Shay)
JV: Butler, 68-47 (FR: Jack Spagnol 14, Caden Brush 13); B: Tayt Lucas 18, Kyle Caasteel 11)