NOT BAD FOR STARTERS
Butler boys get mercy clock running in 3rd quarter of 71-43 victory
John Enrietto Eagle Sports Editor
December 03, 2022 Last Updated: December 02, 2022 11:02 PM High School
<![if !vml]>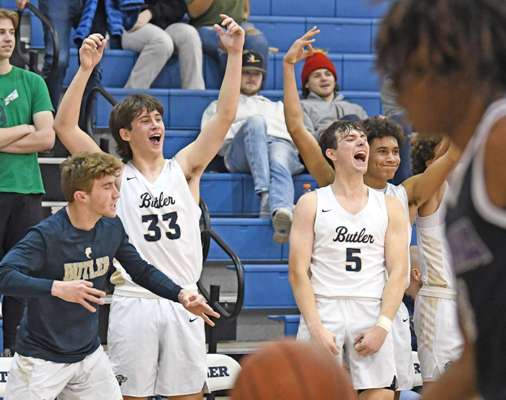 <![endif]>
Colin Casteel (33) and Madden Clement (5) join teammates in reacting to a Butler trey during the Golden Tornado's season-opening 71-43 boys basketball win over Obama Academy Friday night. Justin Guido/ Butler Eagle 12/02/22
JUSTIN GUIDO
BUTLER TWP —When the shots went in, Butler kicked into gear — and ran away.
The Golden Tornado exploded for a 32-point second quarter, had a 32-point lead by halftime and coasted with the mercy clock running from there in defeating Obama Academy, 71-43, Friday night in the opening round of the Butler Tip-Off Tournament.
Avonworth defeated Knoch, 74-60, in the first game of the tourney.
"I wasn't expecting a lead like that at halftime, not a bit," Butler coach Matt Clement said. "I challenged the kids in the locker room to keep up the intensity and come out strong in the second half.
"A lot of these kids saw the first varsity minutes of their lives tonight. I couldn't be more pleased with how we played."
The Tornado sank only six of 18 shots from the field in the first quarter, but still had a 13-4 lead by period's end. Butler lit up the scoreboard in the second period, sinking 12 of 17 shots, including five treys. Madden Clement had four of them, scoring all 15 of his points in the second quarter.
"It was only a matter of time before we started hitting shots," junior Braylon Littlejohn said. "Once we did, I felt like we would pull away because we were doing everything else well."
Butler had a 62-26 lead by the end of the third quarter. The Tornado freely substituted most of the game and Coach Clement emptied his bench in the fourth quarter.
Butler's regulars turned the ball over only once in the first three quarters. Obama Academy had 11 turnovers during that stretch. The Tornado enjoyed a 36-20 edge in rebounding.
"We're going to be the smaller team on the floor most nights," Coach Clement said. "If we rebound the ball, we'll be tough to beat because we're pretty good when we get out and run."
Littlejohn led the Tornado with 18 points, nine rebounds and four assists. Colin Casteel scored 11 points and grabbed four rebounds in his first varsity start. Mac Schnur had six rebounds, Ayden Davis five boards.
"Our team is much more balanced this year," Littlejohn said. "With Colin able to shoot as our inside guy, all five starters can contribute offensively."
Freshman Donovan Carney had nine points for the Tornado.
OBAMA ACADEMY 43
Keivan Harris 4-5 2-4 10, Tarrien Perkins 6-13 0-0 13, Seth Small 1-2 2-2 4, Xavier Rodgers 4-10 1-2 10, Naron Jackson 1-9 0-0 2, Tysair Anderson 0-1 0-0 0, Jake Grosse 1-1 1-2 4. Totals: 17-42 6-10 43.
BUTLER 71
Braylon Littlejohn 7-11 3-3 18, Donovan Carney 4-6 0-0 9, Ryan McLister 0-1 0-0 0, Ayden Davis 3-6 0-0 6, Madden Clement 5-11 1-2 15, Mac Schnur 2-3 0-1 4, Ryan Porch 1-1 0-0 3, Tayt Lucas 0-6 0-0 0, Coleton Welter 0-0 2-2 2, Mavrik Clement 0-1 0-0 0, Colin Casteel 5-7 0-0 11, James Desmond 1-2 0-0 3. Totals: 28-55 6-8 71.
Obama Academy 4 9 13 17 43
Butler 13 32 17 9 — 71
3-point goals: Obama Academy 3 (Perkins, Rodgers, Grosse), Butler 9 (Littlejohn, Carney, Mad. Clement 4, Porch, Casteel)