Ready for prime time
Butler preps for section play with 81-66 win over Bethel Park
John Enrietto Eagle Sports Editor
December 31, 2022 Last Updated: December 31, 2022 04:25 AM High School
<![if !vml]>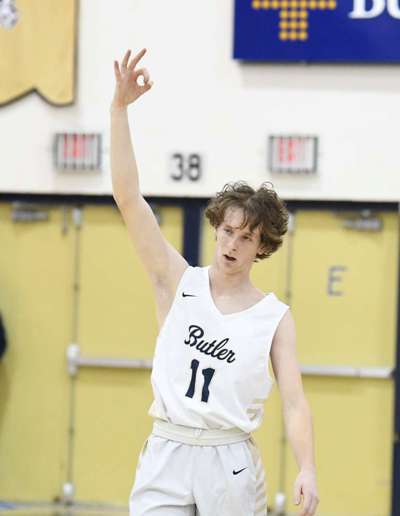 <![endif]>
Butler's Ryan Porch puts up three fingers after hitting a three-point shot aduring the Golden Tornado's 81-66 win over Bethel Park. Justin Guido/ Butler Eagle 12/30/22
BUTLER TWP — A team can always get better. Butler's boys basketball team is happy where it is, regardless.
The Golden Tornado (8-1) placed four players in double figures in defeating Bethel Park, 81-66, in the Golden Tornado gym. The game wrapped up a one-day Holiday Classic in Butler and was the Tornado's final game before opening section play Tuesday at Seneca Valley.
"There are things we need to work on, sure," Butler coach Matt Clenent said. "But our only loss is a last-second one-point decision at North Hills. I'm pretty pleased with how it's been going."
North Catholic dropped a 72-71 overtime decision to Central Florida Christian Academy on Butler's floor prior to the Tornado victory.
There were five ties and a couple of lead changes in the first quarter before Butler began pulling away in the second. A 15-3 run opened up a 14-point lead (40-26) and the Tornado took a 10-point lead into halftime. The Black Hawks (5-3) cut their deficit to 40-32 early in the third before a 13-0 Tornado run hiked the lead to 21.
That lead never got out of double digits.
Ryan Porch scored nine of his 12 points during that 13-0 surge.
"He's scoring more points now because he has confidence in his shot now," Clement said. "I'm so proud of the way he's progressed as a player. He's in the middle of everything out there."
Usually a starter, Porch came off the bench Friday to tally 12 points, five assists, four steals and three rebounds.
"I've developed my role on the team and I'm happy with it," Porch said. "You have to earn minutes in this program, not be handed minutes. I feel good that I'm doing that.
"Yeah, I've had to wait my turn to get on the floor here, but that's a good thing. Guarding Devin Carnery in practice the last couple of years can't help but make you a better player."
Braylon Littlejohn led the Tornado with 27 points, nine rebounds, five assists and three steals. He had three thunderous dunks in the second half — including two on consecutive possessions in the third period — to bring the crowd to its feet.
"I had to throw a couple down to get the crowd going," Littlejohn said, smiling. "I love playing in front of big crowds and we're going to get even bigger crowds with the section games coming.
"I feel like we're ready. Even if we stumble early (in section play), I know we'll bounce back."
Madden Clement had 17 points, four rebounds and three assists, Donovan Carney 16 points and five boards for the Tornado. Colin Casteel had five rebounds, Ayden Davis three steals.
Benjamin Guffey led Bethel Park with 21 points, four rebounds and four assists. Shawn Davis had 17 points and 10 boards, scoring 11 points in the fourth quarter despite playing with four fouls.
CFCA 72, North Catholic 71
The score was tied 12 times and the lead changed hands on 18 occasions in this game. The final lead change occurred on a fadeway jumper by Central Florida Christian Academy's Eduardo Placer with 6.6 seconds left in overtime.
The Trojans (4-4) got off a 3-point shot at the buzzer, but it was well off the mark.
North Catholic's Max Hurray canned a layup with 45 seconds left in regulation to force overtime.
"We weren't tough enough tonight," North coach Jim Rocco. "That's what it came down to. We have to be the toughest team in the area to win games and we weren't that tonight."
Placer — headed to the University off South Carolina Upstate in the Big South Conference — led the Eagles with 28 points. Ty Gustafson scored 11 points and grabbed nine rebounds while Jaylon Sammy netted 11 points, including a critical trey in overtime.
"He (Placer) is a great player and he hurt us," Rocco said. "But he's one Division 1 player. We knew we had to be tough enough against Archbishop Wood because they have seven D-1 guys. We didn't match that toughness in this game.
"We made some plays, just not enough to win the game."
Hurray paced the Trojans with 25 points and six rebounds. Andrew Maddalon, despite playing in foul trouble, tallied 22 points and five steals. Matt Ellery had four assists.
CFCA 72
Justin Preaster 2-4 0-0 4, Jeremiah Belleus 0-1 2-2 2, Yamare Bell 1-4 4-4 6, Eduardo Placer 13-18 0-0 28, Ty Gustafson 5-12 1-1 11, Jaidyn Beville 4-5 0-0 8, Jaylon Sammy 4-11 0-0 11, Lucca Reinehr 1-1 0-0 2. Totals: 30-56 7-7 72.
NORTH CATHOLIC 71
Andrew Maddalon 7-13 6-8 22, Matt Ellery 3-10 0-0 7, Eli Stofko 0-0 0-0 0, Nicholas Larson 0-2 1-2 1, Max Hurray 9-20 3-4 25, Jason Siket 4-4 0-0 9, Max Rottmann 2-8 1-3 7. Totals: 25-51 11-16 71.
CFCA 20 13 17 15 7 — 722
N.Catholic 19 13 15 18 6 — 71
3-point goals: CFCA 5 (Placer 2, Sammy 3), North Catholic 10 (Maddalon 2, Ellery, Hurray 4, Siket, Rottmann 2)
Tuesday: North Catholic at Lincoln Park
BETHEL PARK 66
Shawn Davis 7-10 1-2 17, Nick Brown 5-10 2-2 12, Jack Bruckner 3-8 0-0 7, Michael Mathias 2-6 0-0 6, Benjamin Guffey 8-16 1-2 21, Andrew Thomas 1-1 0-0 3, Michael Bruckner 0-1 0-0 0, Connor Karabinos 0-0 0-0 0, Tristen Jackson 0-2 0-0 0, Jovian Smith 0-1 0-0 0. Totals: 26-55 4-5 66.
BUTLER 81
Braylon Littlejohn 10-13 6-7 27, Donovan Carney 7-13 1-1 16, Ryan McLister 0-0 0-0 0, Ayden Davis 0-1 0-0 0, Madden Clement 6-16 1-1 17, Mac Schnur 1-2 0-0 2, Ryan Porch 3-4 4-4 12, Tayt Lucas 1-2 0-0 3, Lance Slater 0-0 0-0 0, Coleton Welter 1-1 0-0 2, Colin Casteel 0-0 0-0 0, Ian Shay 1-1 0-0 2, James Desmond 0-1 0-0 0. Totals: 30-53 12-14 81.
Bethel Park 18 12 15 21 — 66
Butler 17 23 19 22 — 81
3-point goals: Bethel Park 10 (Davis 2, J.Brickner, Mathias 2, Guffey 4, Thomas), Butler 9 (Littlejohn, Carney, Clement 4, Porch 2, Lucas)