Win No. 200 fitting for Clement
Butler receives on-court contributions from many in 85-74 victory over CFCA
John Enrietto Eagle Sports Editor
December 28, 2022 Last Updated: December 27, 2022 10:53 PM High School
<![if !vml]>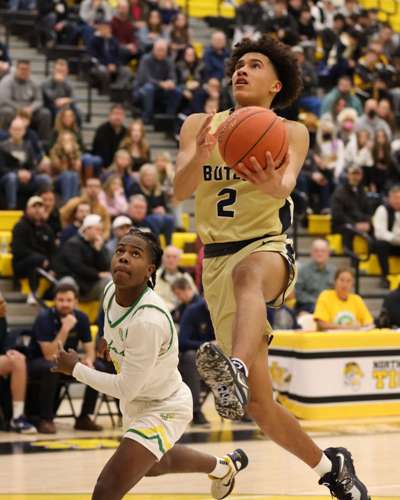 <![endif]>
Butler's Donovan Carney goes for a layup against Central Florida Christian Academy Tuesday at North Allegheny. The freshman guard scored 26 points in the Golden Tornado's 85-74 win. 12/27/22. Seb Foltz/Special to the Eagle
WEXFORD — Quick-paced play, up and down the floor, aggressive defense and plenty of athleticism.
Butler faced all of that Tuesday night — and dished plenty out itself — in running its way to an 85-74 boys basketball victory over Central Florida Christian Academy as part of the Holiday Bash at North Allegheny.
""It felt good to see us compete and play well against athleticism like that, because this is what we're going to see in section every night," Butler coach Matt Clement said.
The win was the 200th of Clement's coaching career at Butler. He is in his 14th season.
"They were bigger and faster than us," junior Braylon Littlejohn said of the Eagles. "But we played together. When we play together like we did tonight, I feel like we can match up with and beat anybody."
<![if !vml]>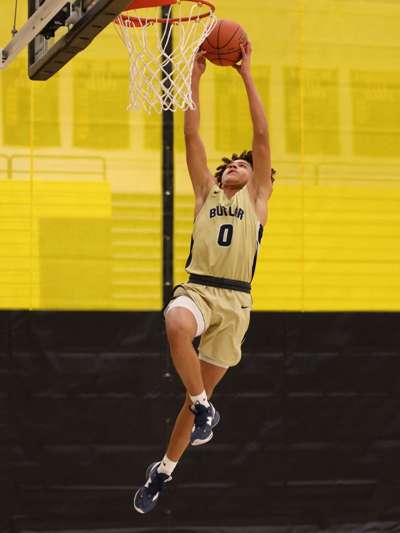 <![endif]>
Butler's Braylon Littlejohn goes up for a dunk on a fast break against Central Florida Christian Academy. 12/27/22. Seb Foltz/Special to the Eagle
The score was tied seven times and the lead changed hands on three occasions during the first half. Butler (7-1) took a 48-41 lead into intermission and sank 17 of 27 field goal attempts in the first half, including nine treys.
"If we don't do that, we're probably down 15 at the half," Clement said of the Golden Tornado's early shooting spree.
Butler never trailed in the second half, its lead peaking at 74-47 with 3:16 left in the third quarter. CFCA (6-2) got as close as eight (82-74) as Jaylan Sammy drained a trey with two minutes to play. But the Eagles never scored again.
Littlejohn scored 26 points, grabbed five rebounds and tallied four assists for the Tornado. Freshman guard Donovan Carney also scored 26 points to go with three assists.
"They were face-guarding Madden (Clement) and that's what should happen in that case," Coach Clement said. "We made good decisions with the ball. Braylon and Donovan were slicing through their defense all night, getting to the basket."
Butler trailed 14-6 less than four minutes into the game before going on a 10-0 run to take a brief lead and set the tone for the rest of the half.
Colin Casteel scored 13 points and had six rebounds for the Tornado. Ryan Porch had four assists and three steals. Madden Clement was limited to seven points, but had five assists, five rebounds and three steals. He also sank a pair of treys in the first quarter.
"Those two buckets helped us settle down a little bit," Coach Clement said.
CFCA received 18 points and four assists from 6-foot-5 senior guard Eduardo Placer, who played much of the game in foul trouble before fouling out with 3:35 remaining. He is headed to the University of South Carolina Upstate of the Big South Conference.
Placer averages more than 20 points per game. Ty Gustafson, another 6-5 guard, averages 16 per game and netted 12 points and six rebounds. Five Eagles wound up scoring in double figures.
"I was disappointed in how we played tonight," Eagles coach Andrew Gustafson said. "We were too slow. We played like we just got off the plane.
"Butler played harder, played better, definitely deserved to win. But we can play much better than we did."
Gustafson is from the Kane area. This is the seventh year he's brought his team to Western Pennsylvania for some holiday basketball.
"It's a chance to get home, it's good competition and a lot of our kids have never seen snow before," Gustafson said. "It's a good experience for them."
CFCA allows an average of 53 points per game. The Eagles had not allowed more than 63 in a game before Tuesday.
"We shared the ball and played as a team," Carney said. "This is a confidence booster, for sure."
BUTLER 85
Braylon Littlejohn 5-10 16-19 26, Donovan Carney 10-16 0-0 26, Ayden Davis 1-2 0-2 3, Madden Clement 2-8 1-2 7, Mac Schnur 0-0 0-0 0, Ryan Porch 1-1 2-2 5, Tayt Lucas 0-1 0-0 0, Lance Slater 1-1 0-0 3, Colin Casteel 4-5 2-2 13, James Desmond 1-2 0-0 2. Totals: 25-46 23-29 85.
CFCA 74
Justin Preaster 3-3 0-0 6, Jeremiah Belleus 0-1 0-0 0, Yamare Bell 4-11 4-7 12, Eduardo Placer 7-15 2-2 18, Ty Gustafson 4-10 2-3 12, Jaidyn Breville 4-5 1-1 10, Savion Edwards 1-1 0-0 2, Lucca Reinehr 1-2 0-0 2, Jaylan Sammy 4-9 0-0 12. Totals: 28-57 9-14 74.
Butler 21 27 20 17 — 85
CFCA 23 18 11 22 — 74
3-point goals : Butler 12 (Carney 4, Davis, Clement 2, Porch, Slater, Casteel 3), CFCA 9 (Placer 2, Gustafson 2, Breville, Sammy 4)