All-American quartet
Cheerleaders from Butler earn honor
By Stephen Cukovich Eagle Intern
July 8, 2019 Other High School Sports

<![if !supportLineBreakNewLine]>
<![endif]>
<![if !vml]>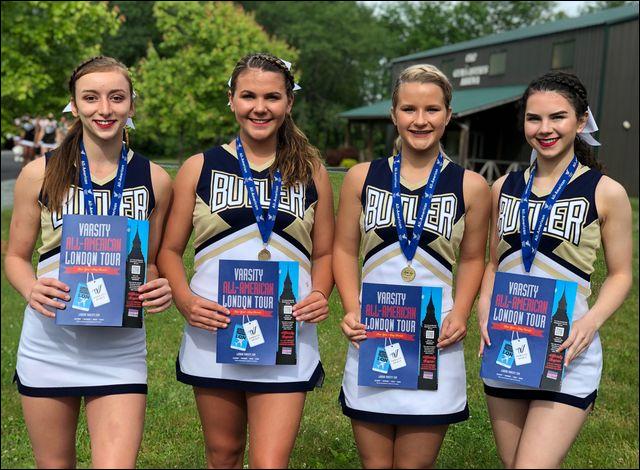 <![endif]>
Four Butler High School cheerleaders earned All-American status recently from the Universal Cheerleading Association. They are, from left: Angela Haley, Emma Herold, Natalie Marburger and Sydney Mylan.
SUBMITTED PHOTO
Butler High School cheerleading got its official start to the 2019-20 season back in mid June when the team visited the Poconos for its yearly summer camp at Pine Forest.
"The kids received instruction and they stayed together, so there is a lot of team bonding," Butler coach Marianne Miller said. "On the last day it's more of a friendly competition, just displaying what you learned during camp."
There is a serious side to the camp, as the kids got to perform in front of members of the Universal Cheerleading Association for an All-American try out.
Seniors Emma Herold, Natalie Marburger, Sydney Mylan, and Angela Haley all qualified and will get the chance to participate in a parade in London over New Years.
"They look fantastic," Miller said. "We have a really respectful group of kids and they all seem to get along. I'm excited to see where this group can go."
On the final day of camp, the Golden Tornado went up against two other coed teams and were judged in four separate routines. Butler took first place in the rally, cheer, and gameday routines, while it finished second in the sideline routine.
"Personally, I think the game-day routine is the hardest," senior Peyton Holt said. "That's because the newbies don't really know what to do with the crowd leading, so you've got to get them prepared for that because it's very difficult."
"I really like the rally routine the most," senior Mykaela Lipscomb said. "It's more exciting, it's fast and a lot more work. But overall the game-day routine looks cleaner and sharper."
Being a senior always has its responsibilities and benefits and after four years of camp, senior Herold finally got to do something for the first time at camp: Shower first.
"It was a lot more fun this year," Herold said. "I think it's because I'm finally in a leadership role because I'm a senior and we are held up to a higher expectation than we have before and we also get to shower first because hot water doesn't last forever in these cabins."
The trip signifies the beginning of the end for the seniors and it gives those a chance to look back and help the underclassmen prepare for the future.
"It was really bitter sweet because it was my last camp and I've been doing this for four years," Marburger said. "But the group of kids we have are really fun and overall it was a great bonding moment for us."
"It's great to get the freshmen a little experience and give them a sense of what the season is going to be like," Mylan said. "When you're really close and work together, it's easier to achieve our main goal, which is obviously to be state champs and we're all willing to put in the work for that."