4 Butler cheerleaders earn All-American
October 13, 2020 Other High School Sports
<![if !vml]>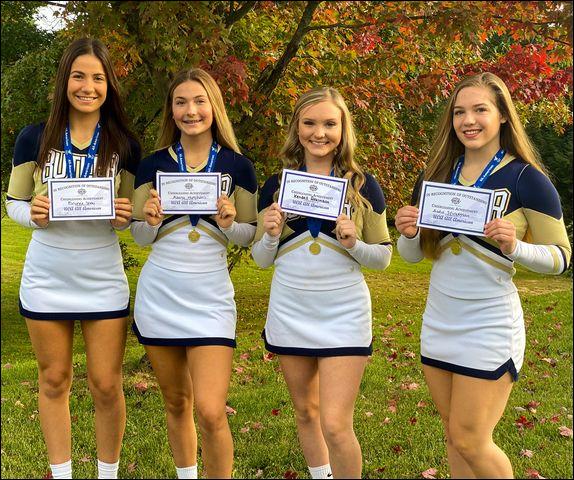 <![endif]>
Butler competitive cheerleaders earning UCA All-American honors this year are, from left, Brynne Shay, Aleena Hutchens, Kendell Atkinson and Nadia Hindman.
SUBMITTED PHOTO
CENTER TWP — Call it a tradition at Butler.
Four Golden Tornado senior cheerleaders recently continued it, being named All-Americans by the Universal Cheerleaders Association (UCA).
Only Kendell Atkinson, Nadia Hindman, Aleena Hutchens and Brynne Shay had to go through a different process to attain the honor.
"We usually have our seniors try out for All-American at our Pine Forest Camp in the Poconos during the summer," Butler competitive cheer coach Marianne Miller said. "With the COVID pandemic, that camp was canceled."
So this foursome tried out in front of Rob Ellery, a member of the UCA staff and a choreographer for Butler's competitive cheer routines. Together, they performed a cheer, dance and jump routine for Ellery.
The video was sent along to UCA for judging and all four were named All-Americans.
The quartet would normally be eligible to take part in a New Year's Day parade in London, England, "but with the COVID, I don't even know if that's taking place this year," Miller said.
No matter. These girls are proud nonetheless.
"This is like a tradition here," Hindman said of Butler cheerleading. "Three or four girls on our team seem to be named All-American every year.
"Being seniors, it was our turn to go for it and we were excited about it."
Because of the pandemic, Butler's cheerleaders were unable to practice much stunting for months and they have to wear masks.
"We look at the bigger picture, though," Hindman said. "We still get to practice. We don't care about the restrictions."
Hindman began cheerleading at age 6 and has a 4.25 grade point average.
"There's a good mix of athletes and it never gets boring," she said of cheerleading. "Academics are important to us. Cheerleading comes before a lot of things, but school comes before everything."
All four girls have been cheerleading for years and have four years in with the high school competitive team. They've been part of Butler teams that have won the PIAA championship, placed second at states and in the WPIAL.
"I'm so proud of these four ... I get emotional even talking about them," Miller said. "They're great kids, great students, and I know how hard they've worked."
All four have grade point averages above 3.5. And while they would welcome winning a WPIAL team championship, that's not the team's end-all goal.
Hutchens' mother, Andrea Kummer Hutchens, was a Butler cheerleader in the late 1980's and went on to cheer at the University of Pittsburgh. Aleena hopes to extend her cheering career to Slippery Rock University.
"I've been doing this since I was 5," she said. "The (judges) results are out of your hands. Our goal in every competition is to just hit our routine.
"We're concerned about how we do on the mat. From there, what happens, happens."
Shay has been cheerleading since second grade.
"It's given me strong personal skills and I love the strong bond on our team," Shay said. "Personality is a big part of this sport.
"You learn to have passion in everything you do, to treat people kindly ... Cheerleading gives you a strong base to succeed in life."
Atkinson began her cheering career with FCA Gems in Sarver at age 5. She is considering cheering in college.
"It was fun performing together (in All-American tryouts)," she said. "We didn't get to camp, but we didn't miss the opportunity.
"We received a certificate in the mail saying we made it. It's exciting, something to be proud of."
Miller has been proud to work with all four girls.
"They've exceeded my expectations in terms of hard work, discipline and respect," the coach said. "Just watching them grow from freshman to senior ... It will be hard to let them go."