Butler's Beveridge, SV's team win WPIAL cross country titles
October 27, 2017 High School Track & Field
<![if !vml]>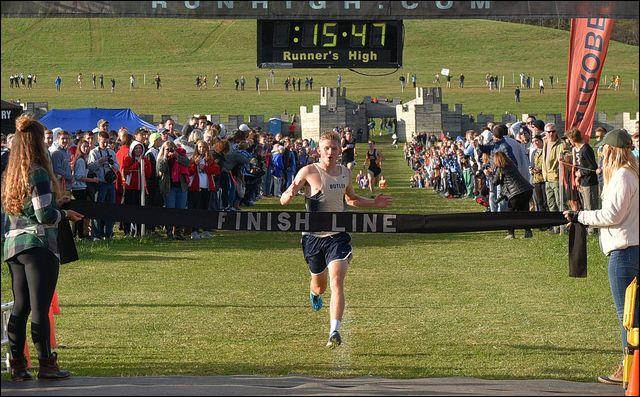 <![endif]>
Butler's Noah Beveridge wins the WPIAL Class AAA boys cross country race Thursday at Coopers Lake,finishing eight seconds ahead of Seneca Valley's Seth Ketler.
DAVE PRELOSKY/BUTLER EAGLE
WORTH TWP — Seneca Valley repeated history. Noah Beveridge made some.
The Raiders held off a determined Butler squad to claim their second successive WPIAL Class 3A boys cross country championship Thursday at Coopers Lake.
Neither team knew which one won the title until the official results were posted a number of minutes after the race's conclusion.
"This is horrible. It's the worst," SV coach Steve Stelick said of waiting to learn his team's fate. "I wish this was basketball or football, where there's a scoreboard so you know immediately whether you won or lost.
"Sometimes you lose, sometimes you get beat. If Butler wins this, they deserve it. Butler really brought it today. They went after it."
But Seneca Valley won it, tallying 87 points to the Golden Tornado's 94. North Allegheny finished third. The top three teams advance their entire squads to the PIAA Championships Nov. 4 in Hershey.
"We knew coming in there were four really good teams (including Mt. Lebanon) and one wasn't going to make it," Butler coach Rick Davanzati said. "Our goal today was to take our team to states and it took a team effort to get us there.
"Our fourth runner, Robbie Hays, stumbled and fell near the end of the race. He righted himself and crawled across the finish line, saving every place he could. That's how badly these kids wanted this."
The Tornado didn't receive a bad consolation prize. Beveridge, after placing second in the WPIAL race last year, brought home the individual championship Thursday. He finished in 15 minutes, 47 seconds, eight seconds ahead of runner-up Seth Ketler of Seneca Valley.
Beveridge became Butler's first individual cross country champion since Darin Mellinger nearly 25 years ago.
"I won (the WPIAL) on the track and the grass," Beveridge said. "That was my goal. No other Butler athlete has ever done that."
Beveridge is headed to Syracuse University, accepting a scholarship offer there last week over Georgetown. Two weeks ago, he won the Mack Cooper Classic here in 15:41, 30 seconds ahead of his closest competitor.
"That boosted my self-confidence, to be sure, but it had nothing to do with this race today," Beveridge said. "I couldn't channel the excitement I felt that day into this one.
"Syracuse has a very deep team and all of those guys are great. Efforts like this, those guys do all the time."
While Ketler took second, SV teammate Sam Owori finished sixth. Butler's Brett Brady claimed ninth.
"I've been chasing Noah all season," Ketler said. "Today, I got a little closer to him. It was important to finish as high as I could because the team standings were going to be so close."
Brady agreed.
"You can always do better," Brady said. "I jumped out to the lead early and wanted to keep pace with as many guys as I could."
Seneca Valley, Butler and North Allegheny — all from the same section — are the three teams to qualify for the state meet from WPIAL 3A for the second straight year.
"That shows how strong the running is up north," Davanzati said.
Individually, Mars' Zach Leachman placed 12th in 3A and Freeport's Johnathan Asay did likewise in Class 2A.
On the girls side, Seneca Valley's team placed fourth, behind Oakland Catholic, Fox Chapel and North Allegheny. Four Raiders — Lizzy White, freshman Bailey Royhab, Megan Aaron and Abby Lizewski — qualified for the state meet.
"I felt like we were the fourth best team," Strelick said. "Four of our top seven runners are in their first year of cross country, though, so that was a nice achievement."
Butler did not send a girl on to the PIAA meet. Senior standout Maggi Welty, a top-five finisher in the WPIAL last year, has been bothered by shin splints for the past month. She finished 41st. Autumn Pettinato was Butler's top finisher, claiming 36th.
"She just lost too much in conditioning during that time," Davanzati said of Welty. "Maggi spent time on the bike and in the pool, but you can't make all of that (lost running) up."
McKenna Bowes of Mars in Class 3A and Samantha Jo Barnes of Knocjh in Class 2A qualified for states.
Cardinal Wuerl North Catholic's girls finished second to Vincentian Academy in Class 1A. Mars resident Rylee Kopchak, a CWNC senior, finished third overall. Teammate Katherine Fedko placed fifth.
"This was a beautiful day to run," Kopchak said. "The weather was almost perfect. I'm excited to be going to Hershey with my teammates again."
When CW North Catholic opened its new high school four years ago, it revived its cross country program.
"This senior class is the first to go through all four years of the new program," coach Stacey Kopchak said. "Our boys program is coming along, too. We have a lot of young kids there and we're looking to make big strides next year."
WPIAL CROSS COUNTRY
Butler County state qualifiers
Class 1A Girls
Cardinal Wuerl North Catholic team (2nd place): 3-Rylee Kopchak, 5-Katherine Fedko, 14-Annabelle Nielsen, 25-Emma McDonald, 40-Lucy Waskiewicz, 41-Julia Kocsios, 53-Brooke Carmazzi
Class 2A Girls
17-Samantha Jo Barnes (Knoch)
Class 3A Girls
18-Lizzy White (Seneca Valleyu), 23-Bailey Royhab (Seneca Valley), 25-Megan Aaron (Seneca Valley), 30-McKenna Bowes (Mars), 31-Abby Lizewski (Seneca Valley)
Class 2A Boys
12-Johnathan Asay (Freeport)
Class 3A Boys
Seneca Valley team (1st place): 2-Seth Ketler, 6-Sam Owori , 20-Connor Volk-Klos, 23-Alex Dixon, 36-Aidan Domencic, 55-Max Weaver, 59-Luke Bellack
Butler team (2nd place): 1-Noah Beveridge, 9-Brett Brady, 18-Aden Dressler, 19-Robbie Hays, 47-Camden Seybert, 67-Timmy Porter, 77-Doug Kostelnosky
12-Zach Leachman (Mars)