Butler finishes 1-2 at WPIAL meet
October 31, 2020 High School Track & Field
<![if !vml]>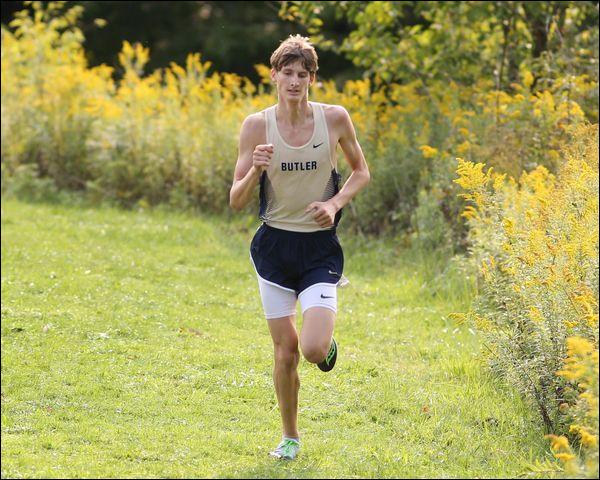 <![endif]>
CJ Singleton, Butler junior wins the WPIAL Class AAA Cross Country Class AAA championship.
McKEESPORT — Knocked down, falling down ... it didn't matter.
Butler juniors CJ Singleton and Sage Vavro got up and kept on going, finishing 1-2 in the WPIAL Class AAA Boys Cross Country Championship race Friday at White Oak Park.
Seneca Valley junior Noah Peterson was third overall in the 210-runner field.
The Triple-A portion of the WPIAL meet was originally scheduled for Thursday, but was pushed back a day due to inclement weather.
"The course was terrible," Butler coach Rick Davanzati said. "On a decent day, you could easily knock 10 or 15 seconds off the times posted today.
"All three of our top runners fell at least once today. CJ and Sage both fell while making the turn at (1,200) meters. Sage fell on top of CJ."
Singleton and Vavro were leading the race at the time.
"There were pools of mud around every single turn," Vavro said. "When CJ and I went down, a group of four runners passed us.
"I guess it was the adrenalin of the race, because we jumped back up and were running first and second again after another 400 meters."
Singleton won the race in 15 minutes, 50 seconds. Vavro came in second at 16:03. Skyler Vavro will join them at the PIAA Championships Nov. 7 in Hershey. He took 15th in 16:39.
The downside is Butler's team will not go to Hershey, Due to COVID concerns in 2020, the second- and third-place teams, who would normally qualify, are forced to stay home.
The winning team and top 10 individuals (not on that winning team) qualified for the state meet.
Butler finished second in the team standings with 82 points. North Allegheny won the meet with 40 points.
"We were hoping to beat out NA today, but I have to give them credit. They ran fantastic," Davanzati said. "Their top five ran between 16:06 and 16:38. Their sixth and seventh runners were 18th and 20th overall."
"It's a different feel when the whole team is out there," Vavro said of the state meet. "Our team got to go last year and this year's team is probably better than that one. I'm disappointed for the rest of our guys."
Peterson's time was 16:06. Seneca Valley placed third in the team standings with 134 points.
Singleton has not lost a race all season. He was happy to see a Butler uniform be the first runner behind him to cross the finish line.
"Sage and I have been talking about this since the season started," Singleton said of the teammates placing 1-2 at the WPIAL meet. "It's pretty cool we were able to make it happen."
The order in which it happened was of no consequence.
"We didn't care which one finished first, as long as we were up front," Vavro said.
Singleton's time was nine seconds off the course record he set at White Oak Park earlier in the season.
"On a dry day, he would have beaten that record again," Davanzati said.
"I feel good about my chances at the state meet," Singleton said. "I know there's good runners on the eastern side of the state, but I'm not sure how many races they've gotten in or what type of shape they're in."
Seneca Valley sophomore Eli DeWitt placed eighth overall in 16:28. He joins Peterson in qualifying for the state meet with the Raiders.
In the girls race, Seneca Valley finished third as a team with 115 points, trailing North Allegheny (67) and Pine-Richland (98). Raider senior Dylan Kirchner finished 12th in 19:12 and qualified for the state meet.
Seneca Valley had five other runners finish among the top 38: Abby Kreber 15th, Gabrielle Kutchma 21st, Bailey Royhab 30th, Lauryn Young 37th and Ruthie Highes 38th.
Butler's top female finisher was junior Jennifer Cichra, who took 17th in 19:43. She fell two spots shy of qualifying for states. The Golden Tornado's Ava Brewster was 35th.
Butler finished 10th in the team standings.
Mars' top placer was Kalin Wilson, who finished 78th.
Moon's Mia Cochran won the girls race in 17:46, beating out Bethel Park's Jenna Lang by 36 seconds.