Griffith shatters course record in winning WPIAL cross country
Butler junior cruises to 3A boys championship
John Enrietto Eagle Sports Editor
October 28, 2022 Last Updated: October 27, 2022 10:42 PM High School
<![if !vml]>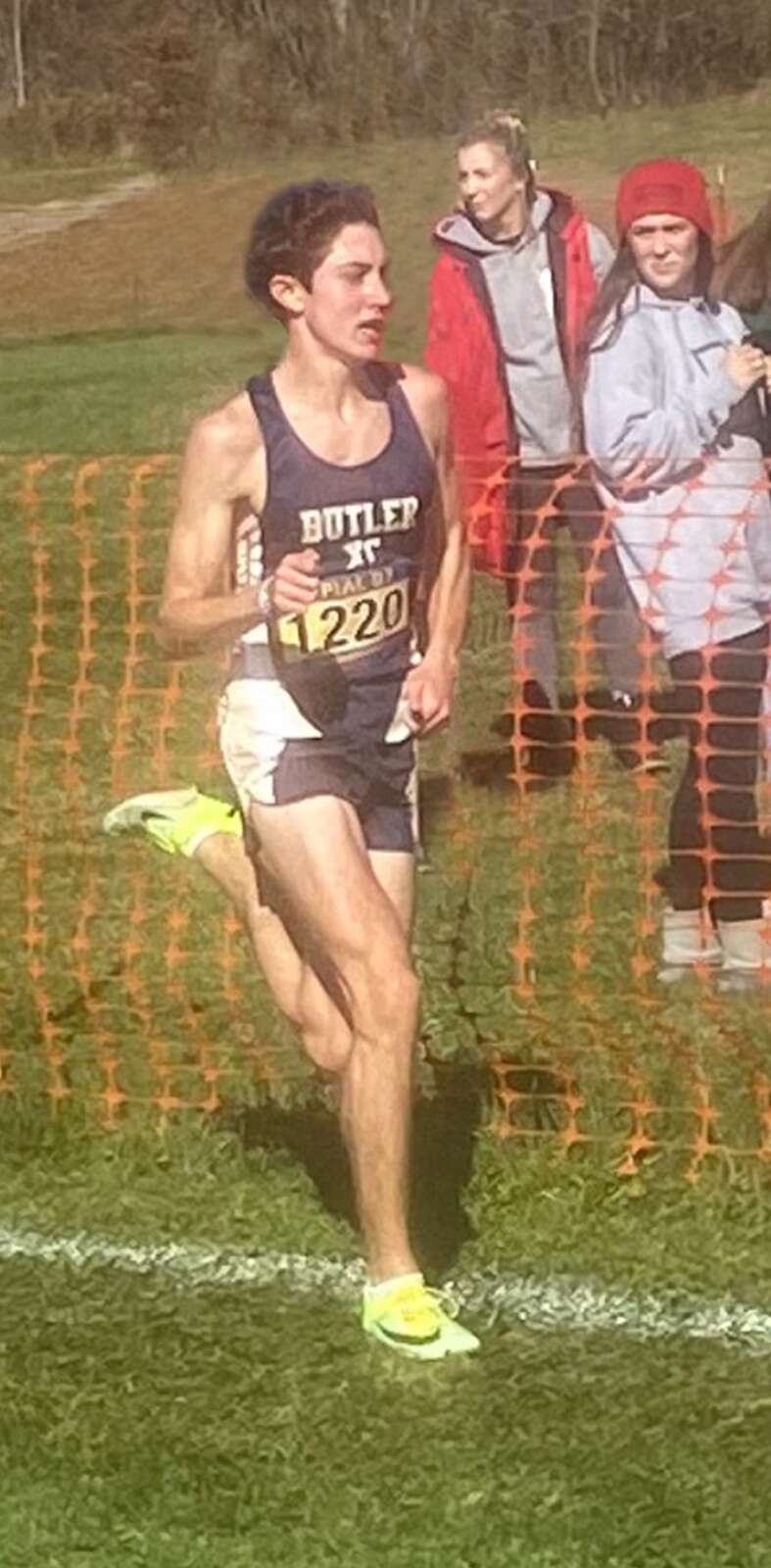 <![endif]>
Butler's Drew Griffith heads for the finish line in winning the WPIAL Class 3A boys race Thursday on the California (Pa.) University course. Submitted Photo
BROWNSVILLE — He knew the course. He loved the weather.
And he felt great.
Butler junior Drew Griffith combined all of those elements in dominating the WPIAL Class 3A field during the district cross country championships Thursday on the California (Pa.) University course.
Griffith completed the course in 15 minutes, 17.2 seconds, breaking the previous course record — which he set last week — by 15 seconds. He snapped the course mark previously held by Mt. Lebanon's Patrick Anderson by eight seconds in last week's Tri-State Coaches Association meet.
Anderson now runs for the University of North Carolina.
"The weather conditions were perfect today," Griffith said. "It wasn't too hot, it wasn't too cold. I wanted to get off to a fast start, get in front of the pack and run my race from there.
"I had tapered off my running coming into this, got some rest and my body felt good."
Griffith was in front of the field 20 seconds into the race. He crossed the finish line 37 seconds ahead of runner-up Jack Bertram of North Allegheny.
"It's always advantageous in cross country when a runner knows the course," Butler coach Rick Davanzati said. "That's why so many WPIAL runners ran the early-season meet here and the Tri-State meet last week.
"It's a tricky course. It starts out with some small, rolling hills, then a steep down-hill, then a large up-hill on the second mile. Then you go through that combination backward coming back. Drew knows how his body feels,. He ran a beautiful race."
Griffith has not lost a meet all season.
Now he'll get ready for the PIAA Championships, slated for Nov. 5 in Hershey.
"I'll taper off for that one, too," Griffith said. "It's going to be quite as challenge, but I'm confident. I feel like I'm up for it."
Seneca Valley's boys placed third in the 3A team competition with 157 points. South Fayette had 145 and champion North Allegheny 31. The Raiders' Eli DeWitt finished 18th in 17:08.6 and Max Smith was 19th in 17:21.8. Both qualified for the state meet. Butler's Owen Dressler was 21st in 17:42 and fell two spots short of qualifying for the PIAA race.
In 3A girls, Butler's Ava Brewster finished 18th in 20:07.1 and will be going on to states. Seneca Valley's Abby Kreber was 29th in 20:35.0, the Raiders' Samantha Moury 30th in 20:36.2.
In Class 2A, North Catholic's girls finished fourth and the Trojan boys fifth in their respective team standings. The Trojanettes' Julia Zalenski took 15th in the girls race in 20:33.05. Madeline Meeouf was 31st in 21:20.7. Knoch's Emma Haugh was the Knights' top finisher, taking 47th in 22:16.2.
Freeport's Michael Braun was 11th in boys 2A in 17:02.1, North Catholic's Owen Schessler 16th in 17:23.2.
But this day was all about Griffith extending Butler's legacy of stellar distance runners, following in the footsteps of CJ Singleton (Notre Dame), Brett Brady (Naval Academy) and Noah Beveridge (Syracuse).
"I want to leave my legacy at Butler," Griffith said. "There's so much pride in the program. I want to post great times and motivate younger runners like Noah and CJ did for me."
"Absolutely, there's something to that," Davanzati said. "One runner motivates the next to come along, gives him something to shoot for. That goes all the way back to Noah learning from Josh Rader, who was a senior when Noah was coming up."
Ironically, the overall WPIAL 3A winner, Mt. Lebanon's Logan St. John Kletter, is Griffith's girlfriend. They posed for photos while wearing their medals after the race.