Griffith makes dream come true
Butler senior stays unbeaten this season by winning PIAA 3A cross country title
John Enrietto Eagle Sports Editor
November 06, 2023 Last Updated: November 05, 2023 04:58 PM Sports
<![if !vml]>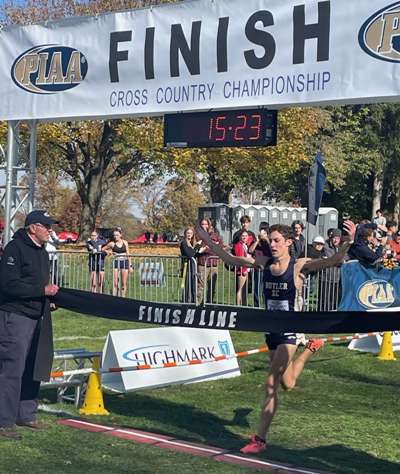 <![endif]>
Butler's Drew Griffith crosses the finish line to win the PIAA Class 3A boys cross country title  in Hershey. Griffith had finished second in the event the previous two years.
HERSHEY — For the past year, Butler senior Drew Griffith has been on a mission.
At the PIAA Class 3A Cross Country Championships Mission accomplished.
Griffith broke the boys Class 3A record on the 5,000-meter course in Hershey by completing his run in 15 minutes, 23 seconds and winning the PIAA title. He had finished second in the event as a sophomore and junior.
"Every race I've run, all the training I've been doing in the past year has been geared toward this," Griffith said of the PIAA championships. "For me, this is a dream come true."
Griffith won the race by a 21-second margin over runner-up Nicholas Mazzeo of Lower Merion. North Allegheny's Jack Bertram finished third.
Griffith finished second to Butler teammate CJ Singleton in the PIAA race his sophomore year. He lost out to Brian DiCola of Hatboro Horsham by 15 seconds last season.
"The year he took second behind CJ, we were hoping Drew could finish among the top 10," Butler cross country coach Rick Davanzati said. "Drew sort of burst onto the scene there. Last year, we felt he had a chance to win it.
"He broke out to a fast start last year. I think he learned a lesson from that. Let someone else do the work early."
"I definitely took a different approach this time," Griffith admitted. "It helped that I knew the course, too. I was able to pace myself, know what hills to attack and which ones not to.
"But, basically, I wanted this so bad ... I just put my head down and kept running."
Griffith separated himself from the pack a little over a mile into the race.
"He was at 9:41 at the second mile, right around where we wanted him to be," Davanzati said.
Griffith has not lost a race the entire season. He will next compete in the Northeast Regional, slated for Nov. 25 at Franklin Park in Boston, in an effort to qualify for the Foot Locker Nationals.
"He capped his regular season running career just like he wanted to. Now it's on to the next phase," Davanzati said.
The Golden Tornado's Owen Dressler also medaled in the 3A race, placing 22nd with a time of 16:32. Butler finished ninth in the team standings.
 "Both Ava Brewster and Makayla McLister (20:43) shaved a lot of seconds off their previous best runs there," Davanzati said. "Both ran very well."