Michalek's march
Senior RB scores 4 touchdowns, helps Butler beat up Altoona
September 9, 2017 High School Football 0 Comments
<![if !vml]>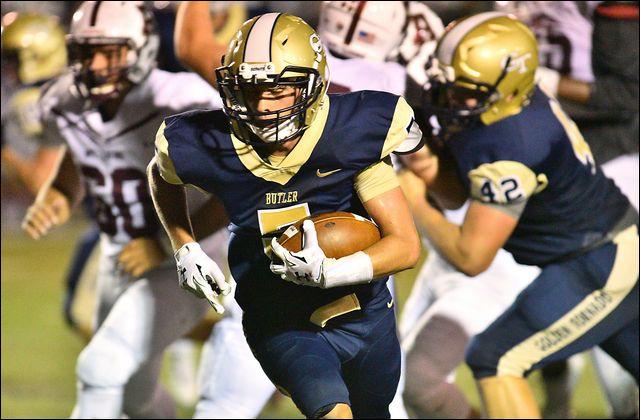 <![endif]>
BUTLER TWP — A dominant offensive line, hard running and control of the clock.
This is what Butler was waiting for.
"I thought we'd have this last week," Golden Tornado coach Rob Densmore said.
They had it this week.
The Tornado rushed for 283 yards on 55 carries Friday night, including second-half scoring possessions that ate 6:07 and 8:15 off the clock, respectively, in a 45-28 high school football victory over Altoona at Art Bernardi Stadium.
"Our offensive line was feeling it tonight," Butler halfback Luke Michalek said. "They were blowing holes wide open, pushing guys downfield.
"We only ran about three plays on offense. They couldn't stop it."
Butler (1-1, 0-1) trailed by a touchdown three times in the first half, but came back to grab a 28-21 lead by halftime. Michalek had 282 all-purpose yards, including 132 rushing on 20 carries, in the first half. He scored all four Butler touchdowns in the first half.
Michalek finished the game with 26 carries for 149 yards and 299 all-purpose yards. He did not play offense in the final 16 minutes of the game.
He had 150 yards in punt and kick returns in the first half.
"I knew I was coming out," Michalek said of the second half. "One man down, another man rises. My brother was going the same thing I was doing."
John Michalek replaced his brother at halfback and rushed for 60 yards and a touchdown.
"We knew they'd be physical, but I thought we did some things in the first half to handle that," Altoona coach Nick Felus said. "After that, we couldn't sustain anything.
"We have big, physical guys up front, too. We just didn't get it done tonight."
Altoona (1-2) began the game with Nathan Burket recovering a Butler fumble on the first offensive play. Then, on fourth-and-1 from the Tornado 26, Braeden Burchfield headed for the right corner of the end zone on a quarterback keeper.
Just before Burchfield reached the goal line, Butler defender Julian Jones punched the ball out of his hands and through the end zone for a touchback.
Still, Altoona was able to put up leads of 7-0, 14-7 and 21-14.
"That's what I'm most happy about, that we fought back and proved the game's not over because you fall behind," Densmore said.
"We've talked about how adversity turns games in different directions," Felus said. "They (Butler) responded to that better than we did."
Butler's 11-play, 43-yard drive in the third quarter resulted in a 34-yard Emery Douthett field goal. A 13-play, 80-yard drive in the fourth ended with John Michalek's 5-yard TD run that salted the game away at 38-21 with 5:18 to play.
Darin Skidmore and John Ryan Herold had fumble recoveries for Butler.
Burchfield threw for 169 yards and Cameron Pascik had 10 catches for 128 yards and three touchdowns for Altoona.
Logan Dubyak, Butler's leading rusher and receiver last week, did not suit up due to a foot injury.
Butler did not throw a pass in the second half.
"I'll take a grind-it-out 21-14 win all the time. If we can score 45 points? I'll take that, too," Densmore said.
<![if !vml]>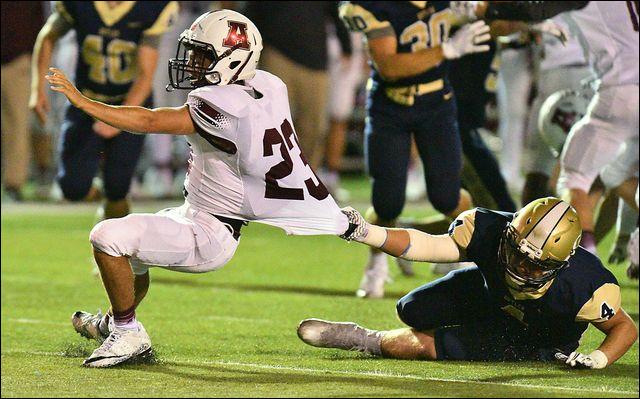 <![endif]>
Altoona 7 14 0 7 — 28
Butler 7 21 3 14 — 45
First Quarter A — Mitch Lawhead 29 run (Andrew Eisel kick), 7:11 B — Luke Michalek 1 run (Emery Douthett kick), :28 Second Quarter A — Cameron Pascik 29 pass from Braeden Burchfield (Eisel kick), 9:34 B — Michalek 7 run (Douthett kick), 7:09 A — Pascik 7 pass from Burchfield (Eisel kick), 3:31 B — Michalek 9 run (Douthett kick), 3:10 B — Michalek 4 run (Douthett kick), :35 Third Quarter B — Douthett 34 field goal, 4:35 Fourth Quarter B — John Michalek 5 run (Douthett kick), 5:18 B — John Ryan Herold 21 run (Douthett kick), 1:55 A — Pascik 40 pass from Burchfield (Eisel kick), :32 Individual Statistics Rushing: Altoona, Braeden Burchfield 7-44, Tyler Petucci 2-9, Mitchell Lawhead 7-45, Isaiah Barnes 1-5, Avery McCauley 6-20, Cameron Pascik 1-(-2), Shakim Copeland 3-20. Butler, Brandon Fleeger 6-19, Luke Michalek 26-149, Jacob Tilko 5-21, TEAM 1-(-19), John Ryan Herold 8-53, John Michalek 9-60. Passing: Altoona, Braeden Burchfield 13-25-169-0. Butler, Brandon Fleeger 3-6-32-1. Receiving: Altoona, Cameron Pascik 10-128, Isaiah Barnes 1-2, Tyler Wagner 3-46. Butler, Brad Kopp 1-15, Sam Dietrich 1-9, Nick Stazer 1-8.