Big 1st half carries Butler
Tornado handle Slippery Rock in county battle, 28-3
October 24, 2020 High School Football
<![if !vml]>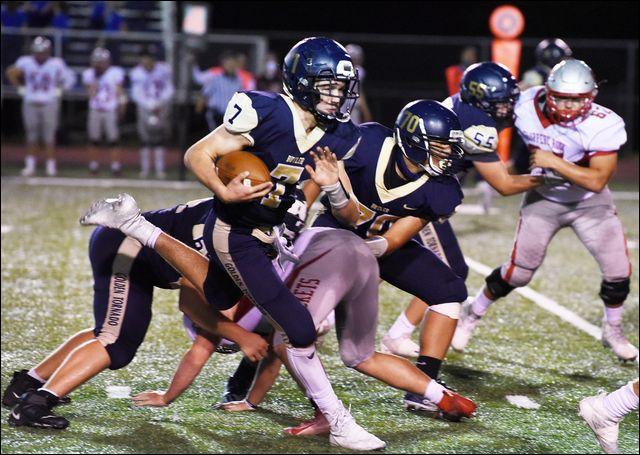 <![endif]>
Butler's Cooper Baxter (7) looks for running room in the first half of the Golden Tornado's 28-3 winm over Slippery Rock at Art Bernardi. Baxter had 197 combined rushing and passing yards.
HAROLD AUGHTON/BUTLER EAGLE
BUTLER TWP — Butler got off to a lively start in the opening seconds.
The Golden Tornado closed the half with a deadly finish in hanging a 28-3 football defeat on Slippery Rock in the first-time meeting between the county schools at Art Bernardi Stadium.
The Rockets (2-5) fumbled the opening kickoff, Butler's Braden Elliott recovering at the Slippery Rock 8-yard line. Byron Manchester scored on a 1-yard run three plays later and the Tornado had a 7-0 lead.
"It's an instant grab of momentum there," Butler coach Eric Christy said.
"It just livened up the whole team," senior running back/linebacker Justin Kabay described.
Leading 14-3 late in the first half, Kabay broke free for a 31-yard scoring run and a 21-3 Butler lead with 2:09 left. Defensive end Julian Jones nailed SR running back Brett Galcik for losses on consecutive plays inside the Rockets' 10 to set the Tornado up with a short field prior to Kabay's run.
Butler's defense stiffened on Slippery Rock's next possession as well. After forcing a punt, the Tornado (2-4) took possession at their own 32 with 1:17 left before halftime.
Quarterback Cooper Baxter completed a brief four-play drive with a 29-yard touchdown pass to Charlie Kreinbucher with 13 seconds left on the clock.
"We were able to hit Charlie on a seam route," Christy said. "That play put us in control of the game."
Slippery Rock managed only two first downs in the second half as neither team dented the scoreboard again.
"We did some good things tonight, in spots," Slippery Rock coach Larry Wendereusz said. "But this was a 3A school playing a 6A school.
"When you're in a situation like that, the smaller school has to play a consistent, near-perfect game. We've struggled to find consistency all year."
Slippery Rock's lone scoring drive was a 12-play, 74-yard march that resulted in a 23-yard Alex Duffalo field goal in the first quarter. The Rockets drove across midfield again in the second period, but a William Mokel pass was intercepted by Hayden Iman to thwart the threat.
The Rockets had three turnovers on the night. Ethan Trettel intercepted a pass in the second half.
"Too many mistakes," Wendereuz said. "But I thought our defense played a solid game, particularly in the second half."
Jones scored on a 68-yard run for the Tornado early in the second quarter. Baxter was taken out of the game with just over six minutes to play. He tallied 99 yards rushing and 98 passing.
Christy was coaching against his younger brother, Eli, the Rockets' defensive coordinator.
"We got him in the first half, he got us in the second," Eric Christy said. "We wanted to do some more offensively in the second half, but they kept us off the board."
Mokel threw for 152 yards for Slippery Rock, giving the sophomore 1,142 yards passing this season. But the Rockets netted only 19 yards rushing on the night.
SR's leading rusher, Shane Thompson, did not suit up Friday night.
"We've got some guys banged up right now," Wendereusz said. "We need to heal up and see what we can put together for next week."
The Rockets enter the District 10 Class 3A playoffs next week, traveling to unbeaten Hickory. Butler will close its season by hosting Erie.
Butler has won consecutive games for the first time since 2012.
"One thing our (senior) class did not want was to leave this program without a win this year," Kabay saiod. "We feel like we can win the rematch with Erie. We feel like we can close the season doing some great things."
Slippery Rock 3 0 0 0 — 3
Butler 7 21 0 0 — 28
First Quarter
B — Byron Manchester 1 run (Alex Titus kick), 10:38
SR — Alex Duffalo 23 field goal, 6:11
Second Quarter
B — Julian Jones 68 run (Titus kick), 9:19
B — Justin Kabay 31 run (Titus kick), 2:09
B — Charlie Kreinbucher 29 pass from Cooper Baxter (Titus kick), :13
Individual Statistics
Rushing:Slippery Rock, William Kokel 2-8, Ryan Montgomery 8-12, Brett Galcik 6-(-5), TEAM 1-(-2), Maddox Allen 1-7, Sam Schwartz 3-(-1). Butler, Cooper Baxter 18-99, Byron Manchester 7-24, Justin Kabay 7-53, Julian Jones 6-75, Steven Green 1-1, TEAM 1-(-6).
Passing:Slippery Rock, William Kokel 16-24-152-2. Butler, Cooper Baxter 5-11-98-0, Mac Schnur 0-3-0-0.
Receiving:Slippery Rock, John Sabo 3-36, Ryan Montgomery 5-22, Rthan Plesakov 2-29, Brendan Earl 2-35, Brett Galcik 4-10. Butler, Lance Slater 3-54, Charlie Kreinbucher 2-44.