Finally!
October 17, 2020 High School Football
<![if !supportLineBreakNewLine]>
<![endif]>
Butler defender Julian Jones (23) celebrates after a quarterback sack in the Golden Tornado's 55-14 win over Blackhawk Friday night at Art Bernardi Stadium.
NATE BLACK/SPECIAL TO THE EAGLE
BUTLER TWP — The wicked streak is dead.
Cooper Baxter accounted for touchdowns four different ways, Justin Kabay scored on touchdown runs of 35 and 92 yards, and Butler ran away from Blackhawk, 55-14, in a non-league football game Friday night on Homecoming at Art Bernardi Stadium.
The win snapped a 24-game losing skid for the Golden Tornado (1-4), dating back to the end of the 2017 season. Butler had not scored 55 points in a game since posting a 60-26 win over Shaler in 2012.
"This is the best feeling I've ever had," Baxter said. "There is no feeling like winning. That's what we have to focus on. This is what we have to be about now."
The Tornado initially seized control of the game defensively. Consecutive tackles for loss by Julian Jones on the game's first possession forced Blackhawk into a 3rd-and-17 situation.
Cougar quarterback Carson Davidson threw a pass in the flat while under heavy duress and Baxter picked it off, racing 20 yards into the end zone.
Moments later, Baxter recovered a fumble after Blackhawk's Tyler Dietterich had gained first-down yardage. The Tornado middle linebacker raced 55 yards down the right sideline for a 14-0 Butler lead.
"Winning the turnover battle is huge in any game," Butler coach Eric Christy said. "It certainly played a factor tonight."
Butler had five takeaways in the contest and did not turn the ball over itself. But Blackhawk (2-4) fought back, using scoring drives of 70 and 77 yards to pull within 20-14 with 8:06 left in the first half.
The Tornado gained possession at the Blackhawk 40 following a punt with 2:53 left in the half. Baxter connected with Isaiah Kelly for a 3-yard touchdown pass with 20 seconds left in the half.
Baxter wound up rushing for two touchdowns along with throwing the scoring pass.
"That's four different ways Cooper got the ball into the end zone in one game," Christy said. "That's a pretty rare thing."
<![if !vml]>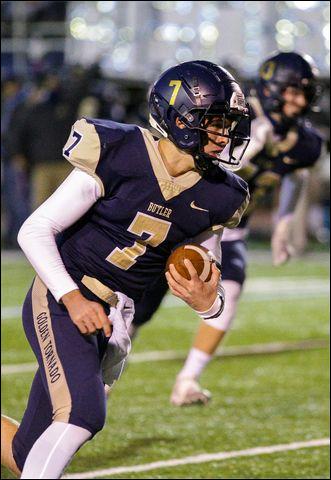 <![endif]>
Butler's Cooper Baxter returns an interception for the Golden Tornado's first touchdown Friday night.
NATE BLACK/SPECIAL TO THE EAGLE
While Blackhawk was still in the game at halftime — trailing by 14 — Kabay quickly took the Cougars out of it.
On the first play from scrimmage in the second half, Kabay ran up the middle, broke a couple of tackles, pushed a scrum of tacklers forward for a few yards, then broke loose to complete an electrifying 92-yard touchdown run.
"We tried that play in the first half and it was whistled down by a penalty," Kabay said. "When we were ready to try it again there, I could hear their defense yelling, 'it's coming this way, it's coming this way' ... I tried going the other way.
"That was a miracle play. It never should have happened, but I'm glad it did."
Kabay rushed for 128 yards, also scoring on a 35-yard run in the first half.
"We talked about having to be the bully ... that was a bully run. That was bully football," Christy said. "That's what the kids were saying on the sidelines."
Blackhawk coach Zack Hayward could not be reached for comment after the game, but his players' heads clearly dropped following Kabay's third-quarter run.
"I don't think that play clinched the game by any stretch, but it definitely put us in control," the running back said.
Isaiah Kelly scored on a 9-yard tun later in the contest. Baxter recovered two fumbles to go with his interception and Kellen Rakoci recovered a fumble in the end zone in the fourth quarter to deny Blackhawk a score.
Mac Schnur had an interception for the Tornado.
"A lot of people got involved in this win," Christy said. "It just feels good to finally break through. Everybody stayed the course."
Kabay couldn't agree more.
"Just an amazing feeling," he said. "I hadn't won a game since my freshman year. I was on special teams that night.
"To win one as a senior starter ... I'm thrilled. Simply thrilled."
Blackhawk 6 8 0 0 — 14
Butler 14 13 21 7 — 55
First Quarter
B — Cooper Baxter 20 interception reurn (Alex Titus kick), 10:33
B — Baxter 55 fumble return (Titus kick), 7:32
BL — Carson Davidson 2 run (run failed), :46
Second Quarter
B — Justin Kabay 35 run ((kick blocked), 9:51
BL — Tyler Dietterich 1 run (Logan Calior pass from Davidson), 8:06
B — Isaiah Kelly 3 pass from Baxter (Titus kick), :20
Third Quarter
B — Kabay 92 run (Titus kick), 11:36
B — Baxter 1 run (Titus kick), 5:19
B — Baxter 21 run (Titus kick), 1:29
Fourth Quarter
B — Kelly 9 run (Titus kick), 6:48
Individual Statistics
Rushing:Blackhawk, Carson Davidson 4-(-22), Josh Hathaway 14-58, Tyler Dietterich 15-69, Zach Ours 1-1, Logan Calior 2-7, Dontae Campagna 1-5. Butler, Cooper Baxter 7-39, Steven Green 6-19, Justin Kabay 6-128, Julian Jones 6-62, Byron Manchester 3-16, Landon Dubyak 5-21, Ethan Trettel 1-8, Isaiah Kelly 2-11.
Passing:Blackhawk, Carson Davidson 8-20-132-2. Butler, Cooper Baxter 3-6-36-0, Mac Schnur 1-1-29-0.
Receiving:Blackhawk, Carson Heckatghorn 6-101, Josh Hathaway 1-7, Matt Ours 1-24. Butler, Charlie Kreinbucher 1-27, Justin Kabay 1-6, Isaiah Kelly 1-3, Lance Slater 1-29.