Breakthrough for Butler
Golden Tornado beat Meadville for first win
September 11, 2021 High School Football

<![if !supportLineBreakNewLine]>
<![endif]>
<![if !vml]>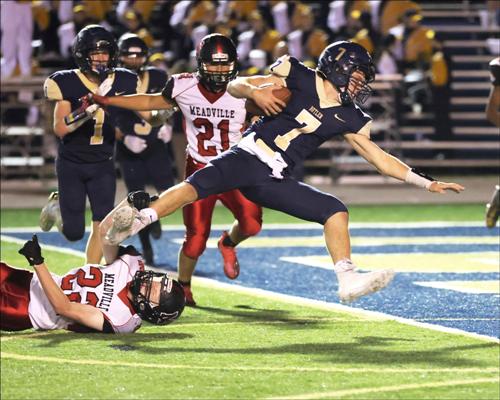 <![endif]>
Butler's Cooper Baxter extends for a touchdown on a quarterback run in the Golden Tornado's 27-13 win over Meadville Friday night in Butler.
SEB FOLTZ/BUTLER EAGLE
BUTLER TWP — It wasn't totally Cooper Baxter's show.
But he was the ringleader.
Butler's senior quarterback threw for 134 yards and a touchdown, rushed for 130 and three scores Friday night as the Golden Tornado defeated Meadville, 27-13, in their home football season opener at Art Bernardi Stadium.
"The coaches designed a great gameplan and we players went out and executed that plan," Baxter said. "This felt pretty good."
Meadville coach Ray Collins was surprised Baxter started the game behind center.
"We expected to see No. 9 (Mac Schnur) and we got No. 7," Collins said. "He did a great job hitting their open receivers.
"We were playing a zone, their receivers found the open spots, sat down and he got them the ball."
Baxter completed 12 of 17 passes, hitting six different receivers.
"After not playing last week, we wanted to go to our senior captain and see what he could do for us," Butler coach Eric Christy said. "Mac played a lot on defense at cornerback. We didn't play Cooper on defense as much tonight."
Baxter scored on a 69-yard run off-tackle on the game's first offensive play. After Meadville (1-2) responded with an 8-play, 65-yard drive to tie the game — all on the ground — the Tornado defense did not allow another score until less than a minute remained in the contest. Khalon Simmons broke free for a 74-yard touchdown run against Butler's junior varsity unit.
The Bulldogs scored 95 total points in their first two games this year.
"They run the Wing-T extremely well and that's a very good team," Christy said. "We had to stay in our gaps and match them physically.
"We were able to work a lot of players in and out on both sides of the ball. Meadville had a much smaller roster than us and we were able to take advantage of that."
Butler (1-1) took the lead for good when Baxter found sophomore Braylon Littlejohn in the left corner of the end zone for an 11-yard touchdown strike with 4:55 left in the half.
<![if !vml]>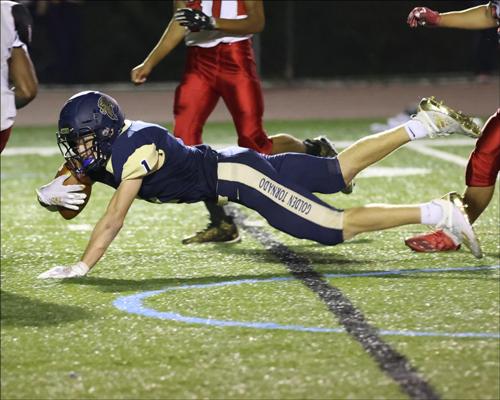 <![endif]>
Butler's Lance Slater extends for extra yards after a reception against Meadville 09/10/21.
SEB FOLTZ/BUTLER EAGLE
Littlejohn — son of the late Calvin Littlejohn, a former standout Tornado running back — returned kickoffs and caught three passes in his first-ever varsity game.
"Braylon didn't come out (for football) until late this summer and he's still trying to grasp the playbook," Christy said. "We're working him in. You can see the potential he has."
Meadville nearly tied the game at the end of the half. The Bulldogs marched 79 yards in 13 plays, but handed the ball off to Griffin Buzzell on first-and-goal from the 3-yard line with 12 seconds left and no timeouts. Buzzell was tackled at the 1 by Charlie Kreinbucher and a few others.
Scrambling to get back in formation, Meadville could not snap the ball again before time expired.
"We just ran out of time there," Collins said. "We can move the football and we did that tonight. But we'd either fumble it away or take a penalty.
"Butler is a much-improved team. We just made too many mistakes tonight."
Simmons led a ground game that gained 296 yards for Meadville. He had 137 on 12 carries. Buzzell added 99 yards on 16 carries.
Butler's defense may have bent, but did not break.
"We stopped them when we needed to," Christy said.
Kreinbucher and Lance Slater recovered fumbles for the Tornado. Ethan Babay, Jake Pomykata and David Graef were among Tornado standouts defensively.
Baxter scored on runs of 4 and 10 yards in the second half. His 10-yard run with 8:07 to play salted away the win.
"We found out (last) Tuesday we weren't going to play last week," Baxter said. "This seemed like a long time to wait to play again, but everybody responded."
The Tornado return to action Sept. 18, playing a noon game at McDowell in Erie.
Meadville 7 0 0 6 — 13
Butler 7 7 7 6 — 27
First Quarter
B — Cooper Baxter 69 run (Max Gianneski kick), 11:40
M — Brady Walker 11 run (Khalon Simmons kick), 7:21
Second Quarter
B — Braylon Littlejohn 11 pass from Baxter (Gianneski kick), 4:55
Third Quarter
B — Baxter 4 run (Gianneski kick), 5:27
Fourth Quarter
B — Baxter 10 run (kick blocked), 8:07
M — Simmons 74 run (kick failed), :25
Individual Statistics
Rushing: Meadville, Gavin Longstreth 2-4, Khalon Simmons 12-137, Griffin Buzzell 16-99, Brady Walker 13-56. Butler, Cooper Baxter 15-130, David Graef 3-22, Landon Dubyak 3-13, Landon Lacey 1-(-1), Lance Slater 1-1, Mac Schnur 1-(-5).
Passing: Meadville, Gavin Longstreth 2-8-26-0. Butler, Cooper Baxter 12-17-134-1, Mac Schnur 1-1-8-0.
Receiving: Meadville, Griffin Buzzell 1-26, Khalon Simmons 1-0. Butler, Lance Slater 3-35, Braylon Littlejohn 3-41, Ethan Trettel 3-28, Charlie Kreinbucher 2-12, Isiah Kelly 1-11, Landon Lacey 1-15.