Butler scores in a variety of ways in win over Harbor Creek
October 2, 2021 High School Football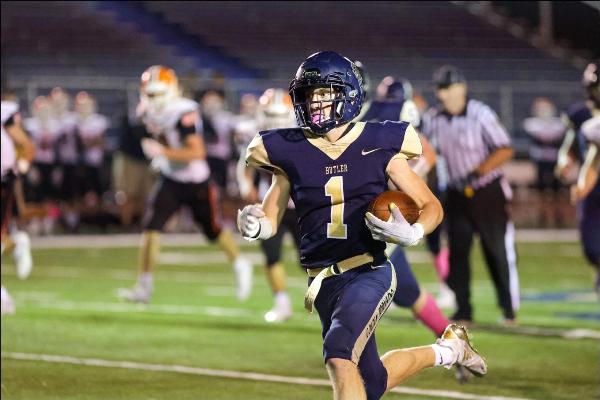 Butler safety Lance Slater (1) returns an interception against Harbor Creek during the game Friday at Art Bernardi Stadium in Butler. Butler won 56-6.
NATE BLACK/SPECIAL TO THE EAGLE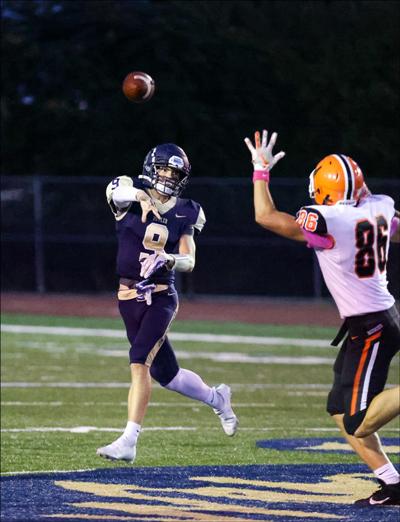 Butler quarterback Mac Schnur (9) tosses the ball downfield against Harbor Creek Friday night at Art Bernardi Stadium in Butler.
NATE BLACK/SPECIAL TO THE EAGLE
BUTLER TWP — This one forced a perusal of the record book.
Butler scored touchdowns on offense, defense and special teams, running and throwing the football in a 56-6 rout of Harbor Creek Friday night at Art Bernardi Stadium.
"It all came together tonight," Golden Tornado coach Eric Christy said.
The Tornado (3-2) — above .500 in a season for the first time since 2012 — scored their most points in a game since a 60-26 defeat of Shaler nine years ago. The 50-point margin of victory is the most since a 53-0 shutout of Hopewell in 1978.
Cooper Baxter returned to Butler's lineup from a ruptured hamstring and played strictly defense. He was among the Tornado's leading tacklers from his linebacker position.
Baxter intercepted a pass and returned it 40 yards into Harbor Creek territory. The Huskies recovered a Butler fumble moments later, one of the few plays that didn't go the Tornado's way.
"My hamstring felt a little tight after practice Tuesday," Baxter said. "It felt good Wednesday, though. Once I was medically cleared (Friday), there was no way I wasn't gonna be out there."
Harbor Creek (1-5) entered the game dealing with injuries and lost a few more players Friday, including starting quarterback Toby Charlton. The senior hobbled off the field in the first quarter and did not return.
"They were pretty banged up," Christy said of the Huskies. "I felt bad for them. They didn't deserve to lose by a score like this.
"We hit a bunch of big plays and it just snowballed."
Butler had a 21-0 lead at halftime. Harbor Creek opened the second half with a 15-play, 66-yard scoring drive that ate 8 minutes and 30 seconds off the clock. The Huskies scored on a 6-yard pass on 4th-and-5.
From there, it was all Tornado.
Butler racked up more than 500 yards in offense for the second straight game. The Tornado rushed for 337 and threw for 170, tallying 22 first downs.
Butler threw only one pass in the entire second half, running out of the Wing-T for most of the final two quarters.
Lance Slater had a circus 29-yard touchdown catch late in the first half called back by a holding penalty. He scored on a 52-yard run in the third quarter, however. Slater had 105 yards rushing on four carries.
Ethan Trettel returned an interception 26 yards for a score. Dashawn Cox returned a fumbled kickoff 24 yards to paydirt, then closed the scoring with a 30-yard touchdown romp.
"We were making big plays all the way around," Trettel said. "We're playing with so much confidence right now.
"I feel like we're changing the attitude of this program. There's definitely a different feel to everything this year."
Jeddiah Wills made a hit on freshman quarterback Heath Betza to set up the Baxter interception. Butler's defense limited Harbor Creek to 142 yards of net offense.
"This is the first time where we hit on everything in the same game," Slater said. "There's been times when our offense was on, but the defense wasn't, when the defense played well and the offense didn't.
"Tonight, it was all there. It felt good. So many different people made plays."
Mac Schnur completed 15 of 22 passes for his 170 yards and one touchdown. He opened the scoring with an 8-yard toss to running back Landon Lacey.
Lacey, who rushed for 83 yards, also scored on a 46-yard run. David Graef's lone carry of the night went for a 27-yard score.
The only drawback to the night for Butler was tight end Charlie Kreinbucher suffering a sprained ankle in the first half. He was on crutches at the end of the game.
"We'll just have to wait to see how that is," Christy said. "It looks like a high sprain, but we'll get it checked out."
Matt Cassidy led Harbor Creek with 103 yards on 23 carries.
Butler hosts Westinghouse next Friday for homecoming.
Harbor Creek 0 0 6 0 — 6
Butler 14 7 14 21 — 56
First Quarter
B — Landon Lacey 8 pass from Mac Schnur (Max Gianneski kick), 3:46
B — Lacey 46 run (Gianneski kick), 1:18
Second Quarter
B — Ethan Trettel 26 interception return (Gianneski kick), 4:27
Third Quarter
HC — Gavin Ennis 6 pass from Heath Betza (Betza kick), 3:23
B — David Graef 27 run (Gianneski kick), 2:10
B — Lance Slater 52 run (Gianneski kick), :04
Fourth Quarter
B — Isiah Kelly 4 run (Gianneski kick), 7:16
B — Dashawn Cox 24 fumble return (Gianneski kick), 6:53
B — Cox 30 run (Gianneski kick), 1:14
Individual Statistics
Rushing: Harbor Creek, Matt Cassidy 23-103, Toby Charlton 3-15, Elliot Backstrom 1-(-11), Nate Hyche 8-6, Aiden Walker 3-12, Heath Betza 1-(-6). Butler, Mac Schnur 1-15, David Graef 1-27, Landon Lacey 7-83, Lance Slater 4-105, Braylon Littlejohn 4-38, TEAM 1-(-3), Isiah Kelly 2-20, Dashawn Cox 2-43, Alex Catalfano 1-9.
Passing: Harbor Creek, Toby Charlton 0-1-0-0, Heath Betza 3-7-22-1, Elliot Backstrom 0-1-0-1. Butler, Mac Schnur 15-22-170-1.
Receiving: Harbor Creek, Gavin Ennis 2-7, CJ Pius 1-15. Butler, Lance Slater 1-4, Braylon Littlejohn 4-50, Charlie Kreinbucher 1-15, Ethan Trettel 5-69, Landon Lacey 3-15, Isiah Kelly 1-17.