Fitting Finale
Butler rolls to 60-8 win in last home game
October 23, 2021 High School Football
<![if !vml]>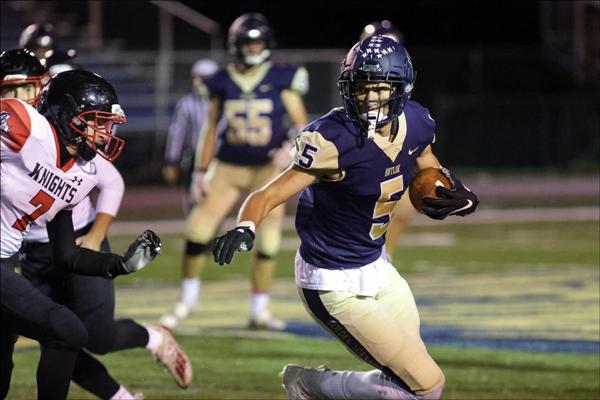 <![endif]>
Butler senior tight end Charlie Kreinbucher (5) looks to gain yards downfield after making a catch Friday night at Art Bernardi Stadium. The Golden Tornado cruised to a 60-8 victory on Senior Night.
NATE BLACK/SPECIAL TO THE EAGLE
BUTLER TWP — It was more than Senior Night for Butler.
It was Senior Feel-Good Night as the Golden Tornado throttled Franklin, 60-8, in their final home football game of the season Friday night at Art Bernardi Stadium.
"A lot of points and a lot of fun, a lot of excitement," Butler coach Eric Christy said. "I'm happy for these kids."
The game was decided well before halftime and the mercy clock ran the entire second half as Butler (4-4) scored 60 points for the first time since a 60-26 triumph over Shaler in 2012.
The Tornado's first possession resulted in a lost fumble. Their next seven possessions resulted in touchdowns and a 47-0 lead heading into the intermission.
Jake Zimsak, a senior who missed Butler's season opener due to COVID-19 protocol and was sidelined for three other games with an injured shoulder, got the ball rolling by picking off a pass along the left sideline to end Franklin's first possession.
"He almost had another interception that might have been a pick-six," Christy said, smiling. "It just wasn't to be."
But Zimsak's satisfaction was.
"To make a play like that on Senior Night, man, I was happy," he said. "We were 0-10 my sophomore year and lost games by scores like this.
"It's awesome being a senior on the team that flipped those scores around."
Mac Schnur threw for 138 yards and three touchdowns, all in the first half. Braylon Littlejohn caught TD tosses of 33 and 40 yards while Lance Slater pulled in an 11-yard scoring strike.
Cooper Baxter rushed for 144 yards and a pair of touchdowns in the first 30 minutes. All told, Butler racked up 413 yards of offense in the first two quarters to Franklin's 74.
The Knights (1-8) were minus 1 yard rushing on 19 attempts in the first half.
Isaiah Kelly, another senior, capped the early onslaught by racing 80 yards for a score with 19 seconds left before halftime.
"That felt really good, to score a touchdown on a big play like that in my final home game," Kelly said. "I'm gonna remember that play."
"Isaiah's been a loyal contributor to this program for three years," Christy said. "He's had his moments. It was great seeing him break one off like that."
None of Butler's nine touchdown drives on the night took more than four plays.
"We knew what kind of challenge we were in for, coming down here," Franklin coach Matt Turk said. "But our kids weren't intimidated. They played hard.
"Our program is about pride and we showed that tonight. We held them to 14 in the first quarter. We emphasize small positives like that in moving forward."
The Knights came to Butler with a 30-player roster.
Franklin's lone touchdown came on a freakish play. Two Butler defenders were in position to make an interception, but the ball was deflected twice before falling into the hands of Knights receiver Jimmy May.
May was behind the defense when he secured the catch and completed a 57-yard scoring play.
Butler will close the regular season next Friday at Erie's Veterans Stadium, taking on Erie High School for the right to play McDowell in the District 10 championship game.
"Our goals this season were to finish above .500 and get to the playoffs," Christy said. "We can accomplish both goals on the same night."
Franklin 0 0 8 0 — 8
Butler 14 33 7 6 — 60
First Quarter
B — Lance Slater 11 run (Max Gianneski kick), 6:42
B — Braylon Littlejohn 33 pass from Mac Schnur (Gianneski kick), 2:55
Second Quarter
B — Cooper Baxter 8 run (Gianneski kick), 11:50
B — Slater 11 pass from Schnur (Gianneski kick), 11:08
B — Baxter 65 run (kick failed), 6:32
B — Littlejohn 40 pass from Schnur (Gianneski kick), 4:36
B — Isaiah Kelly 80 run (kick failed), :19
Third Quarter
F — Jimmy May 57 pass from Hunter Marsteller (Jackson Ewing pass from Marsello), 2:58
B — Kellen Rakoci 4 run (Gianneski kick), 1:14
Fourth Quarter
B — Evan Reinsel 5 run (run failed), 6:18
Individual Statistics
Rushing: Franklin, Carson Wible 6-8, Tobias Sanchez 7-26, Hunter Marsteller 8-7, Trystin Boocks 3-20, Wyatt Bell 1-(-9), Jimmy May 4-0, Carson Beatty 3-2, Jason Carey 3-9, Dustin McMullen 1-7. Butler, Cooper Baxter 9-144, Landon Lacey 1-10, Lance Slater 2-19, Braylon Littlejohn 1-22, TEAM 2-(-14), Isaiah Kelly 1-80, Kellen Rakoci 1-4, Zane Summerville 2-33, Alex Catalfano 1-30, Matthew McCombvs 2-20, Evan Reinsel 1-5.
Passing: Franklin, Hunter Marsteller 10-20-132-1, Jason Carey 0-3-0-0. Butler, Mac Schnur 5-12-138-0.
Receiving: Franklin, Jackson Ewing 3-16, Carson Wible 1-8, Wyatt Bell 1-0, Jimmy May 4-67, Jeremy Cunningham 2-46. Butler, Lance Slater 1-11, Braylon Littlejohn 2-73, Charlie Kreinbucher 2-54.