JUST FOR OPENERS
Butler outlasts Shaler, 35-28, in wild debut at Art Bernardi Stadium
John Enrietto Eagle Sports Editor
August 26, 2022 Last Updated: August 26, 2022 11:38 PM High School
<![if !vml]>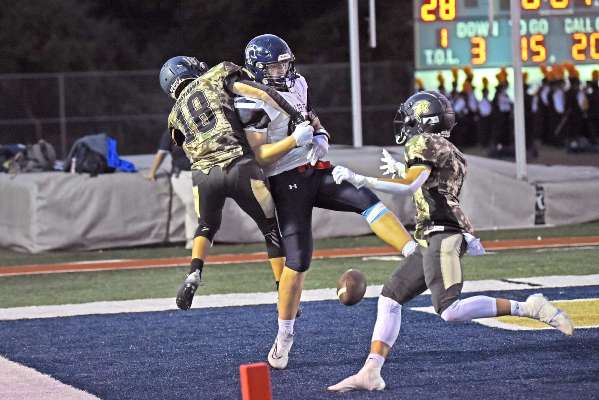 <![endif]>
Butler's Quinlan Hanley (#18) and David Graef stop a touchdown from Shaler's Brandon London during the second quarter of the football game at Art Bernardi Stadium on Friday in Butler Township. Butler won, 35-28. Joseph Ressler/Butler Eagle 8/26/22
BUTLER TWP — Good luck topping this one.
Ryan McLister caught an 11-yard touchdown pass for the go-ahead score with nine minutes remaining and Butler withstood a pair of Shaler threats late in winning its football season opener, 35-28, Friday night at Art Bernardi Stadium.
"Bet this was a fun one to watch," Golden Tornado coach Eric Christy said.
He'd win.
The teams combined for 41 first downs and 892 yards of total offense. But the game was ultimately decided by the Tornado defense in the final minutes of the fourth quarter.
Richard Greygor and Quincy Jennings sacked Shaler quarterback Keegan Smetanka to kill one Titan scoring threat with 5:58 left. Greygor's sack came on second down, Jennings' on fourth down to give Butler possession at the Shaler 30.
The Tornado turned the ball over on downs at the Shaler 31 with 3:40 to play. The Titans embarked on a 12-play drive to tie the game. The 12th snap came with one second on the clock and the ball at Butler's 25. Landon Lacey intercepted Smetanka's pass in the end zone to finally seal the victory.
<![if !vml]>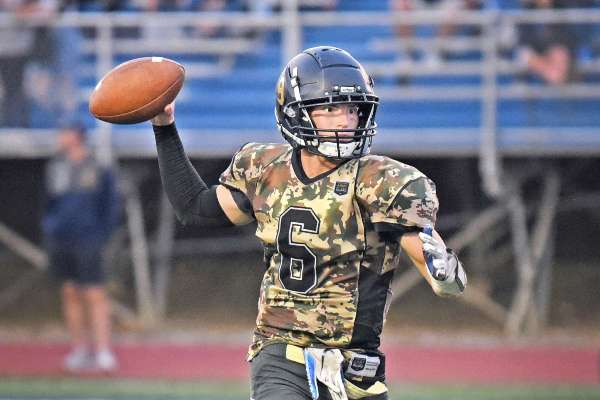 <![endif]>
Butler quarterback Noah Ritchie throws the ball during the second quarter of the football game against Shaler at Art Bernardi Stadium on Friday in Butler Township. Joseph Ressler/Butler Eagle 8/26/22
"Our kids know to stay in there and fight," Christy said. "Some things went against us, but we hung in."
Butler had a 28-8 lead with 7:30 left in the second quarter. Shaler — led by running back Luke Cignetti — rallied to knot the ganme. Cignetti scored on touchdown runs of 14, 12 and 16 yards, the last score coming with 3:12 left in the third quarter to pull the Titans even.
Cignetti had 19 carries for 242 yards in the contest.
"He's a special player," Shaler coach Jim Ryan said. "We know we can rely on him. The kid is a workhorse. We did a lot of positive things out there tonight. We just have to clean up a few things.
"I like this group of athletes we have."
Butler's Deshawn Cox helped the Tornado build their early lead with touchdown runs of 82 and 50 yards. His first score marked Butler's first points of the night and helped the Tornado recover from a rough start.
Shaler took a 2-0 lead when the first possession of the game ended with a Butler punt snap going out of the end zone for a safety.The Titans then drove to the Butler 6, but a fourth-down snap was fumbled and recovered by Ethan Babay.
Cox's 82-yard run occurred two plays later.
"We've been trying to find out who the leaders are going to be with this bunch and Deshawn certainly stepped up," Christy said. "He had a monster game."
Cox had eight carries for 180 yards, five catches for 122, four kick returns for 85. It all added up to 387 all-purpose yards.
"And about 400 cramps," Christy said, smiling. But we got through it."
"None of those yards or plays happens without my teammates," Cox said. "Anything I do, I do for my team. This was a nice win, but now we get ready for the next game."
Schnur threw for 202 yards and a pair of touchdowns. He ran for a score as well.
"Mac made some good decisions tonight," Christy said. "He handled the ball and our offense extremely well."
Smetanka threw for 154 yards and a touchdown for Shaler. Kaden Orga had two interceptions for the Titans.
Butler had 11 penalties for 101 yards and three turnovers, but found a way to win.
"A good sign ... a very good sign," Christy said.
Shaler 8 7 13 0 — 28
Butler 14 14 0 7 — 35
First Quarter
S — Punt snap out of end zone for safety, 11:00
B — Deshawn Cox 82 run (Max Gianneski kick), 8:55
B — Cox 50 run (Gianneski kick), 6:01
S — Kaden Orga 4 pass from Keegan Smetanmka (run failed), 2:33
Second Quarter
B — Mac Schnur 3 run (Gianneski kick), 9:40
B — Ayden Davis 5 pass from Schnur (Gianneski kick), 7:32
S — Luke Cignetti 14 run (Riley Douglas kick), 3:12
Third Quarter
S — Cignetti 12 run (kick failed), 8:50
S — Cignetti 16 run (Douglas kick), 1:17
Fourth Quarter
B — Ryan McLister 11 pass from Schnur (Gianneski kick), 9:00
Individual Statistics
Rushing: Shaler, Keegan Smetyanka 9-_3), Luke Cignetti 19-242, Augie Tortorea 1-5, Nathan Rozzo 4-25, Kaden Orga 2-6, TEAM 1-(-10). Butler, Mac Schnur 4-18, Landon Lacey 5-2, David Graef 5-54, Dashawn Cox 8-180, TEAM 1-(-21), Zane Summerville 1-8, Landon Dubyak 4-27.
Passing: Shaler, Keegan Smetanka 20-33-154-1. Butler, Mac Schnur 12-18-202-2.