Butler shows depth beating Brashear
Josh Rizzo
Eagle Correspondent
September 09, 2023 Last Updated: September 09, 2023 12:34 AM Sports
<![if !vml]>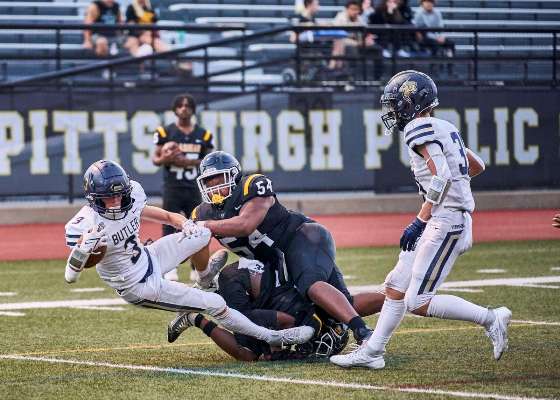 <![endif]>
Butler's David Graef (3) finds the end zone for his second running touchdown in their game vs Brasher on Friday night at Cupples Stadium. Shane Potter/Butler Eagle
PITTSBURGH — Butler senior running back/defensive back David Graef was happy to see the junior varsity defense dig in Friday night at Cupples Stadium.
Playing with a running clock, it was important for Graef to see the Golden Tornado keep Brashear off the scoreboard.
<![if !vml]>
<![endif]>
Butler never let the Bulls breathe on offense during a 38-0 victory Friday night. The Golden Tornado forced three turnovers — including two interceptions by Marcus Vicari -— to preserve Butler's first shutout win since it beat Shaler 47-0 on Sept. 19, 2017.
"It's great because the rest of the season is going to be hard for us," said Graef, who ran for 31 yards and scored two touchdowns. "It's going to be a confidence booster. Seeing the JV gets it done was awesome to watch. A lot of JV teams let it crumble. It shows their potential, especially since we go to the WPIAL next year."
When it came to moving the ball, Butler running back Landon Lacey was willing to run whatever it took for the Golden Tornado offense to move forward.
In the preseason, Butler coach Eric Christy thought the Golden Tornado's offense could score 42 points per game if executed properly. With all of the Golden Tornado's injuries, Butler may need to run 42 different systems each game to get through the season. Butler (2-1) adjusted on the fly against the Bulls, utilizing several quarterbacks and formations.
Butler started wide receiver Braylon Littlejohn at quarterback. Late in the first half, Littlejohn went down with an injury following a 27-yard run. Senior quarterback Noah Ritchie stepped in for Littlejohn.
"It's attributed to this team having a lot of football experience," Christy said. "We did a lot of good summer work. It came in the summer. We have a lot of different looks. It's nice we have three freshman running backs on the field at end of the game and we were able to move the ball."
Following Littlejohn's exit, Butler shifted into a Wing-T look for a play. The Golden Tornado line opened up a hole and allowed Lacey to race 13 yards for a touchdown that extended Butler's lead to 29-0 at halftime.
When Littlejohn was in the game at quarterback, Butler worked primarily out of the shotgun.
"We're able to make plays out of both," said Lacey, who finished with 70 rushing yards and scored twice. "Having Ritchie run the Wing-T and Braylon run the ball out of the gun helped open the pass out of that. Having both those quarterbacks helped us."
Christy said that Littlejohn's injury wasn't serious and they held him out of the second half as a precaution. Littlejohn finished with a game-high 109 rushing yards.
"He could have played," Christy said. "With the score being where it was at, we wanted to rest him for the next game."
Brashear's offense, which had only produced eight points in their first two games, successfully moved the ball. The Bulls (0-3) couldn't finish drives. Brashear quarterback Donovan Meadows was intercepted in the end zone twice by Butler defensive back Marcus Vicari.
The Bulls only gained 62 yards rushing and 129 through the air. Brashear coach Andrew Moore said they had a challenging week of preparation.
"I'm extremely proud of our guys for how they performed offensively," Moore said. "With the excessive-heat advisory, we weren't allowed to go out and practice all week until Thursday. We weren't able to get out and run routes; our timing was a little off."
Butler steadily marched forward against Brashear. The Golden Tornado scored touchdowns on two of its first three possessions. Graef capped both drives with 11- and 2-yard touchdown runs, respectively.
Graef's first touchdown run came with 5 minutes, 4 seconds remaining in the first quarter and gave Butler a 7-0 lead it would never lose.
Lacey's scored his first touchdown on a 3-yard run with 6:55 left before halftime. A Terrell Holderman fumble recovery set up that touchdown. Evan Reinsel also scored for Butler in the third quarter.
While Butler's offense had to adjust, Graef said the Golden Tornado doesn't just have one action plan.
"We practice for all scenarios," Graef said. "We don't want to rely on one person. We want to rely on this guy or that guy and if that guy goes down, we fumble, essentially. It's a lot of practice and the coaching staff does a great job to prepare us for the guys that are right next to them or behind them can step up and do their job."
Butler 7 22 6 3-38
Brashear 0 0 0 0-0
First Quarter
BU - David Graef 11 run (Christian Mortimer kick), 5:04
Second Quarter
BU - Graef 2 run (Quinlan Hanley run), 11:04
BU - Landon Lacey 3 run (Mortimer kick), 6:55
BU - Lacey 13 run (Mortimer kick), :50
Third Quarter
BU - Evan Reinsel 3 run (Pass failed), 8:23
Fourth Quarter
BU - Mortimer 23 field goal, 4:04
Individual Statistics
Passing: Butler, Noah Ritchie 1-1-30-0. Braylon Littlejohn 3-8-23-0. Brashear, Donovan Meadows, 10-21-129-2.
Rushing: Butler, Braylon Littlejohn 8-109, Landon Lacey 7-70, Evan Reinsel 6-41, David Graef 10-31, Nicholas Baggetta 3-28, Mark Klemz 3-22, Jacob Kollinger 3-18, Noah Ritchie 1-7, Noah Cuffman 2-2. Brashear, Donovan Meadows 12-56, Sean Peterson 3-6.
Receiving: Butler, Ian Wilson 2-37, David Graef 2-16. Brashear, Jayden Atkins 4-69, Dovea Drewery 6-28, Austin Ekunfeo 1-12