CAN YOU TOP THIS?
Butler holds on to win 27-26 thriller over Meadville
John Enrietto Eagle Sports Editor
September 01, 2023 Last Updated: September 01, 2023 11:28 PM Sports
<![if !vml]>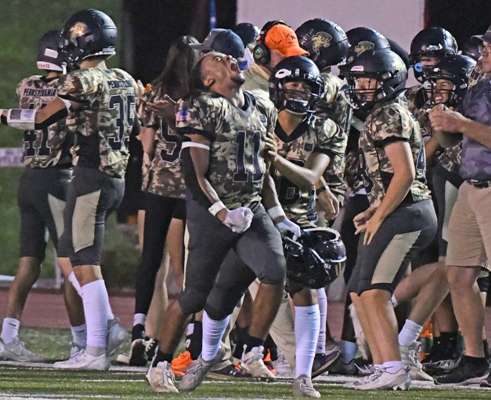 <![endif]>
Butler celebrates a win against Meadville in a non conference District 10 football game at Art Bernardi Stadium on Friday Sept. 1, 2023. Justin Guido/ Butler Eagle 09/01/23
BUTLER TWP — Butler ran with Braylon Littlejohn. Meadville ran out of time.
Nic Williams' 21-yard field goal attempt on second-and-goal sailed wide right with nine seconds left, enabling the Golden Tornado to hold on for a 27-26 victory in their football home opener Friday night at Art Bernardi Stadium.
The Bulldogs (1-1) were out of timeouts when they tried the kick from placement.
"He (Williams) bruised his ankle early in the game," Meadville coach Ray Collins said. "That's why we went for 2-point conversions all night.
<![if !vml]>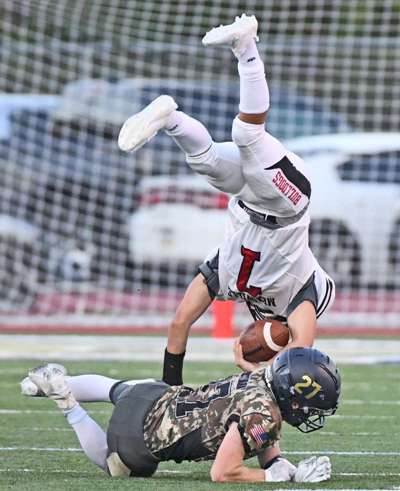 <![endif]>
Butler's Alex Catalfano (27) hits Meadville's Jacoby Thompson during the Golden Tornado's 27-26 victory Friday night. Justin Guido/ Butler Eagle 09/01/23
"But at the end there, being out of timeouts … It would have been taking a huge chance to try running another play.We were close enough to kick it. We had to try it."
Alec Teff, Butler's starting quarterback in the season opener at Shaler last week, injured a knee in practice this week and was unavailable Friday. Noah Ritchie started the game behind center.
The game was scoreless after the first quarter when Tornado coach Eric Christy inserted Littlejohn behind center.
"Noah was thrown into a tough spot this week and was trying to fight through it," Christy said. "But we hadn't scored any points and I felt like we needed to do something to create some energy."
With Butler trailing 6-0, Littlejohn engineered a 10-play, 60-yard drive that ended with a 13-yard touchdown pass to David Graef. Christian Mortimer's PAT was blocked and the game remained tried.
A 27-yard Littlejohn run set up Landon Lacey's 6-yard scoring run late in the half and Butler took a 13-6 lead into intermission.
"I knew there was a chance I'd see action at quarterback at some point," Littlejohn said. "The more I played back there, the more comfortable I got."
But the Bulldogs never went away. A 12-play, 73-yard drive pulled them within a point in the third quarter, but Butler's defense stopped three 2-point conversion attempts to keep the Tornado in the lead.
Brighton Anderson's 60-yard run set up Tahlir McClure's 2-yard scoring run to give Meadville a 24-20 lead with three minutes to play. The Bulldogs converted a 2-point pass to up the lead to six.
On second down from the Meadville 47, Littlejohn threw a deep ball to Landon Lacey that was dropped deep in Bulldog territory. Two plays later, Littlejohn's 4th-and-4 pass fell incomplete and it appeared Butler was headed for defeat.
A pass interference penalty on the play kept the drive alive. Four plays later, Littlejohn found Lacy in the end zone from 32 yards out and Mortimer's PAT gave the Tornado a 27-26 edge with 1:40 to play.
"I was so discouraged after I dropped that ball. I thought I was in for a long night," Lacey said of the earlier incompletion. "It felt great to squeeze one in the end zone and make a play like that."
"I was hit when I let the (incomplete) pass go and put the ball too much inside," Littlejohn said. "I have to take part of the blame on that one. Seeing Landon come back to make the winning play was cool."
The game still wasn't over.
A 45-yard pass to Williams on 2nd-and-20 gave Meadville the ball at the Butler 10-yard line with time running out. A first down play from there netted no gain. That's when Collins opted for the field goal attempt.
"It looked like this game was over two or three times," Christy said. "It just kept going. That was a crazy final few minutes. And for Mortimer to hit the winning PAT in just his second varsity game was impressive.,
"I got some gray hairs with this game."
Littlejohn had 22 carries for 162 yards for Butler. Anderson had 12 carries for 123 for Meadville. The Bulldogs had more than 400 yards of total offense in the loss.
"We didn't come out as physical as I would have liked," Collins said. "We made too many mistakes early. That came back to bite us."
"This turned into backyard football at the end … by both teams," Christy said.
Butler (1-1) travels to Brashear next Friday night.
Meadville 0 6 6 14 — 26
Butler 0 13 7 7 — 27
2nd Quarter
M — Brighton Anderson 1 run (run failed), 9:47
B — David Graef 13 pass from Braylon Littlejohn (kick blocked), 5:16
B — Landon Lacey 6 run (Christian Mortimer kick), 1:17
3rd Quarter
M — Anderson 2 run (pass failed), 1:598
B — Noah Ritchie 1 run (Mortimer kick),: 36
4th Quarter
M — Bradyn Miller 39 pass from Tate Reichel (run failed), 11:07
M — Tahlir McClure 2 run (Miller pass from Reichel), 3:00
B — Lacey 32 pass from Littlejohn (Mortimer kick), 1:40
Individual Statistics
Rushing: Meadville, Jordan Lawrence 9-28, Bradyn Miller 7-48, Brighton Anderson 12-125, Tahlir McClure 5-19, Nic Williams 2-16, Jacoby Thompson 6-31, TEAM 1-(-25). Butler, David Graef 4-29, Landon Lacey 5-23, Noah Ritchie 5-(-8), Braylon Littlejohn 22-162.
Passing: Meadville, Tate Reichel 4-10-100-0, Jacoby Thonmpson 2-5-62-0. Butler, Noah Ritchie 1-4-29-1, Braylon Littlejohn 5-11-79-0.
Receiving: Meadville, Nic Williams 1-15, Brighton Anderson 1-38, Bradyn Miller 3-62, Ryan Reichel 1-17. Butler, Braylon Littlejohn 1-29, Landon Lacey 2-43, Preston Simko 1-6, David Graef 1-13, Owen Trettel 1-17.