8 seconds to spare
Eyth bucket lifts Butler girls past Raiders, 36-35
February 6, 2018 High School Basketball
<![if !vml]>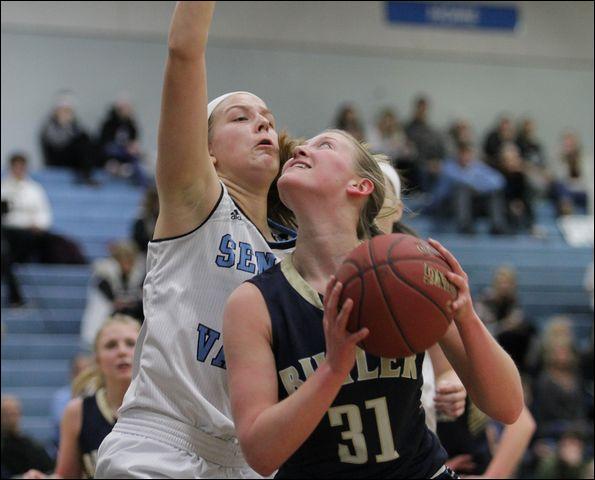 <![endif]>
Butler forward Julia Gibson (31) powers around Seneca Valley defender Maddie Karchut during the Golden Tornado's 36-35 victory.
NATE BLACK/ SPECIAL TO THE EAGLE
JACKSON TWP — When he watches film of his team's Section 1 finale with Seneca Valley, Butler girls basketball coach Mark Maier will see things his players can correct as the WPIAL playoffs loom.
The final 18 seconds, however, went according to script.
The Golden Tornado trailed the host Raiders, 35-34, when Julia Gibson rebounded a missed free throw by SV's Haley Cramer. Two passes got the ball to Alyssa Eyth, whose layup at the other end with eight seconds remaining was the difference in a 36-35 Butler win, which secures for the Golden Tornado (11-8, 6-4) second place in the section.
"This win means a ton to us," said Eyth, who scored a game-high 14 points. "Our No. 1 goal is to get to states and this will be a big factor in who we play in the first round (of the WPIAL playoffs."
Butler had trouble on the glass for much of the night — and was getting beat there 17-3 at one point late in the first half — but Gibson's determination yielded the biggest board of the game.
"Gibby wants the ball and she goes after it," said Maier. "I thought they were going to call a jump ball there, but she was able to pull it away."
SV had a chance to win the game before the buzzer, but Gretchen Koken's shot from the left wing bounced off the front of the rim.
"We got the look we wanted," said SV coach Rob Lombardo. "We were looking for either McKenna (Gross) to drive to the basket or have her kick it out to Gretchen because we knew that McKenna would draw a crowd."
The Tornado held a tenuous 28-26 lead entering the fourth. The lead changed hands three times, the final instance coming when Koken forced a Butler turnover and Gross banked in two points for the 35-34 lead with 1:40 left in the game.
At halftime, Maier stressed the importance of rebounds. Despite being dominated on the boards, the Tornado trailed just 16-13 at the break.
"I knew if we could seal up more rebounds, we could win the game," said Maier. "Seneca Valley is a big, strong team, but so are we. They were slicing our man defense in the first half, so we switched to a 3-2 zone. I think that helped us get more boards.
"In the end, we just made one more play than they did," he added.
The Raiders committed 16 turnovers, 14 of them coming in the first three quarters. They shot just 50 percent (9-of-18) from the free throw line.
"Turnovers and foul shots killed us," said Lombardo. "We missed the front end of three one-and-ones."
Jenna Kunst added 10 points for Butler while Gross led the Raiders with 13 points. Maddie Karchut had eight rebounds.
Seneca Valley (11-9, 5-5) will enter the playoffs as the third-place team from the section.
"We'll be fine," said Lombardo. "Our girls know that if we make our free throws, we win this game."
Both teams have a non-section game this week. Seneca Valley travels to Central Valley Wednesday. Butler hosts St. Joseph on Thursday.
BUTLER 36
Nicole Pepmeyer 2 0-0 4, Mia Rader 0 2-2 2, Alyssa Eyth 5 2-4 14, Jenna Kunst 5 0-0 10, Julia Gibson 1 1-1 3, Emilee Altman 1 0-0 3, Emma Monteleone 0 0-0 0, Jordan Kauffman 0 0-0 0, Sydney Hanratty 0 0-0 0. Totals: 14 5-7 36.
SENECA VALLEY 35
Karlie Martin 2 1-2 5, McKenna Gross 4 5-6 13, Gretchen Koken 3 1-3 7, Haley Cramer 1 0-2 2, Madelyn Karchut 3 2-5 8, Cheyenne Andres 0 0-0 0, Lexi Peffer 0 0-0 0, Jaden Davinsizer 0 0-0 0. Totals: 13 9-18 35.
Butler 7 6 15 8 — 36
Seneca Valley11 5 10 9 — 35
3-point goals: Butler 3 (Eyth 2, Altman)
JV: Butler 38-24 (B-J. Kauffman 10 points; SV-H. Thompson 12)