Encouraging start
Butler girls bounce back, top Deer Lakes
December 11, 2017 High School Basketball
<![if !vml]>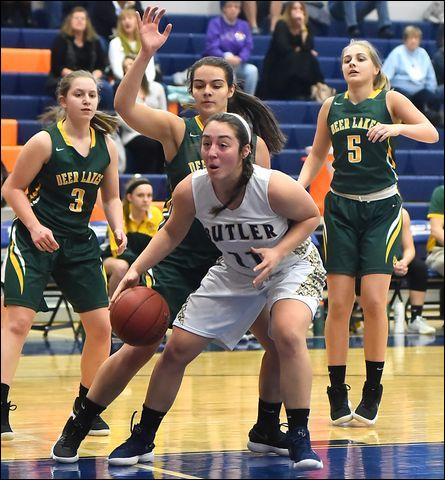 <![endif]>
Butler's Alyssa Eyth (11) looks to make a move against Deer Lakes defenders, from left, Anna Solomon, Julia Hollibaugh and Carly Hammers during the Golden Tornado's 49-41 win in the Armstrong Tip-Off Tournament Saturday.
DAVE PRELOSKY/ BUTLER EAGLE
KITTANNING — Butler's girls basketball team has a lot to build on following two games in the Armstrong Tip-Off Tournament.
A day after losing a 36-35 decision to state-ranked West Shamokin, the Golden Tornado picked up their first win of the season, a 49-41 effort against Deer Lakes.
Butler led 28-22 at halftime and never trailed in the second half.
"We went to a press (defense) in the second quarter, forced some turnovers and got some easy baskets off of them," said first-year Butler coach Mark Maier. "You have to be on your toes against a team like Deer Lakes. We did a good job of limiting them to one shot and rebounded well."
Senior guard/forward Jenna Kunst led the victory with 15 points and eight rebounds. Alyssa Eyth added 12 points, Mia Rader 10 points and Julia Gibson contributed six rebounds.
"You lose a one-point game like we did Friday and you second-guess everything,:" Maier said. "But West Shamokin was 27-3 last year and is ranked No. 3 in the state (in Class 3A) and we were an 8-foot jump-shot from beating them. Getting the win against Deer Lakes was nice."
The Tornado will open their home schedule Wednesday against New Castle.
DEER LAKES 41
Anna Solomon 3 0-0 6, Victoria Keibler 1 1-1 3, Abby Buechel 4 0-0 10, Cam Simurda 1 0-0 3, Marie Schmitzer 2 0-0 6, Julia Hollibaugh 1 4-7 7, Alex Stump 1 0-0 2, Emily Mischen 2 0-0 4. Totals: 16 5-9 41.
BUTLER 49
Mia Rader 4 1-2 10, Alyssa Eyth 4 3-3 12, Jenna Kunst 4 6-7 15, Julia Gibson 0 4-6 4, Jordan Kauffman 1 0-0 2, Morgan Gage 0 2-2 2. Totals: 15 16-20 49.
Deer Lakes 5 17 12 7 — 41
Butler10 18 11 10 — 49
3-point goals: Buechel 2, Schmitzer 2, Hollibaugh; Rader, Eyth, Kunst