Dynamic Debut
Kauffman shines as Butler girls claim opener
December 8, 2018 High School Basketball
<![if !vml]>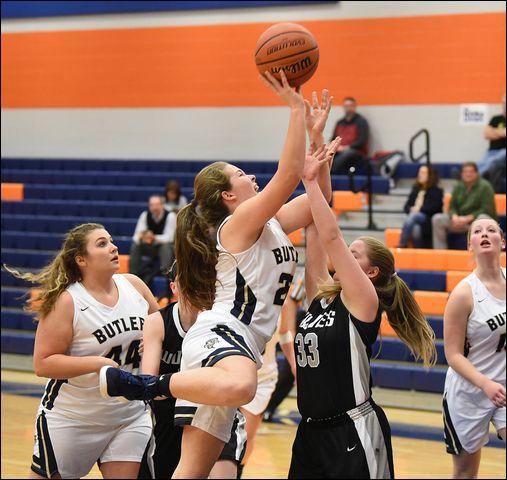 <![endif]>
Butler's Hailey Metzger (25) shoots the ball over West Shamokin's Shayla Cessna during the Golden Tornado's 36-28 win Friday at the Armstrong Girls Basketball Tip-Off Tournament.
JUSTIN GUIDO/ BUTLER EAGLE
KITTANNING — Jordan Kauffman spent the off-season honing her skills.
Putting up shots more quickly.
Handling the ball better.
Driving to the hoop.
Those improved skills paid off in a big way for the Butler girls basketball team as the junior forward drained four 3-pointers and scored a game-high 14 points in a 36-28 win for the Golden Tornado over West Shamokin at the Armstrong Tip-off Tournament Friday night.
"Big time," said Butler coach Mark Maier of Kauffman's refined game. "She's doing a much better job getting a shot off quicker."
That was the main thing Kauffman said she worked on between her sophomore and junior seasons.
"I did practice a lot over the summer," Kauffman said. "I put in a lot of work to get better."
Kauffman hit two of her 3s in the first half as Butler built an 18-11 advantage. Neither team shot well in the first 16 minutes, combining to go 10-of-39 from the floor.
Butler used 11 players in the first half. The first two times Maier substituted, he sent a whole new five out onto the floor.
"I think I said, 'Hockey sub, five over the boards, five out," Maier joked. "The thing I like about it is I think we can play 10, 11 girls and what it does is it gives the first five a chance to catch their breath after a minute or two," Maier said. "And it gives the next five a chance to play early."
Butler tried a little bit of everything in the season opener.
The Tornado pulled out a press and half-court trap at the start of the third quarter and used it to build a 27-11 lead.
West Shamokin didn't even attempt its first shot until the 4:11 mark of the quarter.
"I think we're athletic enough as a team to get in it and trap and still be good enough to get back on defense," Kauffman said.
Trying a lot of things was the plan for Maier, who is trying to find out what the identity of his team will be.
"It's almost like throw it all in there and figure out what kind of team we're going to be," Maier said. "Maybe it's a little bit of everything."
One thing Butler did well was penetrate and dish to its outside shooters.
"I think everyone on the team is a pretty good shooter," Kauffman said. "So the penetration and dish works for us. We're pretty big so we can get rebounds if we miss and put them back up."
Butler sputtered a bit after building that 16-point lead.
West Shamokin closed to seven at one point and the Golden Tornado didn't make a field goal over the last nine minutes of the game.
Still, it was a season-opening win and a rare 1-0 record for Butler.
"It's the first time we've been 1-0 in at least four years," Maier said. "We've never played in the championship game of this tournament."
"We haven't beaten West Shamokin in the last three times we've played them," Kauffman added. "We really wanted to beat them."
WEST SHAMOKIN 28
Shelby Cessna 0-1 0-0 0, Shayla Cessna 1-4 1-2 3, Sophie Fusaro 1-14 6-6 8, Abby Oesterling 3-7 1-2 7, Lydia McIlwain 2-4 1-2 6, Lexie Young 2-3 0-0 4. Totals: 9-33 9-12 28.
BUTLER 36
Sarayne Forbes 0-0 0-0 0, Julia Gibson 1-5 0-0 2, Jordan Kauffman 5-14 0-0 14, Emma Monteleone 1-3 0-0 2, Ali Altman 1-5 0-0 2, Sydney Hanratty 2-5 2-4 7, Hailey Metzger 1-3 1-2 3, Elizabeth Friel 0-1 0-0 0, Emilee Altman 0-3 0-0 0, Anna Michalek 0-0 0-0 0, Heidi Gross 2-5 2-2 6. Totals: 13-44 5-8 36.