Home Cookin'
Butler erases 12-point fourth-quarter deficit on its own court to topple Pine-Richland
By Josh Rizzo Eagle Correspondent
December 20, 2019 High School Basketball
<![if !vml]>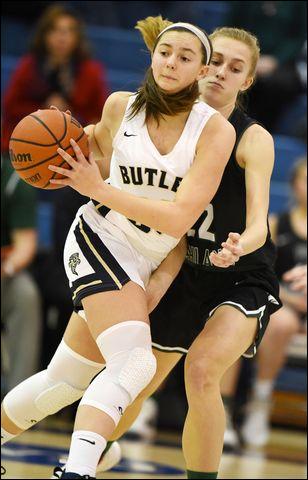 <![endif]>
Butler's Makenna Maier pushes the ball down the court against Pine-Richland Thursday, December 19, 2019.
HAROLD AUGHTON/BUTLER EAGLE
BUTLER TWP — Being aware of how close the Section 1-6A standings are gave the Butler girls basketball team plenty of reasons to have a sense of urgency for their matchup with Pine-Richland Thursday night at home.
Staring at a 10-point deficit with five minutes remaining had the alarm bells ringing. The Golden Tornado's offense responded with a 14-2 run to close the game, allowing Butler to steal a 49-47 win. Emma Monteleone made a driving layup with 3.8 seconds remaining to put the Tornado ahead.
"Home games are important because everyone is here watching us and everything," Monteleone said. "But I think every game is important. Even if its home or away."
Butler coach Mark Maier was overjoyed with how his team responded.
"It's a cliche, but this one is true," Maier said. "You want to protect your home turf and hope to squeeze some out of the road. If we would have been 1-2 it wouldn't have been over, but 2-1 is a heck of a lot better."
While there will be plenty more opportunities to climb the ladder, the Tornado (4-2, 2-1) wanted to try and avoid heading toward the cellar. Pine-Richland (2-4, 0-3) has lost four straight contests.
Both teams struggled offensively. At the beginning of the first two quarters, both teams went scoreless for more than two minutes. Pine-Richland's full-court defense forced Butler into mistakes that allowed the Rams to build a 26-17 halftime lead.
Pine-Richland coach Tom Reighard said playing pressure defense was the plan. What happened in the game forced the Rams to switch things up.
"We got in foul trouble," Reighard said. "That was the major reason we stopped doing it. We had some dumb fouls and it took away our game plan."
Kaili Doctor led Pine-Richland with 14 points and made a running layup to close the third quarter to stretch the Rams lead to 43-31.
Maier said Butler had to be aggressive, but in a smart way for the Tornado to rally.
"We wanted to trap a little bit," Maier said. "You don't want to go too much and give up layups. We went full-court press on our makes and tried to speed them up."
<![if !vml]>
<![endif]>
Butler's Emma Monteleone dishes it off against Pine-Richland Thursday, December 19, 2019.
HAROLD AUGHTON/BUTLER EAGLE
Butler's comeback started when Monteleone and Kauffman made treys on consecutive possessions to cut the deficit to 45-41 with 4:15 remaining.
Pine-Richland, which only attempted four field goals in the fourth quarter, struggled to make free throws to close the game. The Rams shot 15.3 percent (2-of-13) for the game and missed all three of their attempts in the fourth quarter.
"At that point, I wasn't trying to stall the ball," Reighard said. "I was trying to spread things out and make them defend us. We wanted to do some pick-and-roll and get some matchups we could take advantage of."
Makenna Maier, who led Butler with 15 points, fouled out with 28.2 seconds remaining. Sarayne Forbes also had 12 for the Tornado.
Meghan Luellen the two free throws following Maier's foul, giving Butler a chance to win in regulation. Monteleone drove from the wing and muscled a shot in off the glass.
While she couldn't complete the 3-point play, Monteleone's shot scored Butler an unlikely victory that may helped the Tornado down the road.
"I think the support from my team helps me," Monteleone said. "I know I had to do it for everyone else."
PINE-RICHLAND 47
Ekaterini Balouris 2 2-4 7, Meghan Luellen 2 0-4 5, Kaitlyn Kerns 4 0-3 10, Sophie Catalano 3 0-0 6, Kaili Doctor 7 0-0 14, Sarah Pifer 2 0-0 5, Olivia Mehalck 0 0-0 0, Madelyn Laird 0 0-0 0. Totals: 20 2-13 47.
BUTLER 49
Sarayane Forbes 4 2-3 12, Jordan Kauffman 2 3-4 9, Emma Monteleone 2 0-1 5, Makenna Maier 6 1-1 15, Aubree Tack 2 1-2 5, Macklin Hanley 0 0-0 0, Hannah Aldridge 1 0-0 3, Maisy Gibson 0 0-0 0. Totals: 20 7-11 49.
Pine-Richland 11 15 17 4 — 47
Butler9 8 14 18 — 49
3-point goals: Pine-Richland 4 (Kerns 2, Balouris, Luellen); Butler 5 (Kauffman 2, Maier, Aldridge, Monteleone)