No Thinking Necessary
Forbes shines in Butler's runaway 66-31 win
December 10, 2019 High School Basketball

<![if !supportLineBreakNewLine]>
<![endif]>
<![if !vml]>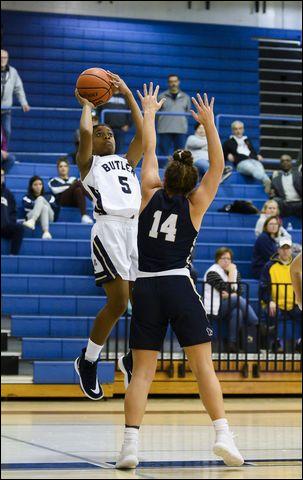 <![endif]>
Butler's Sarayne Forbes cuts a shot loose while Franklin Regional's Noelle Boyd defends during the Golden Tornado's 66-31 girls basketball win Monday night. Forbes scored 12 points.
STEVEN DALTON/SPECIAL TO THE EAGLE
BUTLER TWP — Sarayne Forbes had to get out of her own head.
It was a strange request, but one that figured to benefit the junior guard on the Butler girls basketball team in the long run.
"Most girls go the other way. They only react," said Butler coach Mark Maier. "There's times in practice when she'll catch it and think, 'Should I pass it? Should I drive it? Should I shoot it? I've been on her. Less thinking."
Forbes heeded that advice Monday in the Golden Tornado home opener against Franklin Regional. She hit a huge 3-pointer at the first-quarter buzzer to begin a prodigious run for Butler on the way to a 66-31 victory.
Forbes finished with 12 points on 5-of-9 shooting. She was just as deadly from the perimeter as she was driving to the hoop.
"Coaches have been telling me repeatedly over the years to think less — I have a tendency to second-guess myself," Forbes said, smiling. "I'm one of the few players who needs to not think so much. I had to just disassociate and just rely on my muscle memory and rely on what I've practiced.
"It's hard to think, 'Stop thinking,'" Forbes added, chuckling.
Maier said Forbes may be just scratching the surface one what she can do.
"What's so electrifying about her is she's so stinkin' quick," Maier said. "When she just goes and plays, you can't stay in front of her. She has a really nice running one-hander that's hard to stop. It was really nice to see her play like that."
Forbes' buzzer beater gave Butler a 15-7 lead at the end of the first quarter in a game that Franklin Regional led 7-5 at one point.
The Golden Tornado didn't stop with that 10-0 run.
By the end of the half, Butler was up 29-11.
Just about everyone had a hand in it.
"It helps that we're all sharing the ball a lot," Forbes said. "I'm glad that we're doing that."
Butler blew the doors off Franklin Regional (2-1) in the third quarter.
The Golden Tornado were 6-of-6 on 3-pointers and scored 28 points in the frame to trigger the mercy rule with a 57-17 lead.
Jordan Kauffman led the Tornado with 14 points as nine Butler players scored at least four points.
"We had five girls hit 3s tonight," Maier said. "I've always said it and hopefully there's some truth to it, good shooting teams are good passing teams. If we're not passing, we're not getting open shots."
Butler (2-1) hit most of them.
Hailey Metzger was 3-for-4 from behind the arc. Forbes hit two of her three 3-point attempts and the Golden Tornado were 9-of-21 from 3-point range.
Of course, none of it matters unless the Golden Tornado can play that well when the section slate begins Thursday at Fox Chapel.
"Like the saying in baseball, a starting pitcher is only as good as his last start," Maier said. "We're excited for the challenge and our goal is the playoffs. You can't make the playoffs without winning section games."
Forbes said the best thing Butler can do is stay the course.
And, like herself, maybe not think so much about it.
"We haven't gotten into any of the section games, so we have to continue this mentality," Forbes said. "We need to keep this attitude so we can keep this up for the rest of the season."
FRANKLIN REGIONAL 31
Sydney Breitkreutz 0-0 2-4 2, Angel Kelly 1-5 0-0 2, Noelle Boyd 3-9 0-2 6, Maria Brush 2-4 0-0 6, Kathryn Nardo 2-5 1-4 5, Sophia Yaniga 1-4 1-4 3, Leelyn Banks 2-4 0-0 4, Brooke Schimer 0-3 0-0 0, Sarah Penrod 1-2 0-0 3, Avery Musto 0-1 0-0 0, Caroline Tragesser 0-0 0-0 0. Totals: 12-37 4-14 31.
BUTLER 66
Jordan Kauffman 4-7 4-5 14, Emma Monteleone 1-3 1-2 4, Ali Altman 0-1 0-2 0, Hailey Metzger 3-4 0-0 9, Makenna Maier 1-5 4-4 6, Macklin Hanley 2-6 0-0 4, Sarayne Forbes 5-9 0-1 12, Aubree Tack 1-3 4-6 6, Hannah Aldridge 0-0 0-0 0, Maisy Gibson 0-2 0-0 0, Piper Geibel 0-0 0-1 0, Sarah Fiorina 1-2 2-2 4. Totals: 19-44 19-27 66.
Franklin Regional 7 4 6 14 — 31
Butler15 14 28 9 — 66
3-point goals: Franklin Regional 3 (Brush 2, Penrod); Butler 9 (Kauffman 2, Monteleone, Metzger 3, Forbers 2, Tack)