Streak Snapped
Butler girls end 7-game slide with 49-42 win
January 21, 2020 High School Basketball

<![if !supportLineBreakNewLine]>
<![endif]>
<![if !vml]>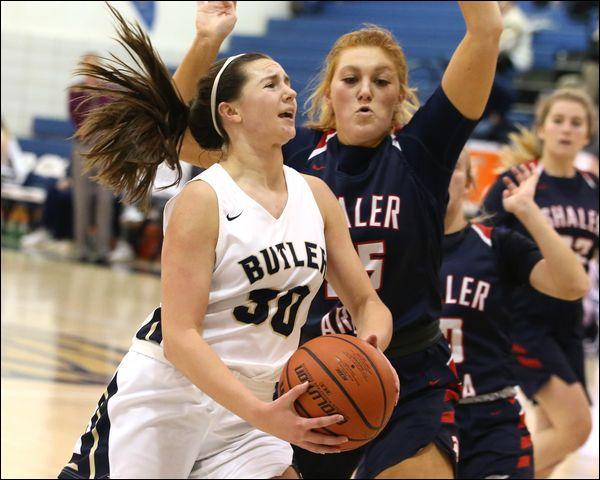 <![endif]>
Butler sophomore forward Makenna Maier (30) drives past Shaler's Claire Grunden (25) for a layup during the Golden Tornado's 49-42 girls basketball victory.
SEB FOLTZ/ BUTLER EAGLE
BUTLER TWP — For most of Monday, Sarayne Forbes reflected on her team's seven-game losing streak.
The ways they lost.
The disappointment they felt.
The desire she had to recapture that winning feeling again.
Forbes, a junior guard on the Butler girls basketball team, was determined to learn from those tough setbacks.
In a game the Golden Tornado desperately needed, not just to keep their season alive but for morale, Forbes hit 4-of-4 from 3-point range in the first half as Butler built a 21-6 lead over visiting Shaler on the way to a 49-42 win.
"We just kind of finally clicked," said Forbes, who finished with a game-high 19 points. "We were able to rebound offensively and defensively in a way we haven't been doing the past several games. We were able to get stops on defense when we needed them."
And The Golden Tornado (6-9, 3-6) were able to hold off the Titans late.
After building that big lead, Shaler chipped away and closed to eight late in the game.
But Butler was able to secure the win at the free throw line, going 9-of-10 in the final frame.
Both Makenna Maier and Emma Monteleone were 4-for-4 at the line in the fourth.
Maier finished with 15 — eight coming in the closing eight minutes.
"It felt good to get this one," Maier said. "We've been down and really working. We are always talking about how free throws can win or lose games. We probably lost some because of them, so it was good to see we could make them when we needed them."
Ali Altman was also a boon for Butler inside.
Altman scored seven points and also had nine rebounds.
Butler coach Mark Maier said he thought his team played with more energy and was more physical than it has been during the losing streak.
"The defensive intensity was much better tonight," Coach Maier said. "If you dig into the stats, which I do, we've been pretty good offensively. We're scoring 50 and in a varsity girls game, 50 should be enough to win."
Butler is 1-8 when giving up 50 or more points and 5-1 when holding the opponent to less than 50.
Shaler (7-8, 4-5) was limited to just 21 points after three quarters.
"Some of these girls ... are starting for the first time," Mark Maier said. "Playing in 6A is tough. Playing in this section is even tougher. The first time through you realize, 'OK, they're coming to take our head off' and you have to match that intensity."
Butler will have to bring even more intensity in the coming weeks.
The Golden Tornado have huge games against Pine-Richland, North Hills, Norwin, North Allegheny and Seneca Valley left in the second half with very little margin for error.
They will have to do it without senior Jordan Kauffman, who got some bad news when she was told she had a torn ACL and will definitely miss the rest of the season.
"For Jordan, it stinks," Coach Maier said. "Life isn't what you want it sometimes. It is what it is. She cried a little bit, but she's moving forward. As they say, 'Rough seas make a better sailor.'"
The Golden Tornado hope they have sailed through some rough seas themselves.
"If everybody can put it together on the same day, we can be pretty good," Coach Maier said.
SHALER 42
Audrey Fisher 2-12 0-0 4, Haley Kostrick 3-8 1-2 8, Emily Cavacini 4-17 1-4 11, Isabella Battaglia 0-0 0-0 0, Meghan Lacey 6-10 1-2 14, Claire Grunden 1-4 3-3 5, Haley Sahr 0-1 0-0 0, Makenzie Barr 0-0 0-0 0, Emilee Miller 0-0 0-0 0. Totals: 16-52 6-11 42.
BUTLER 49
Sarayne Forbes 7-13 0-0 19, Emma Monteleone 0-2 4-4 4, Ali Altman 1-3 5-7 7, Hailey Metzger 1-3 0-2 3, Makenna Maier 4-8 7-7 15, Aubree Tack 0-1 1-2 1, Macklin Hanley 0-1 0-2 0. Totals: 13-31 17-24 49.
Shaler 6 8 7 21 — 42
Butler21 7 6 15 — 49
3-point goals: Shaler 4 (Kostrick, Cavacini 2, Lacey); Butler 6 (Forbes 5, Metzger)