Deadly defense
Butler girls grind out program's 1st playoff triumph in 11 years, 48-36
March 4, 2021 High School Basketball
<![if !vml]>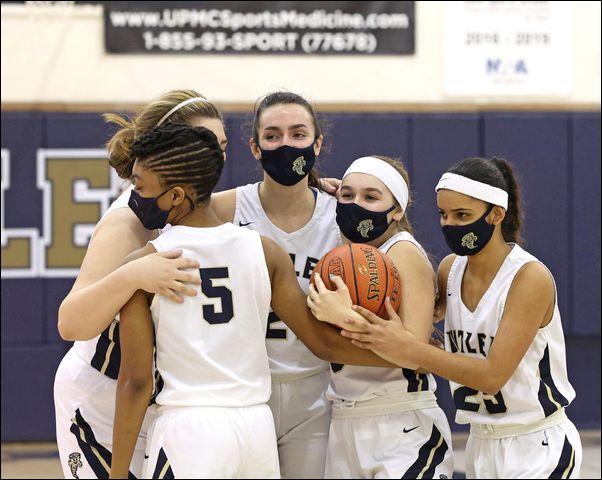 <![endif]>
Butler seniors Sarayne Forbes (5), Kate Ogin, Alison Altman, Sarah Fiorina, and Yenkeira Collazo celebrate their 48-36 opening round home playoff win Wednesday against Hempfield. The girls team will play again Saturday at Norwin. The Butler boys also moved on with a win Tuesday, and will play Friday night at Penn Trafford.
SEB FOLTZ/BUTLER EAGLE
BUTLER TWP — Its offensive spurts came and went.
Butler's defense stuck around.
All night.
The Golden Tornado forced 16 turnovers and limited Hempfield to just 37 shots in posting a 48-36 WPIAL Class 6A girls basketball playoff win Wednesday night in the Butler gym.
The game marked the program's first playoff victory since 2010.
"This feels really good," senior Alison Altman said. "We haven't made the playoffs since my freshman year and we lost that first game.
"Our defensive effort was where it needed to be tonight."
The sixth-seeded Tornado (10-8) will travel to No. 3 seed Norwin — a 55-12 winner over North Hills —for a noon game Saturday. Norwin defeated Butler 49-26 and 54-29 during the regular season.
"It''s tough to beat a team three times in a season," Butler coach Mark Maier said. "We'll go out there, play hard and see what happens."
The lead changed hands four times in the first half Wednesday. Butler took a 22-18 edge into halftime despite shooting just 25 percent (8 of 32) from the floor in the first two quarters.
Hempfield (4-9) didn't score in the second half until Emma Hoffner sank a layup with 30 seconds left in the third quarter. Butler began that quarter with an 8-0 run, started by a Makenna Maier trey.
<![if !vml]>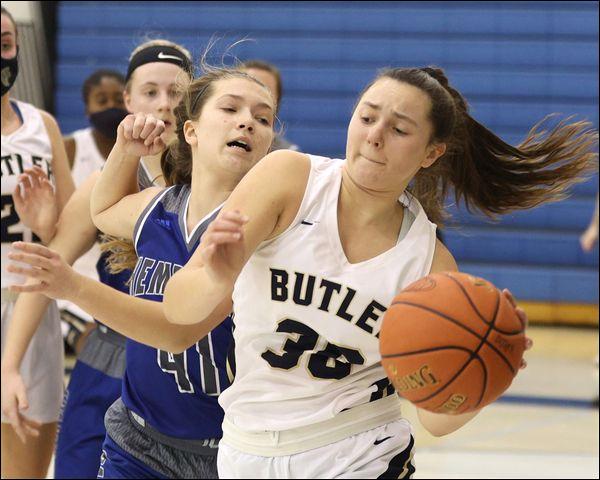 <![endif]>
Butler's Makenna Maier (30) drives to the hoop against Hempfield defender Sarah Podkul in Butler's 48-36 WPIAL 6A girls basketball playoff win Wednesday night. Maier scored 25 points.
SEB FOLTZ/BUTLER EAGLE
Maier struck for 25 points in the game, hitting three treys. She contributed five rebounds and three steals as well.
"We picked up more fuel defensively in the third quarter," she said. "We got up on their shooters and got some turnovers. I thought that turned the game for us."
Samantha Miller buried a trey just before the end of the period for a 33-20 Tornado lead.
"That was a bit of a dagger," Coach Maier said. "Makenna hit some free throws at the end to put it away."
Makenna Maier was perfect on six free throws in the final 1:03.
"I was happy with where we were at halftime," Spartans coach Tom Brush said. "Our effort was good. Then we couldn't score in the third quarter.
"We knew what kind of defense Butler would play on us. That didn't surprise us. They turned up the intensity on our shooters, though. They did a great job of shadowing Emma, our top shooter, and not letting her get free."
Hoffman averages 12 points per game. She scored nine in this game, only three in the first half.
Altman had seven rebounds and three assists for Butler. Maisy Gibson had six points and eight rebounds.
The Tornado turned the ball over only four times.
"That's a season-best for us," Coach Maier said. "We're always stressing limiting our turnovers because if you don't get off a shot, you can't score.
"Defensive rebounds are important. Hold a team to one shot, it's a lot tougher to score than if you give them two or three shots at it."
Butler had five players secure at least four rebounds.
Hoffner had nine rebounds to go with her nine points for the Spartans. Brooke McCoy had nine points and six rebounds.
Hempfield did not play its first game this season until 35 days into the campaign.
"We were shut down three times by COVID. That's like starting completely over three times," Brush said. "We played all but one of our games in the past month.
"At least these girls got some games in. That's how I look at it."
HEMPFIELD 36
Alexis Hainesworth 0-1 0-0 0, Kelsi Torzolino 3-4 0-0 8, Makayla Lander 1-3 0-0 2, Emma Hoffner 3-11 1-2 9, Phoebe Snyder 0-0 0-0 0, Capri DeCaro 2-7 3-4 8, Brooke McCoy 4-6 0-0 9, Sarah Podkul 0-2 0-0 0, Ashley Hosni 0-1 0-0 0. Totals: 13-37 4-6 36.
BUTLER 48
Sarayne Forbds 1-8 2-3 4, Alison Altman 2-6 1-1 5, Makenna Maier 7-18 8-9 25, Maisy Gibson 2-7 1-2 6, Aubree Tack 1-6 2-3 5, Justine Forbes 0-3 0-0 0, Sarah Fiorina 0-1 0-0 0, Samantha Miller 1-4 0-3 3, Kate Ogin 0-0 0-0 0. Totals: 14-53 14-19 48.
Hempfield 10 8 2 16 — 36
Butler9 13 11 15 — 48
3-point goals: Terzolino 2, Hoffner 2, DeCaro, McCoy; Maier 3, Gibson, Tack, Miller