Golden Victory
Tornado girls roll past 1-loss Penn-Trafford to extend their winning streak to 4 games
January 29, 2021 High School Basketball
<![if !vml]>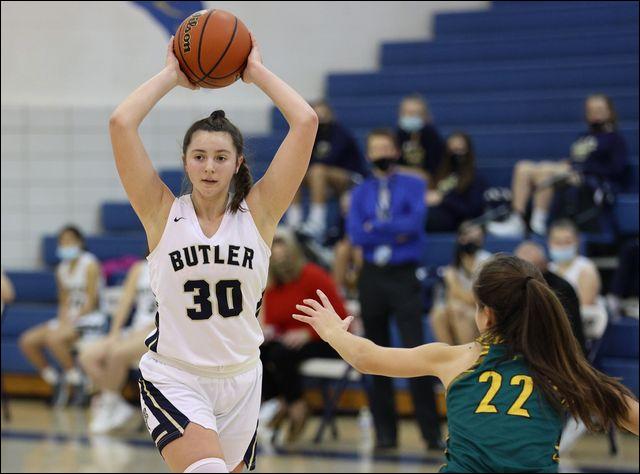 <![endif]>
Butler guard Makenna Maier looks for an open teammate as Penn-Trafford's Lillian Palladino guards her at Butler High School Thursday night. The Golden Tornado upset the previously one-loss Warriors, 48-27.
PHOTOGRAPHY BY SEB FOLTZ/BUTLER EAGLE
BUTLER TWP — The momentum Butler's girls basketball team had taken from its recent three-game winning streak seemed to be in jeopardy Thursday night.
The Golden Tornado were hosting a one-loss Penn-Trafford squad which had recently defeated Norwin, a formidable team in its own right.
But Butler was by far the better team on both ends of the court, pinning a 48-27 loss on the Warriors.
"On paper, this is an upset, but we were certainly capable of it," said Tornado coach Mark Maier.
A superb man-to-man defensive effort sparked the victory. Penn-Trafford scored no more than nine points in any quarter and was held to 22 points below its average per game.
The Warriors began the season with six straight wins before falling to North Allegheny, 66-41, on Monday.
"We didn't shoot the ball well in the second half against NA and it carried over," said Penn-Trafford coach John Giannikas. "Props to Butler ... they made their shots and we didn't."
<![if !vml]>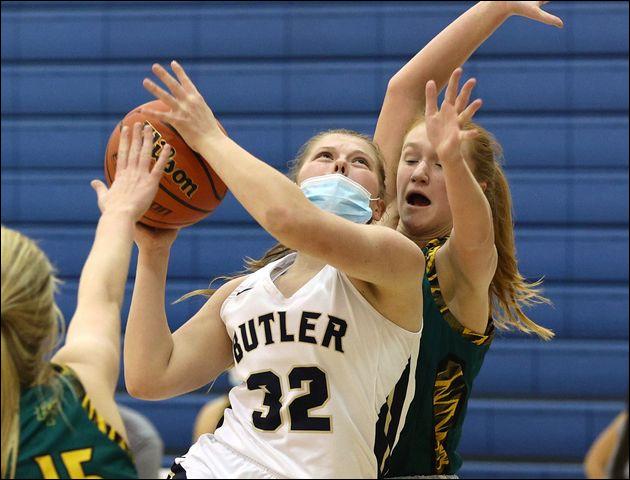 <![endif]>
Butler's Maisy Gibson tries to power up a shot over Penn-Trafford's Olivia Pepple Thursday night. The Golden Tornado ran their winning streak to four games with the victory.
Butler (5-3, 5-2) held a modest 18-15 lead at halftime, then received a huge third quarter from senior guard Sarayne Forbes to go up by 17 points.
Forbes scored 12 points in the period, including a trio of 3-pointers that served as daggers to Penn-Trafford's hopes of coming back.
Forbes' treys came at 3:54, 2:27 and :34 remaining in the period. The last one pushed Butler's lead to 37-21.
"She's not thinking about it," said Maier. "She's catching, shooting and following through and boom ... you live with the result. I think we're also doing a better job of finding her."
Penn-Trafford's offense, which struggled from the start of the game, fell flat in the second half. The Warriors (6-2, 5-2) made just three of their 17 attempts from the field over the final 16 minutes of the game.
"We stayed in a man defense the whole game, switched on the screens and got a hand in the face of their shooters," said Mark Maier. "This is the kind of defense we have to play all the time."
Junior Makenna Maier, who along with Forbes paced Butler with 15 points, said she and her teammates were well-prepared for the Warriors.
"We had great help-side defense, took away their (jump shots) and collapsed on the drives," she said. "We just want to keep this up and not look too far ahead."
The top four teams in Section 1-6A include North Allegheny (6-0), Norwin (5-1) and a pair of 5-2 teams in Butler and Penn-Trafford.
Butler hosts North Allegheny Monday.
"We told the girls we did it once (upset a team) and we can do it again," said Maier. "We shared the ball well and that's important. A number of times tonight, we passed up a good shot for a great one."
PENN-TRAFFORD 27
Jada Czesnakowski 1 1-2 3, Olivia Pepple 0 1-3 1, Allie Prady 1 1-2 4, Maura Suman 3 0-0 6, Kenzie Powell 4 0-0 8, Lillian Palladino 1 2-2 4, Brooke Cleland 0 1-2 1. Totals: 10 6-11 27.
BUTLER 48
Sarayne Forbes 5 1-2 15, Justine Forbes 1 0-0 3, Sam Miller 2 2-2 6, Makenna Maier 3 7-8 15, Maisy Gibson 1 1-2 3, Alison Altman 1 0-0 2, Aubree Tack 2 0-0 4, Kate Ogin 0 0-0 0, Sarah Fiorina 0 0-0 0, Ava Selfridge 0 0-0 0, Hannah Aldridge 0 0-0 0, Jess Chwalik 0 0-0 0. Totals: 15 11-14 48.
Penn-Trafford 9 6 6 6 — 27
Butler7 11 20 10 — 48
3-point goals: Penn-Trafford 1 (Prady); Butler 7 (S. Forbes 4, Maier 2, J. Forbes).