Hot-shooting night sparks Butler
Tornado girls topple Big Macs, 74-37
February 20, 2021 High School Basketball
<![if !vml]>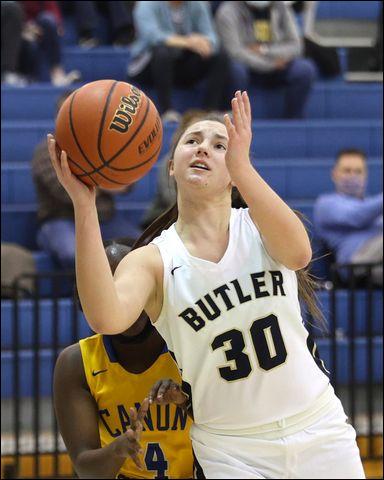 <![endif]>
Butler's Mackenna Maier extends to the hoop for a layup during the Golden Tornado's 74-37 girls basketball win over Canon-McMillan Friday night.
SEB FOLTZ/BUTLER EAGLE
BUTLER TWP — Mark Maier was hoping his team would avoid a repeat performance from its previous game.
In Wednesday's girls basketball game at Penn Hills, Butler opened up a 25-9 first-quarter lead, only to drop a 62-49 decision.
Friday night, the Golden Tornado again found themselves enjoying a big lead, 26-7 after the opening period.
"We had a lot of turnovers and bad shots against Penn Hills," said Maier. "I didn't say anything to the team after the first quarter tonight, but I was thinking to myself, 'Let's not do that again.'"
<![if !vml]>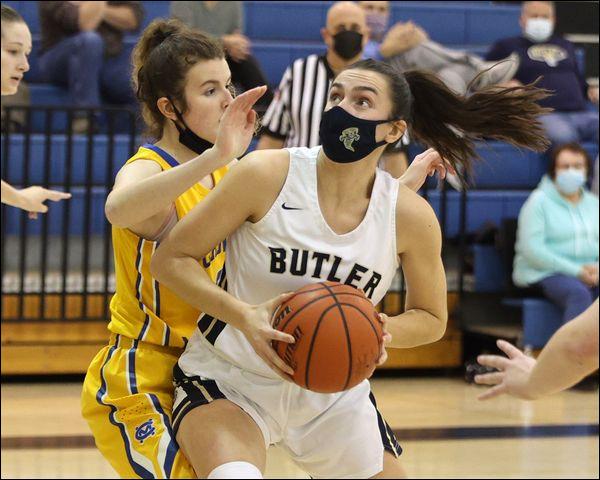 <![endif]>
Butler's Alison Altman drives to the hoop for a layup against Canon-McMillan in Butler's 74-37 victory. Seb Foltz/Butler Eagle
Butler put to rest any such concerns, dominating Canon-McMillan for the first three quarters — shooting 72 percent (26 of 36) from the field in that span — in a 74-37 non-section victory.
Sarayne Forbes, Makenna Maier, Maisy Gibson and Aubree Tack each drained a trey in the first three minutes as the Big Macs were put on their heels early.
"Makenna and Sarayne were hot from the start," said senior forward Alison Altman, who scored 11 points and added seven rebounds. "That brought the momentum up early for us and it set the tone for the rest of the game."
Butler (8-7) made 11 of its 13 3-point attempts in the game, but it was also very effective closer to the basket. In the first three quarters, the Tornado shot 16 of 24 from inside the arc, most of those baskets coming in the paint.
"If you're making the outside shots, it opens up the lane," Mark Maier said. "It's like, pick your poison. Do you want to take away the perimeter or the drives? We've gone up against teams that have players who can hit shots from all over and it's tough to defend."
The Tornado featured four players who scored in double figures. Aside from Altman, Makenna Maier scored 17 points, Tack 16 and Forbes 15.
Butler was originally slated to host a section game against Shaler Friday, but the Titans encountered COVID issues.
"We scrambled to find an opponent yesterday and Canon-McMillan (1-11) was in the same situation. Their opponent couldn't go," Mark Maier said.
The WPIAL is holding an open postseason tournament this year, meaning any team can participate, regardless of record.
Butler, though, sitting at 7-4 in section play, would be in, even in a normal season.
"We made the playoffs my freshman year and got knocked out in the first round and haven't been back since," said Altman. "We've worked so hard to make ourselves the best we can be.
"We have a new-found confidence and are super-excited about the playoffs."
Butler's junior varsity team won and improved its record to 11-3.
CANON-MCMILLAN 37
Stellanie Loutsion 5 2-2 13, Kelsey Wandera 2 0-0 5, Tori Wesolowski 5 1-3 11, Olivia Balch 1 0-0 2, Jules Borella 0 1-2 1, Kendall Cramer 2 1-2 5, Brigid Torpey 0 0-0 0, Megan Torpey 0 0-0 0, Nadia Davis 0 0-0 0. Totals: 15 5-9 37.
BUTLER 74
Sarah Fiorina 1 0-0 2, Sarayne Forbes 6 0-0 15, Justine Forbes 1 0-0 3, Sam Miller 0 2-2 2, Alison Altman 4 3-3 11, Makenna Maier 6 2-2 17, Maisy Gibson 1 2-2 5, Aubree Tack 7 0-0 16, Hannah Aldridge 1 0-0 3, Kate Ogin 0 0-0 0, Megan Penrod 0 0-0 0, Yenkeira Collazo 0 0-0 0, Ava Selfridge 0 0-0 0. Totals: 27 9-9 74.
Canon-Mac 7 11 12 7 — 37
Butler26 27 18 3 — 74