In the Clutch
Butler gets key buckets down the stretch in road section win over Pine-Richland
February 5, 2021 High School Basketball
Advertisement | Advertise Here
<![if !vml]>
<![endif]>
<![if !vml]>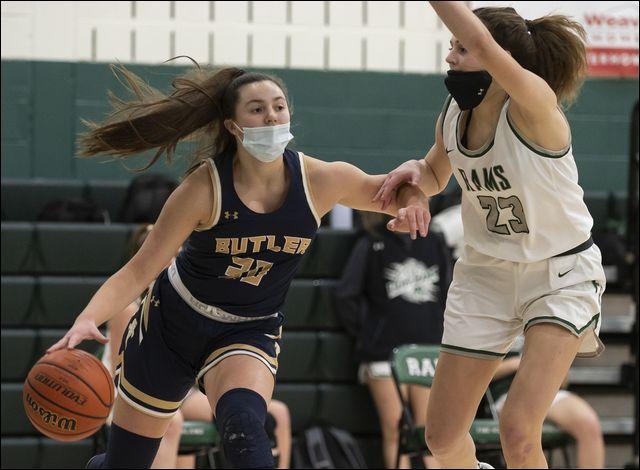 <![endif]>
Makenna Maier (30) keeps Pine Richlands Madison Zavasky (23) at a distance while looking to make a play at Pine Richland.
STEVEN DALTON/SPECIAL TO THE EAGLE
PINE TWP — In its previous five wins this season, Butler's girls basketball team claimed victory by an average of 21 points.
The closest of those was a 14-point win at Shaler last month. The Golden Tornado hadn't needed truly clutch shots late due to lopsided scores.
They did need them Thursday at Pine-Richland and Butler coach Mark Maier was pleased with the result.
Senior guard Sarayne Forbes hit a trey and completed a conventional 3-point play in the span of 21 seconds of the fourth quarter, turning a two-point lead into an eight-point edge with just 2:37 remaining on the clock.
<![if !vml]>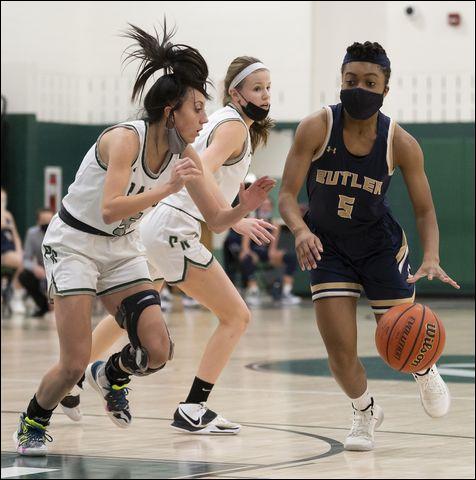 <![endif]>
Sarayne Forbes (5) for Butler under pressure from Pine Richlands Abby Rossenwasser (5) at Pine Richland.
STEVEN DALTON/SPECIAL TO THE EAGLE
The Tornado defense took over from there and the team snapped its two-game skid with a 46-39 win over the Rams.
"It felt great to hit those shots," said Forbes, who scored 16 points. "Pine-Richland was trapping us and we really couldn't run any set plays. It just came down to what we were able to do on the fly; we had to improvise.
"I'm glad we were able to rally around each other to get this win."
Butler (6-5, 6-3) led 39-34 entering the final period and the Rams immediately showed their intentions by trapping on defense.
Butler responded by simply trying to maintain possession, which took valuable seconds off the clock.
"I don't go into any fourth quarter looking to (stall) on the offensive end," said Maier, "but we weren't getting good looks and didn't want to force it.
"Pine-Richland was spending a ton of energy trapping us. I think that affected their ability to make shots at the other end."
Neither team scored in the first four minutes of the fourth. Finally, the Rams (3-6, 3-6) cut Butler's lead to 39-37 with Sarah Pifer's 3-point play at 3:33.
Forbes' six points came less than a minute later.
The Tornado did turn the ball over six times in the period, but Pine-Richland's offense was unable to capitalize, making just two of nine field goal attempts.
Butler's Makenna Maier drained two crucial treys in the third quarter. The first gave the Tornado a lead — 30-27 — it would not relinquish.
Maier ended the game with a team-high 17 points.
Kaili Doctor paced the Rams with 11 points.
Butler returns to action Monday when it hosts Norwin.
BUTLER 46
Sarayne Forbes 5 3-3 16, Justine Forbes 1 0-0 2, Sam Miller 1 2-2 4, Alison Altman 1 1-4 3, Makenna Maier 6 1-2 17, Aubree Tack 2 0-1 4, Maisy Gibson 0 0-0 0, Sarah Fiorina 0 0-0 0. Totals: 16 7-12 46.
PINE-RICHLAND 39
Sarah Pifer 2 1-1 6, Gianna Reighard 2 4-4 8, Rylie Bach 1 0-0 2, Sophie Catalano 2 1-2 6, Madison Zavasky 3 0-0 6, Kaili Doctor 4 3-4 11, Kaitlyn Kerns 0 0-0 0. Totals: 14 9-11 39.
Butler 13 14 12 7 — 46
Pine-Richland5 17 12 5 — 39
3-point goals: Butler 7 (Maier 4, S. Forbes 3); Pine-Richland 2 (Pifer, Catalano).