Senior Celebration
Butler rolls to 52-26 victory over North Hills
January 22, 2021 High School Basketball
<![if !vml]>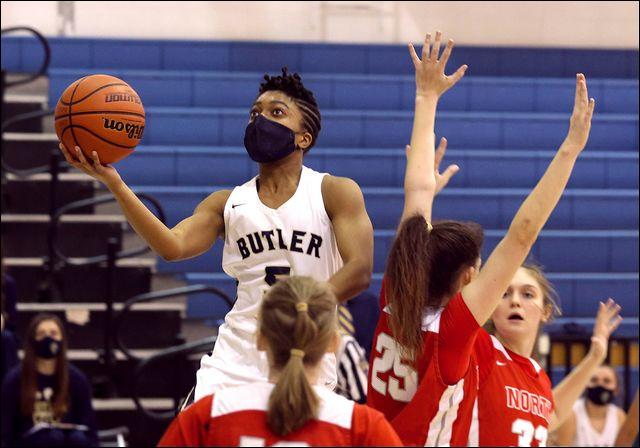 <![endif]>
Butler's Sarayne Forbes extends for a shot at home against North Hills. Butler topped the Indians 52-26.
SEB FOLTZ/BUTLER EAGLE
BUTLER TWP — Alison Altman plans to continue her athletic career, but when it comes to basketball, she is nearing the end of the line.
"I hope to play soccer in college at either Duquesne or Robert Morris," said Butler's senior forward. "But I love basketball. I've been playing for eight years and I'm going to miss the program here at Butler. The girls, they become like your sisters ... and the coaches are always looking out for you."
During her freshman season in 2017-18, Altman was teammates on the basketball team with her older sister, Emilee.
"That experience helped make our bond even stronger," said Alison, who was one of five Golden Tornado seniors honored in Butler's gym prior to Thursday night's 52-26 victory over North Hills.
<![if !vml]>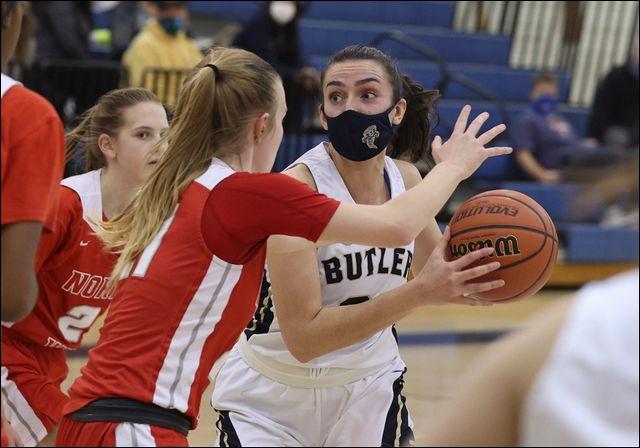 <![endif]>
Butler's Alison Altman drives into the lane for shot at home against North Hills. Butler topped the Indians 52-26.
SEB FOLTZ/BUTLER EAGLE
The others included Sarah Fiorina, Sarayne Forbes, Kate Ogin and Yenkeira Collazo.
"Our seniors, every once in a while, they'll be boisterous, but that rah-rah stuff doesn't last," said Butler coach Mark Maier. "As a coach, not having to pull and pull on the girls to do the right things in practice or in a game because they're already doing them, that's huge.
"That's silent leadership and it's important."
And it's one of the ways basketball has rubbed off on Forbes, who hopes to continue playing in college at the Division III level.
"It's taught me to put others ahead of myself ... do something for the good of the team," the senior guard said. "I've learned to be collaborative in a team environment.
"I wouldn't be the player I am without my teammates and coaches."
Altman, Forbes, Fiorina and Ogin have each been part of Butler's program all four years of high school. They were freshmen during Maier's first season as head coach of the varsity team.
"I'm seeing these girls the whole way through and it's the first class I can say that about," he said. "They've received different amounts of playing time over the years, but they all stuck with it. That commitment, that's what makes a good program.
"The seniors are good players, but better people."
Forbes, who led all scorers Thursday with 13 points, said it's hard to believe it's been three years since she was a freshman, hoping to make an impact.
"It feels like it's gone by so fast," she said, "but I've been blessed to be part of it."
NORTH HILLS 26
Abigail McElhaney 2 2-2 7, Jayden Arnett 0 1-2 1, Darby West 2 0-0 5, Ava McElhaney 0 2-2 2, Olivia Waters 2 2-3 6, Meadow Davis 1 0-0 2, Brooke Mrdjenovich 1 0-0 3. Totals: 8 7-9 26.
BUTLER 52
Kate Ogin 0 1-2 1, Sarah Fiorina 0 1-2 1, Sarayne Forbes 5 0-0 13, Hannah Aldridge 1 0-0 3, Sam Miller 2 1-1 5, Alison Altman 2 4-5 8, Makenna Maier 3 0-0 8, Maisy Gibson 3 1-1 7, Aubree Tack 2 0-2 6, Justine Forbes 0 0-1 0, Ava Selfridge 0 0-0 0, Yenkeira Collazo 0 0-0 0, Jess Chwalik 0 0-0 0. Totals: 18 8-14 52.
North Hills 4 5 8 9 — 26
Butler14 11 18 9 — 52
3-point goals: North Hills 3 (Ab. McElhaney, West, Mrdjenovich); Butler 8 (S. Forbes 3, Maier 2, Tack 2, Aldridge).