Butler girls handle North Hills, 55-16
December 18, 2021 High School Basketball
Advertisement | Advertise Here
<![if !supportLineBreakNewLine]>
<![endif]>
<![if !vml]>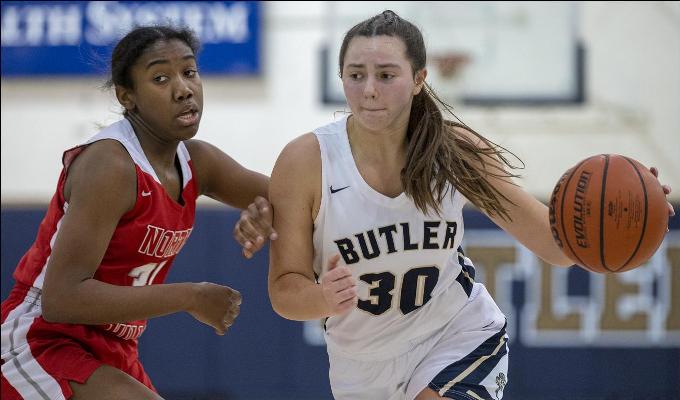 <![endif]>
Butler's Makenna Maier (30) pushes around North Hills' Jayden Arnett (31) during Friday's game at Butler High School.
STEVEN DALTON/SPECIAL TO THE EAGLE
BUTLER TWP — It happens in all sports and at all levels — a team that is superior to an opponent on paper lacks focus and is sluggish at the start of the game.
That certainly wasn't the case for Butler's girls basketball team Friday.
Facing a winless North Hills team averaging less than 18 points per game, the Golden Tornado quickly took control and led 22-6 after one quarter of play.
The Indians never threatened as Butler won in a rout, 55-16, in the Section 1-6A opener for both teams.
"We had a good practice (Thursday), but that doesn't always mean you're going to play well in the next game," said Butler coach Mark Maier. "You have to show up every day and go to work."
Butler's offensive effort was led by senior guard/forward Makenna Maier, who scored 21 points, including a pair of conventional three-point plays in the opening period.
<![if !vml]>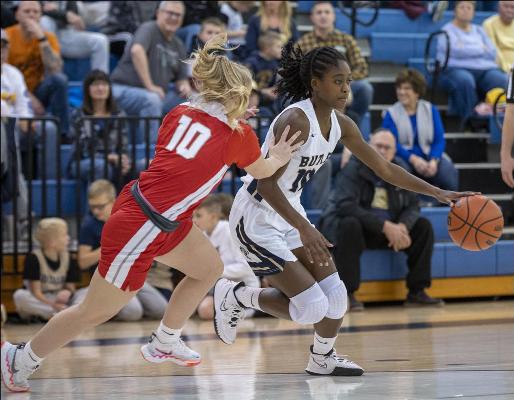 <![endif]>
Butlers Justine Forbes (10) looks to get around North Hills Meadow Davis (10) during the game Friday at Butler High School.
STEVEN DALTON/SPECIAL TO THE EAGLE
Aubree Tack added three baskets in the first eight minutes to help Butler build its 16-point edge.
After losing their season opener to Knoch, the Golden Tornado (3-1, 1-0) have won three straight games.
"We're doing a good job of moving the ball quickly and finding the open player," Makenna said. "Megan (Penrod) and Justine (Forbes) are new starters for us and they've been a big part of that."
Butler hit a lull in the second quarter, scoring just eight points.
"We had the big lead and just got sloppy," Coach Maier said. "We wanted to come out in the third quarter and get back to doing what got us that lead."
Penrod set the tone with a trey just 20 seconds into the second half and Butler was off and running again. A 20-3 advantage in the period pushed the lead to 47-13.
The Indians (0-4, 0-1) were held scoreless in the fourth quarter. They were crippled by turnovers and attempted just 17 shots the entire game.
Forbes led the Tornado with eight rebounds and added four steals. Tack tallied five assists and five steals to go with her nine points.
Butler travels to Shaler on Monday.
NORTH HILLS 16
Olivia Waters 1 2-3 4, Mallory Pierce 0 2-2 2, Darby West 1 2-2 4, Sarah Thornton 1 0-0 2, Gianna Sturdivant 0 2-4 2, Jayden Arnett 1 0-0 2, Gia Minton 0 0-0 0, Meadow Davis 0 0-0 0. Totals: 4 8-11 16.
BUTLER 55
Justine Forbes 2 0-2 4, Megan Penrod 1 0-0 3, Makenna Maier 6 6-6 21, Aubree Tack 4 0-0 9, Jessica Chwalik 2 2-2 6, Macklin Hanley 2 2-3 6, Ava Selfridge 1 0-0 2, Sydney Patterson 0 2-2 2, Madison McGarrah 1 0-0 2, Kelli Kovalick 0 0-0 0, Maisy Gibson 0 0-0 0, Tori Stevenson 0 0-0 0. Totals: 19 12-15 55.
North Hills 6 7 3 0 — 16
Butler 22 8 20 5 — 55
3-point goals: Butler 5 (Maier 3, Tack, Penrod).