Butler steals lead late, downs Hampton
Brendan Howe Eagle Staff Writer
February 15, 2022 Last Updated: February 14, 2022 11:06 PM High School
<![if !vml]>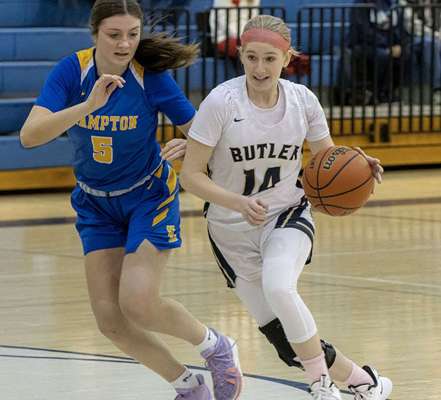 <![endif]>
3 - #14 Macklin Hanley
BUTLER TWP — Both teams playoff futures were already set in stone. Still, Butler made good use of its Monday night home matchup with Hampton (18-4).
Behind efforts by seniors Makenna Maier and Aubree Tack and junior Justine Forbes, the Golden Tornado girls (13-9) outscored the Talbots 26-5 in the last nine minutes of the game. The surge helped Butler to a 66-57 non-conference victory and vaults the team into the postseason with a full head of steam.
"That's a good win," Golden Tornado coach Mark Maier said. "It's nice momentum to go into the playoffs."
The Talbots held a commanding dozen-point lead with 2:26 to go in the third frame. Butler scored nine points in the last 1:18 of the period.
The flurry continued in the fourth, as the hosts ended up bucketing 17 unanswered points.
In terms of momentum, there might not be a better way to enter the postseason. They'll carry a four-game win streak into a road playoff tilt at Peters Township Friday night.
The Golden Tornado strung together six straight wins earlier in the schedule, but Maier is more impressed with how his group has performed lately.
"That (earlier) win streak, the teams weren't as good as the teams we (recently) beat and we weren't playing as well," Maier said. "We're sharing the ball, we're getting to the line, and played good 'D'."
Maier, Tack, and Forbes collaborated for 50 points. Senior Macklin Hanley added another nine, while junior Hannah Aldridge sunk a pair of treys.
"They (Butler) were good and physical," Hampton coach Tony Howard said. "It was a playoff environment down the stretch, which our girls did not react very well to. We can hopefully learn from it and react better a week from now if we're in the same situation."
This was the fifth time in six years that Butler and Hampton ended their regular season schedules against one another. Adding to the air of familiarity was the fact that Maier, Tack, and Maisy Gibson played on an AAU team with the Talbots' Kayla Hoehler and Claire Rodgers this past summer. Mark Maier guided that group.
The Golden Tornado's junior varsity also took care of business before the game, closing their season with a 19-3 record.
HAMPTON 57
Meghan Murray 8 4-6 22, Sophia Kelly 7 0-1 17, Biz Watson 3 0-0 6, Carolyn Kuzniewski 3 0-0 6, Kayla Hoehler 1 0-0 3, Claire Rodgers 1 0-1 2, Sterling Thompson 0 1-2 1. Totals: 23 5-10 57.
BUTLER 66
Makenna Maier 7 9-11 24, Justine Forbes 5 3-3 14, Aubree Tack 3 5-6 12, Macklin Hanley 4 1-1 9, Hannah Aldridge 2 0-0 6, Maisy Gibson 0 1-2 1. Totals: 21 19-23 66.
Hampton 15 15 22 5 — 57
Butler 18 9 22 17 — 66
3-point goals: Hampton 6 (Kelly 3, Murray 2, Hoehler); Butler 5 (Aldridge 2, Maier, Tack, Forbes)