Defensive Stand
John Enrietto Eagle Sports Editor
January 25, 2022 Last Updated: January 24, 2022 11:01 PM High School
<![if !vml]>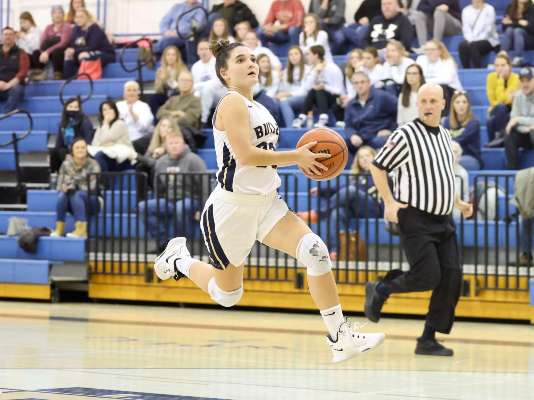 <![endif]>
Butler's Aubree Tack drives to the hoop for a layup against Shaler Monday. The Golden Tornado girls defeated the Titans, 40-22, in the Butler gym.Seb Foltz/Butler Eagle
Butler girls frustrate Shaler attack in 40-22 basketball win
BUTLER TWP — Already playing solid defense, Butler decided to turn things up a notch in the final four minutes of Monday night's 40-22 Section 1-6A girls basketball victory over Shaler.
The Golden Tornado went on lock-down.
Butler coach Mark Maier called a timeout with 4:14 remaining and his team leading, 31-22. By the time the visiting Titans crossed mid-court again, they trailed 38-22 and only 1:12 remained on the clock.
"Coach told us to protect the ball and not take any shots unless it was a layup," senior guard Aubree Tack said. "We closed the game strong. We got a couple of turnovers (in the backcourt) and were able to keep the momentum on our side."
Coming out of the timeout, the Tornado (9-6, 5-4) ate two minutes off the clock before Justine Forbes scored on a back-door layup with 2:14 to play. Macklin Henry then got a steal that resulted in another Forbes layup. Then Tack stole the inbounds pass and fed Maisy Gibson for a three-point play, hiking Butler's lead to 38-22 with 1:17 left.
"Turnovers usually lead to layups," Tack said.
"I loved our defense tonight, loved the effort," Maier said. "We've got talented players, but we're not good enough to just show up and rely on that talent to win. We have to play with grit. Defense has to do it for us."
Butler closed the game on a 9-0 run. The Tornado outscored Shaler (4-11, 1-8) 16-4 in the final quarter as the Titans dropped their sixth straight game.
Shaler coach Cornelious Nesbit declined comment after the game.
Butler did not have a player reach double figures, but Shaler was limited to seven points in the first half, sinking just 3 of 19 shots from the field. The Tornado were no better, hitting but 4 of 22 shots in the first two quarters.
Hannah Aldridge came off the bench to can treys on consecutive possessions, then assisted on a trey by Hanley moments later.
"Hannah really gave us a spark," Maier said. "We were up 5-4 when she hit those three's. She more than doubled our score, just like that."
Tack had eight points, four rebounds, three assists and three steals for the Tornado. Mackenna Maier contributed eight points and six rebounds while Forbes had eight points and four boards. Forbes scored six of her points in the final quarter.
"I love games like this," Tack enthused. "I like getting on the floor, disrupting things, turning the other team over and taking advantage of that."
Shaler had 18 turnovers on the night.
Butler had nine turnovers of its own in the third period — only six total in the other three — and attempted only nine shots in that third frame. The Tornado took a 24-18 lead into the final period.
"I definitely liked the fourth quarter better than the third," Maier said.
Mackenzie Barr led Shaler with 10 points and eight rebounds. She was held scoreless in the first half. The Titans made just nine field goals as a team and scored their fewest points since a 61-18 loss to Upper St. Clair in their season opener.
The Tornado travel to Penn-Trafford Thursday night.
"That's a big one for us because they're ahead of us in the standings," Maier said. "We finished this game strong and need to carry that momentum with us."
SHALER 22
Bayleigh Perez 0-3 0-0 0, Lexi Tylenda 0-1 0-0 0, Haley Kostorick 2-11 1-2 6, May Engle 0-0 0-0 0, Bella Battaqglia 0-0 0-0 0, Hanna DeJidas 1-5 0-0 2, Hilary Quinn 2-6 0-0 4, Ella Katona 0-0 0-0 0, MacKenzie Barr 4-9 2-2 10. Totals: 9-35 3-4 22.
BUTLER 40
Justine Forbes 3-11 2-2 8, Hannah Aldridge 2-3 0-0 6, Macklin Henry 2-5 0-0 5, Maisy Gibson 1-5 1-1 3, Megan Penrod 1-3 0-0 2, Makenna Maier 1-7 6-7 8, Aubree Tack 3-5 0-0 8. Totals: 13-39 9-10 40.
Shaler 4 3 11 4 — 22
Butler 5 9 10 16 — 40
3-point goals: Shaler 1 (Kostorick), Butler 5 (Aldridge 2, Hanley, Tack 2)
JV: Butler, 37-26 (B: Amelua McNMichael 11, Hannah Aldridge 9; S: Lexi Tylenda 7)