TRENDING UPWARD
Butler girls win 6th straight, 57-41
December 29, 2021 High School Basketball
Advertisement | Advertise Here
<![if !supportLineBreakNewLine]>
<![endif]>
<![if !vml]>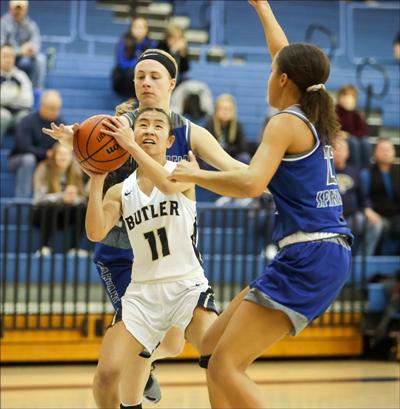 <![endif]>
Butler guard Hannah Aldridge (11) goes for a layup between Hempfield defenders during the Golden Tornado's 57-41 girls basketball win Tuesday night. The game was part of the Butler Christmas Tournament, which continues Wednesday.
NATE BLACK/SPECIAL TO THE EAGLE
BUTLER TWP — Butler began its season with a loss. It's been trending upward ever since.
The Golden Tornado (6-1) almost led wire-to-wire in their girls basketball Christmas Tournament tilt with visiting Hempfield Tuesday night. Their 57-41 triumph stretched the team's win streak to six games.
"I think in the Knoch game, we were all tight," Butler coach Mark Maier said of his team's 39-37 defeat to the Knights on Dec. 10. "First game of the year, first time time in the uniforms, I didn't coach my best game and we didn't shoot well.
"It's tough playing a really good opponent first game of the year. I know why people schedule cupcakes. There's not as much pressure. We're probably better because (we didn't)."
Including the win over the Spartans (1-6), the Golden Tornado have now won their last six contests by at least 10 points while also finding their identity.
Meanwhile, Hempfield, which won its opener, has stumbled in six straight outings.
"We just need to put a full game together," Spartans coach Tom Brush said. "That's been our problem. We had two good quarters to start out and didn't finish."
Eight different Butler players scored in the home win, including reserve players Ava Selfridge and Hannah Aldridge, who scored the team's only points in what was a shaky second quarter for Butler. Maier points to the team's ball distribution as a reason for its recent success.
"I always say the best shooting teams are the best passing teams," Maier said. "We're making extra passes. It's hard (as) a defender closing out and you make another pass and make another pass. We're taking good shots."
Along with its selective shooting, Butler's defensive effort helped the team to the right side of an 18-4 run after halftime, turning a six-point lead into a 20-point advantage by the time the fourth quarter got underway. Thanks in large part to senior guard Aubree Tack, the unit allowed the guests only one field goal in the third frame.
When it comes to Tack, Maier said it's not the size of the dog, but the size of the fight in the dog. Her leadership fires her teammates up.
"Aubree is, I say, one of the best defensive players you'll see," Maier added. "You look at the roster and think, 'Man, 5-foot-2, maybe.' But she plays great on-the-ball defense and doesn't foul. She has an intuition where she can get easy steals."
Tack, fellow senior Makenna Maier, and Justine Forbes combined for 32 of the Golden Tornado's 57 points on the night. Maier led the team with five boards and Forbes knocked down a pair of treys.
"We work as a team really well — better than we have in years past," Tack said. "We're all super close, so we all share the ball a lot."
Forbes, a junior, has helped with the three-ball and by making extra passes, Maier said. She's also rebounded better this year than the last.
The three girls have been the engine that makes Butler go.
"We have a good connection," Tack said. "We all play good defense, too, and that gets everybody excited."
The Golden Tornado will face off with Oakland Catholic in the second day of the Christmas Tournament on Wednesday night. The Eagles (5-1) beat Armstrong, 59-46, on Tuesday.
"To beat a quality team and compete with a quality team like Oakland Catholic, we're looking forward to the challenge," Maier said.
BUTLER 57
Justine Forbes 4 2-2 12, Makenna Maier 4 3-4 11, Aubree Tack 4 1-3 9, Maisy Gibson 3 2-2 8, Ava Selfridge 2 0-0 5, Hannah Aldridge 1 2-2 5, Macklin Hanley 2 0-0 5, Hope Look 0 2-2 2, Megan Penrod 0 0-1 0. Totals: 20 12-16 57.
HEMPFIELD 41
Brooke McCoy 3 5-6 12, Mia Shipman 4 4-4 12, Ashley Hosni 3 0-0 6, Alexis Hainesworth 1 2-2 5, Sarah Podkul 2 0-0 4, Phoebe Snyder 1 0-0 2. Totals: 14 11-12 41.
Hempfield 12 10 4 15 — 41
Butler 20 8 18 11 — 57
3-point goals: Hempfield 2 (Hainesworth, McCoy); Butler 5 (Forbes 2, Selfridge, Aldridge, Hanley)