A romp and a rally
Butler basketball scores contrasting sweep of Kiski Area
John Enrietto Eagle Sports Editor
December 10, 2022 Last Updated: December 09, 2022 11:38 PM High School
<![if !vml]>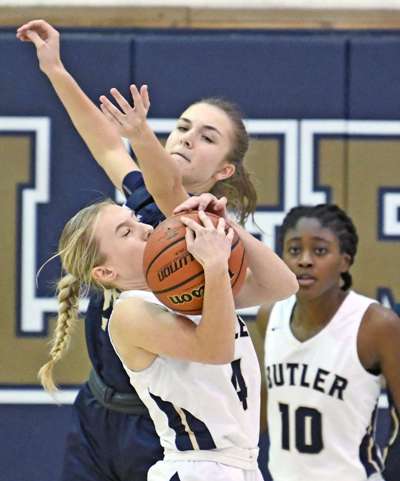 <![endif]>
Butler's Hope Look (4) comes down with a rebound against Kiski Area during the Golden Tornado's 63-33 girls basketball win. Justin Guido/ Butler Eagle 12/09/22
JUSTIN GUIDO
BUTLER TWP — A romp and a rally.
After Butler's girls basketball team rolled to a 63-33 victory over Kiski Area to begin the night, the Golden Tornado boys rallied from a 14-point deficit late in the third quarter to defeat the Cavaliers, 64-61.
"You never expect to beat any team by 30 points, especially a team like that," Tornado girls coach Mark Maier said. "But if we keep making good decisions with the basketball and play defense like this, I feel like we can win a lot of games."
"It's hard to win high school basketball games night after night," Butler boys coach Matt Clement said as his team remained unbeaten. "We had to dig deep tonight. Kiski came in here with nothing to lose, a bit of a desperate team and they were putting a hurt on us."
<![if !vml]>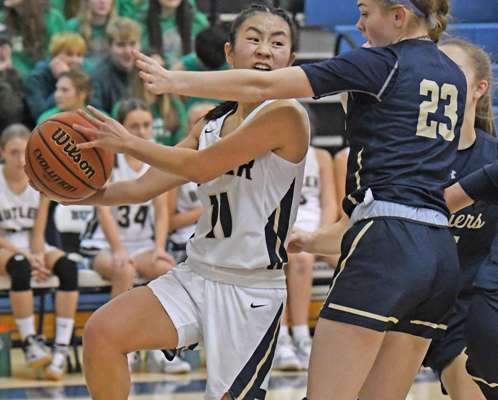 <![endif]>
Butler's Hannah Aldridge (11) looks to pass the ball by Kiski Area defender Zoe Holm during the Golden Tornado's 63-33 girls basketball win. Justin Guido/ Butler Eagle 12/09/22
JUSTIN GUIDO
Butler 63, Kiski Area 33
The Tornado (2-2) built a 36-14 lead by halftime and were never challenged from there. Justine Forbes led Butler with 20 points and five rebounds. Amelia McMichael contributed 16 points, 10 rebounds and three steals while Hannah Aldridge had 12 points and eight assists.
"Getting a double-double in girls basketball is difficult to do," Maier said. "We almost had two of them. I love the way we're playing right now."
Butler began the season by dropping two games at the Armstrong Tournament. The Tornado have won two straight home games by lopsided scores, defeating Erie 66-45 on Tuesday.
Avery Maier came off the bench to grab seven rebounds. Sydney Patterson tallied four assists and Hope Look had five rebounds and a pair of assists.
The 30-point final margin marked Butler's biggest lead of the night.
"Our team is very close," point guard Aldridge said. "We're all friends. We hang out together off the court and I think that helps how we play on the court."
Forbes sank nine of her 11 field goal attempts. McMichael, a sophomore, had seven of her 10 rebounds in the first quarter as Butler built a quick eight-point lead.
"Justine is playing smart. She knows when to take her shot and when to dish off," Maier said. "She's very wiry driving to the basket. Amelia can do a lot of things for us."
Abbey Johns led the Cavaliers (1-3) with 14 points, six rebounds and three assists. Kiski sank just 14 of 45 shots from the floor in dropping its third straight game.
"It's easy playing point guard when, no matter what five girls are on the floor, you know you can count on all of them," Aldridge said.
KISKI AREA 33
Abbey Jones 5-17 4-4 14, Cara Coleman 2-4 0-0 4, Gianna DeVito 1-1 0-0 2, Lexiann Colaianni 2-11 0-0 5, Zoe Holm 2-2 0-0 4, Emma Peck 1-4 0-2 2, Sydney JOyce 0-1 0-0 0, Rikiya Garcia-Broaden 1-6 0-0 2. Totals: 14-45 4-6 33.
BUTLER 63
Hope Look 2-2 0-0 6, Sydney Patterson 2-4 1-3 5, Justine Forbes 0-11 0-0 20, Hannah Aldridge 3-6 4-4 12, Tori Stevenson 0-1 0-3 0, Madi McGarrah 0-2 0-0 0, Avery Maier 1-2 2-2 4, Amelia McMichael 6-16 3-4 16. Totals: 23-44 10-15 63.
Kiski Area 6 8 15 4 — 33
Butler 16 22 14 13 — 63
3-point goals: Kiski Area 1 (Colaianni), Butler 7 (Look 2, Forbes 2, Aldridge 2, McMichael)