Butler girls outlast Pine-Richland
McMichael sores career-high 33 in 65-61 basketball victory
John Enrietto Eagle Sports Editor
January 17, 2023 Last Updated: January 16, 2023 10:36 PM High School
<![if !vml]>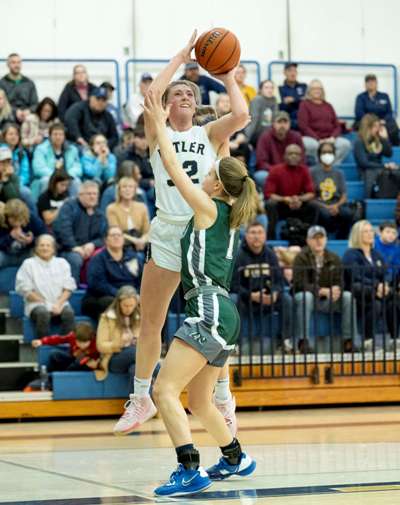 <![endif]>
Butler's Amelia McMichael (32) takes a shot against Pine-Richland's Sarah Pifer during the Golden Tornado's 65-61 girls basketball win. McMichael scored a career-high 33 points and grabbed 12 rebounds. Steven Dalton Special to the Eagle
BUTLER TWP — Butler dangled the carrot. Pine-Richland couldn't grab it.
The Golden Tornado never led by double digits all night and the score was tied three times in the fourth quarter, but Butler never lost the lead in defeating Pine-Richland, 65-61, in a Section 1-6A girls basketball game in the Butler gyn.
"We bent, we wobbled, but we never broke," Butler coach Mark Maier said. "This is a big win for us."
The victory is the sixth in eight games for Butler (8-7, 3-2). The Rams (6-7, 12-3) lost their third straight game, the combined margin being 16 points.
A layup by Pie-Richland's Madison Zavaskly knotted the game at 61 with 2:47 remaining. The Rams also tied the game at 56 with 6:30 to play and at 59 with 5:24 on the clock.
Amelia McMichael's layup with 2:15 remaining gave the Tornado the lead they never lost. Hannah Aldridge was fouled with 33.9 seconds to go and calmly sank both ends of the one-and-one for the final points of the contest.
"I've been in a slump at the foul line in section games," point guard Aldridge said. "Those felt pretty good. I just stepped to the line and did my thing."
Aldridge attempted only two shots from the floor all night. Those free throws were her only two points of the night.
"Those are tough shots, especially when you haven't been shooting the ball all night, because you're cold," Maier said. "I give Hannah a lot of credit for hitting those shots. In that situation,that wasn't easy."
McMichael scored a career-high 33 points to go with 12 rebounds for the Tornado. She scored her points in a variety of ways, hitting three treys and collecting a number of buckets inside.
"I found my shot and was hitting," McMichael said. "Once ther came out on me ... If I can't score from outside, I'm going in the paint. I feel like I can score either way."
Maier said the sophomore forward "worked like a dog" to get her points.
"Amelia earned everything she got tonight," the coach said. "She had a tremendous game. She's growing so much as a player. Not only did she scire inside, she had some nice kick-out passes, too.
"She works hard on her game. She's dedicated to it and it shows. She keeps getting better and better. The sky's the limit for her."
Justine Forbes scored 18 points for the Tornado, including a buzzer-beating trey at the wend of the first half to give Butler a four-point lead at intermission. She hit a trey to give her team a 59-56 advantage early in the fourth period.
Forbes and McMichael combined to score 51 of Butler's 65 points. Sydney Patterson had eight rebounds and five assists, Aldridge five assists and four boards.
"It's not just the scorers out there," Maier said. "Every player has her role."
Aldridge agreed.
"This was a good team win," she said. "All five girls on the floor can score for us. We just need to work our offense and we did that tonight."
Sarah Pifer led the Rams with 21 points, six assists and five rebounds. Zavasky had 19 points, seven rebounds and five steals, Cate Gentile 17 points and seven rebounds.
"Those are three very good players," Maier said.
Butler does not play again until Saturday, when it hosts Sharpsville at 1:30 p.m. The Tornado's next section game isn't until Jan. 27 at Seneca Valley.
"We played great tonight," McMichael said. "It's a home section win. We really wanted this one."
PINE-RICHLAND 61
Sarah Pifer 8-16 0-0 21,. Madison Zavasky 6-16 6-7 19, Katie Pifer 0-3 2-2 2, Cate Gentile 7-14 1-1 17, Maren Iski 0-2 0-0 0, Catrina Knox 0-0 0-0 0, Aubree Bennett 1-2 0-0 2. Totals: 22-53 9-11 61.
BUTLER 65
Jesica Chwalik 1-4 0-0 3, Sydney Patterson 1-5 1-2 3, Justine Forbes 7-12 0-0 18, Hannah Aldridge 0-2 2-3 2, Tori Stevenson 0-0 0-0 0, Madi McGarrah 2-5 0-0 6, Avery Mauer 0-0 0-0 0, Amelia McMichael 12-22 6-6 33. Totals: 23-50 9-11 65.
Pine-Richland 19 12 17 13 — 61
Butler 21 14 19 11 — 65
3-point goals: Pine-Richland 8 (S.Pifer 5, Zavasky, Gentile 2), Butler 10 (Chwalik, Forbes 4, McGarrah 2, McMichael 3)
JV: Butler, 50-23 (P-R: Shea Best 11, B: Avery Maier 11)