HOME FOR THE HOLIDAYS
Butler girls open Christmas tourney with solid 52-35 win
John Enrietto Eagle Sports Editor
December 29, 2022 Last Updated: December 28, 2022 09:42 PM High School
<![if !vml]>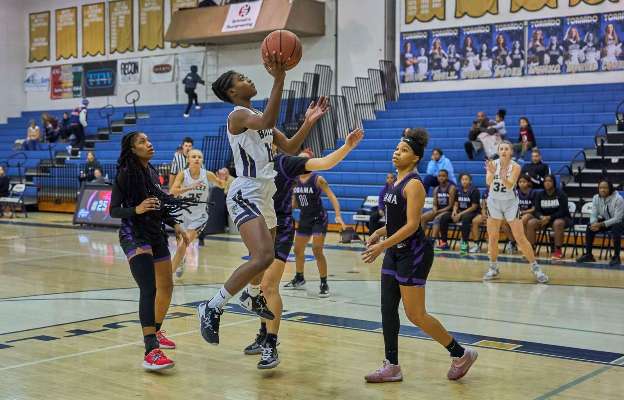 <![endif]>
Butler's Justine Forbes (10) goes to the basket through a number of Obama Academy defenders during the Golden Tornado's 52-35 girls basketball win Wednesday. Forbes scored 18 points. Shane Potter/Butler Eagle 12/28/22
BUTLER TWP— The home floor was a welcome sight for Butler girls basketball coach Mark Maier.
So was the play of his team.
Justine Forbes scored 16 points in the first half, Amelia McMichael struck for 11 in the third quarter, and the Golden Tornado ran away from Obama Academy, 52-35, Wednesday afternoon as the Butler Christmas Tournament got under way.
Avonworth defeated Armstrong, 62-3, in the first game.
"It feels good to be back at home," Maier said. "We haven't played here in a while."
Wednesday marked the Tornado's first home game since Dec. 9. They dropped three of four games on the road since.
But a hot-shooting first half by Forbes helped right the ship quickly on this day. The senior sank six of 10 shots from the floor, including three treys, as Butler raced to a 29-15 lead by halftime. Obama Academy (3-2) sank just five of 26 shots in the first two periods.
"We couldn't hit anything," Eagles coach Monique McCoy said. "We just didn't play well. I saw a lack of focus out there."
Butler sophomore McMichael missed much of the second quarter while being treated behind the bench for a bloody nose. She returned to the floor with a vengeance in the third period.
McMichael drained three treys in that third quarter, the third one extending Butler's lead to 40-23 with 3:27 left in the period.
"Those were big three's because they extended our lead," Maier said. "You feel a lot more comfortable with a 17-point lead in the second half. Amelia not only came back from the bloodied nose, she played well after picking up her second foul in the second quarter."
McMichael received the bloody nose while going for a rebound.
"I just got bumped there," she said. "It happens."
Her treys happened at the right time.
"I was able to curl around, find my spot, and fortunately, hit the shots," McMichael said. "Sydney Patterson and I have good chemistry when we're on the court together. She found me for a few of those looks."
Hannah Aldridge sank her second trey of the game to give Butler (4-5) a 20-point lead with 2:08 left in the third period. A three-point play by Kelli Kovalick with 1:18 left in the period gave the Tornado their biggest lead of the day at 48-27.
Obama Academy (3-2) had a three-game win streak snapped with the loss.
Forbes had 18 points, five rebounds and three steals for Butler. McMichael contributed 15 points and eight rebounds, Aldridge 10 points and three assists. Patterson had five assists, Madi McGarrah six rebounds.
Butler sank all eight of its free throws and enjoyed a 34-21 edge in rebounding. The Tornado had 19 turnovers to the Eagles' nine, however.
"That's too many turnovers," Maier said. "I hate seeing that because a turnover is a lost possession without a shot — and we have a lot of girls who can shoot the ball."
Taylor Phillips led Obama Academy with 10 points. Gionna Simmons had six steals and three assists, Kimaya Williams six rebounds.
"They are physical, tall and athletic," Maier said of the Eagles. "This is a nice win for us."
Armstrong defeated Avonworth, 62-33, in the first game of the tournament Wednesday.
OBAMA ACADEMY 35
Taylor Phillips 4-15 0-0 10, Ny'Asia Benton 3-5 2-4 8, Gionna Simmons 2-14 0-0 4, Kimaya Williams 2-4 1-4 5, Keliyah Payne 2-2 0-0 4, Zahara Elsmahy 1-5 2-2 4. Totals: 14-47 5-12 35.
BUTLER 52
Hope Look 0-1 0-0 0, Sydney Patterson 0-3 2-2 2, Justine Forbes 7-16 1-1 18, Hannah Aldridge 3-3 2-2 10, Tori Stevenson 0-2 0-0 0, Madi McGarrah 0-0 0-0 0, Avery Maier 0-0 2-2 2, Amelia McMichael 6-11 0-0 15, Casey Clouse 0-0 0-0 0, Kelli Kovalick 1-1 1-1 3, Jess Chwalik 1-3 0-0 2. Totals: 18-39 8-8 52.
Obama Acad. 6 9 15 5 — 35
Butler 12 17 19 4 — 52
3-point goals: Obama Academy 2 (Phillips 2), Butler 8 (Forbes 3, Aldridge 2, McMichael 3)
JV: Butler, 57-7 (B: Emily Hoffer 10, Avery Goss 9, Avery Maier 8, Emily Cornish 8)