Second to none
Dominant quarter paves way to Butler victory
December 30, 2022 Last Updated: December 29, 2022 10:25 PM High School
<![if !vml]>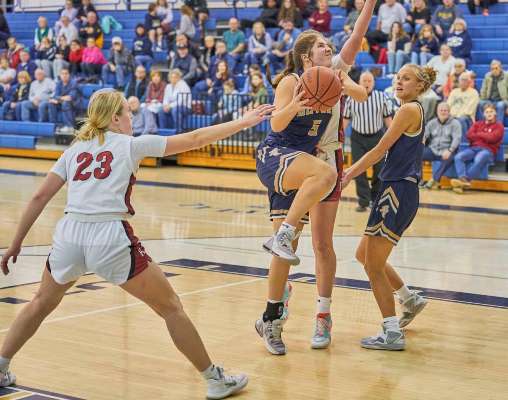 <![endif]>
Butler's Sydney Patterson drives to the basket for two points and draws the foul on Thursday in a game vs. Avonworth at the Butler Holiday Hoops Classic. Butler won 57-42. Shane Potter/Butler Eagle
BUTLER TWP — The second quarter was not perfect from Butler's perspective, but it was clearly the deciding factor in the Golden Tornado girls basketball team closing 2022 with a win.
Butler led Avonworth 17-14 at the start of the period Thursday afternoon, but the edge soon swelled to double digits with treys from three different players.
Defensively, the Tornado held the Antelopes to just one made field goal in eight attempts and an 18-5 advantage in the period led to a 57-42 victory in the second and final day of the Butler Holiday Classic.
"We have some really good shooters, but that doesn't matter if they're not getting the ball," said Butler coach Mark Maier. "We did a good job of finding the open shots."
The Tornado (5-5) did not score in the second period until Amelia McMichael's 3-pointer with six minutes left and that sparked the offense.
Justine Forbes hit a trey, ended Avonworth's ensuing possession with a steal, which led to the first of two treys in the quarter from Hannah Aldridge. By halftime, the Antelopes were down 35-19, thanks in large part to Butler draining four of its eight shots from beyond the arc.
"We allowed them some open shots, but they also hit some tough ones and deserve credit for that," said Avonworth coach Nick Dizon. "We hit a dry spell there and that made it difficult for us.
"I'm not happy with the result, but am happy with the way we battled to the end."
The Antelopes (4-4) returned to form in the third period, with forward Rebecca Goetz and guard Greta O'Brien keying the offense. The duo had combined for just four points in the second period, but finished the game with 35.
"I thought we did a good job defensively on (O'Brien)," said Maier. "She scored 17, but Justine played well against her and we made her earn them."
Butler's lead was never threatened. Aldridge and McMichael both hit a trey in the third and Sydney Patterson scored nine of her 11 points in the quarter.
All six of the Tornado's points in the fourth came from the free throw line.
McMichael led all scorers with 19 points and she added eight rebounds. Forbes scored 12 points and tallied six boards. Aldridge contributed 13 points and four assists.
After losing three straight games before the holiday, Butler has now won two straight (defeating Obama Academy Wednesday), providing momentum entering Monday's section opener at Seneca Valley.
"This gives us a lot of confidence because we're sharing the ball well," Forbes said. "Amelia played mostly JV last year and is really stepping up for us and Sydney is doing a good job of getting to the basket. Hopefully, we can carry this over into section play."
"You want to win 'em all," said Maier. "They all count toward your record, but section games count more."
AVONWORTH 42
Eden Schleis 1 0-0 2, Rebecca Goetz 8 2-2 18, Mary Gannon 1 0-0 2, Greta O'Brien 8 1-2 17, Mia Velisaris 1 0-0 2, Sydney Savatt 0 1-2 1, Anna Bradley 0 0-0 0, Fiona Mahan 0 0-0 0, Emma Obersteiner 0 0-0 0. Totals: 19 4-6 42.
BUTLER 57
Justine Forbes 3 3-4 12, Hannah Aldridge 3 4-4 13, Amelia McMichael 6 3-5 19, Madison McGarrah 0 2-2 2, Sydney Patterson 3 5-5 11, Jessica Chwalik 0 0-0 0, Hope Look 0 0-0 0, Avery Maier 0 0-0 0, Kelli Kovalick 0 0-0 0. Totals: 15 17-20 57.
Avonworth 14 5 13 10 — 42
Butler 17 18 16 6 — 57
3-point goals: Butler 10 (McMichael 4, Forbes 3, Aldridge 3).