Fancy Footwork
Butler girls soccer team finally breaks through, rolls 5-1
September 10, 2019 Other High School Sports
<![if !vml]>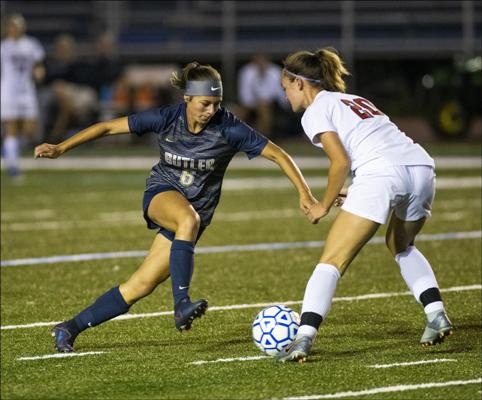 <![endif]>
Butler's Chloe Weiland (6) makes a play around North Hill's Maria Veiga at Butler's Art Bernardi Stadium.
STEVEN DALTON PHOTO
<![if !vml]><![endif]>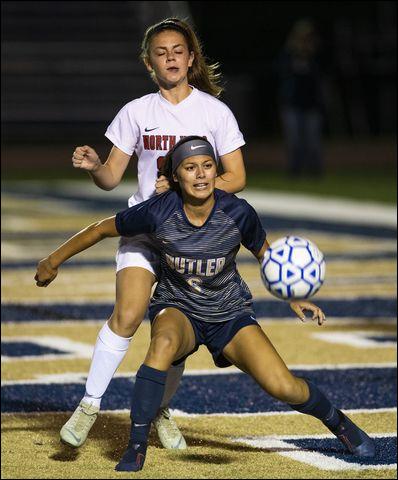 Butler's Chloe Weiland boxes out North Hills' Madelyn Lyon during the Golden Tornado's 5-1 win over the Indians for their first section win of the season at Art Bernardi Stadium.
STEVEN DALTON/SPECIAL TO THE EAGLE
BUTLER TWP — Butler had everything under control — except on the scoreboard.
The Golden Tornado girls soccer team had 11 shots on net to none for North Hills. Butler had five corner kicks to zero for North Hills.
But when Indians sophomore Abigail Alexander found herself with an open shot directly in front of the net following a Butler turnover, she buried it. And North Hills trailed only 2-1 with 36 minutes left in the game.
The goal occurred on their first shot of any kind all night.
Three minutes later, the Indians were denied the tying goal on a lunging save by goalkeeper Paige Miller.
"Situations like that get pretty stressful," Butler junior forward Gabby Boden said. "We just lost a game like this the last time we played (3-2 to Fox Chapel).
"But we create a lot of chances."
Boden's second goal of the game less than a minute after her teammate's big save restored the Tornado's two-goal lead. Maci Lineman and McKenna Robinson tacked on late tallies for a 5-1 Butler victory at Art Bernardi Stadium.
"With our offense, it's not a matter of if these girls are going to score, it's how many," Butler coach Steve Perri said.
Emily Fleeger and Boden scored in the first half. Fleeger opened the scoring five minutes into the contest. Boden scored her first goal of the night on a header — off an assist by Madison Pomykata — midway through the first half.
The Tornado (3-1, 1-1) have scored 25 goals in their first four games. Boden already has nine tallies.
"Gabby will continue to score goals, but the overlooked part of her game is her passing and the way she can generate open space for her teammates," Perri said. "She facilitates our offense very well.
"We've got three high-scoring forwards back in Gabby, McKenna Robinson and Chloe Weiland. We're getting more players involved in that mix because we want to be versatile."
While North Hills (0-3, 0-3) scored its first goal of the season, the Indians managed only three shots on net and surrendered 19.
Indians goalkeeper Hannah Ehrlich made 14 saves, many of them spectacular in nature.
"Hannah's been our leader," North Hills coach Rachelle Dixon said. "She's been making tremendous stops in all of our games.
"We need to find a way to score goals and take the pressure off her. It's hard on a keeper when you almost need to pitch a shutout every time."
Butler had numerous near-misses offensively as well. Maggie Hays shot one off the left post late. A header off a corner kick bounced off the crossbar early in the second half.
"I don't worry about who gets the goals," Boden said. "I don't set any personal goals that way. I'm more interested in creating out there than scoring."